While many of us in the United States are starting to become giddy about the upcoming National Football League season, the women's United States soccer team is scorching their way through the tournament play in the World Cup. In Philadelphia, this means that our starting Philadelphia Eagles tight, Zach Ertz, is taking time in the off-season to watch his wife, Julie Ertz, dominate with team USA. Just about five days ago, Zach left mini-camp to support team USA women's soccer and his wife, Julie. As soon as he arrived to watch USA against Chile. Coming off of a thirteen goal rout against Thailand, the USA team was poised for another win and to keep goals off the opposing side of the scoreboard so the goal differential could be increased. When two athletes like the Ertz's are in the same building, the atmosphere is likely electric.
In the shutout win against Chile, Julie Ertz and Carli Lloyd were the only goal scorers in a 3-0 win. Lloyd had two of her own and Ertz scored one in front of her husband, supporting from the crowd. For the first goal of the game, Lloyd got to a loose ball and kicked a left-footed shot to the top right corner. Ertz followed, heading in a goal off of Tierna Davidson's corner kick. Team USA would then seal the game after their last goal, again off of a Davidson corner kick, but this time a header from Lloyd. Zach Ertz, like any fan supporting their country in the World Cup, was absolutely hype. Halfway through this game, Ertz would be substituted out for Jessica McDonald.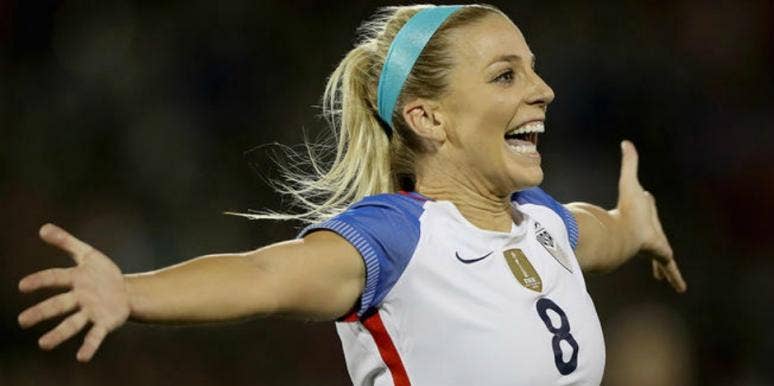 Currently, the USA women's soccer team is at the top of their group standings by a long shot with Sweden remaining as the only other undefeated team in the group. In fact, the USA versus Chile game wasn't as close in the stat book as the score reflects. Chile did not have one shot on target, attempting one shot in the game, attempting one corner kick, and reflecting a 28% possession percentage. In comparison, USA had nine shots on target, twenty-six total shots, fifteen corner kicks, and a 72% possession percentage. The defensive odds and offensive odds were highly stacked in favor of team USA.
Julie Ertz's goal against Chile was the first she has recorded of this World Cup. After this goal, Julie celebrated by blowing a kiss into the stands, where Zach Ertz was watching. Later, Zach posted a video, congratulating his wife. "Julie just scored a heck of a goal. We're up 3-0 at halftime and we're not stopping. Go USA," he said. This was Ertz's first goal recorded since October 14th, versus Jamaica in the CONCACAF semi-final.
The next game for the USA women's soccer team is on June 20th versus Sweden in the knockout round of the group stage for Group F. The odds right now show that there is a 74% chance of USA leaving that game victorious, a 9% chance of Sweden winning this game, and a 17% chance the game ends in a draw. This will be the sixth Women's World Cup meeting between Sweden and USA. Sweden has defeated USA once, lost to USA three times, and only once has the showdown ended in a draw. Since the last time USA lost to Sweden, USA has remained unbeaten.
Julie Ertz and the rest of USA Women's soccer team are on a mission to show why they are the best in the world at what they do. The spotlight is on these athletes in the pinnacle of their sport. Removing ourselves away from football, a sport that takes over fandom across the United States, and plugging ourselves into soccer, the most popular sport in the world during World Cup season, all of our eyes will be watching. One more pair of eyes watching will be Zach Ertz, spending the summer supporting Julie Ertz. From the Superbowl to the World Cup, the Ertz's are a high profile duo. Go USA!
Mandatory Credit: Bill Streicher-USA TODAY Sports
Eric is a University of Delaware graduate with a degree in English. While in school, he began writing for different publications such as The Highlight Network, Amps and Greenscreens, and he did color commentary for the University of Delaware Men's and Women's lacrosse teams throughout the 2013 season as an alumni. Prior to being featured with Philly Sports Network, he began a pro-wrestling podcast with a childhood friend called the Totally Over Podcast. As an avid sports die-hard for all things Philadelphia, Eric is also a proud supporter of West Virginia University.