it's the 57th minute of the 2022 Eastern Conference Finals re-match, and against the run-of-play Maxi Morales' shot from outside the box hits the back of the net to give NYCFC a 1-0 lead. "Oh my god, not again" the guy next to me mutters in sheer disappointment.
A true punch to the gut, a goal that knocked the wind out of a swirling Subaru Park, and snatched the hope right from Union fans' hearts. The place went silent, with only the noise from the same visiting fans that sealed Philadelphia's fate a season before ricocheting around an otherwise quiet park.
Total despair starts setting in. But just when it felt like the Union's historic 2022 season was about to unfold to the same team that killed their MLS Cup Final hopes in the dying minutes a year before, Union fans did something that flipped the script.
Admittedly it felt like an act of desperation at the time, almost like trying to breathe the life back into your dying pet that you know is probably too far gone (please tell me I'm not alone in this trauma.) But despite their negative nature, Philly fans erupted in "Let's Go Union" chants before re-starting play to let the team know they were still there, they were still behind them.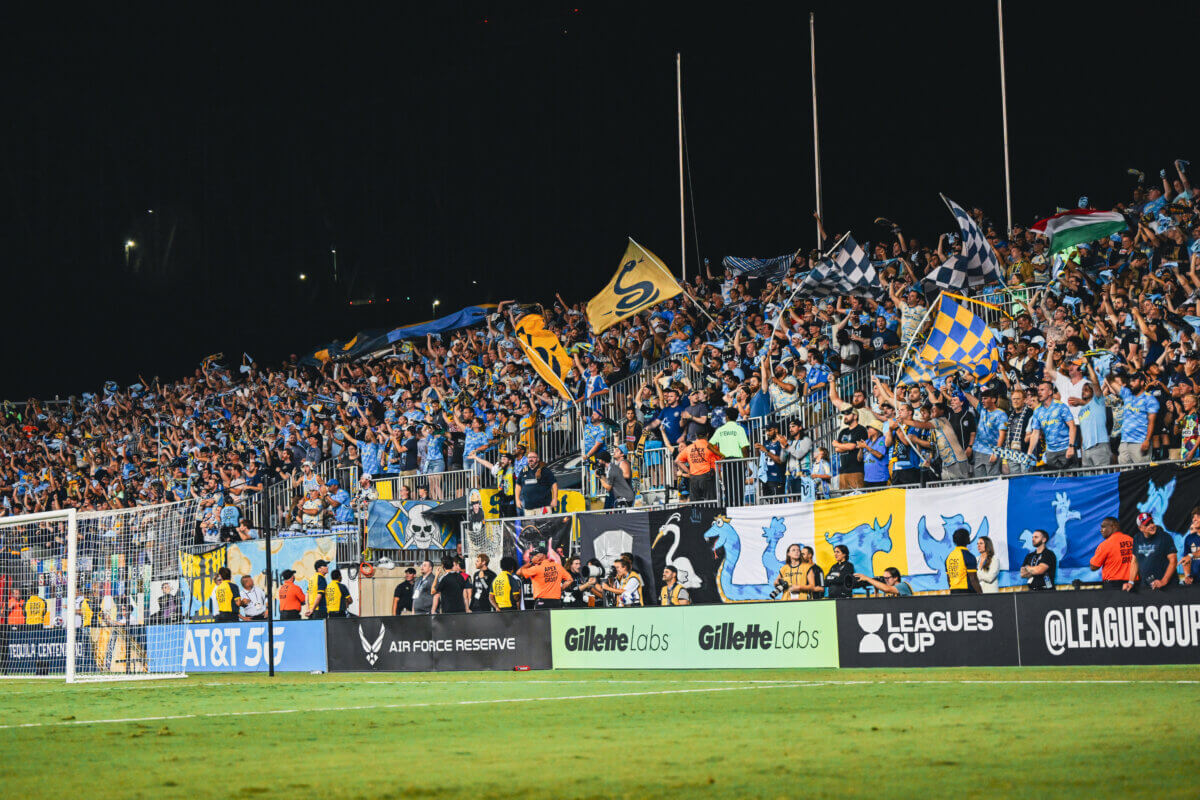 Incredibly, It was one of the loudest stadium-wide chants I've heard in Subaru – and it came after Union was scored on. The fans were letting the team know "If we're gonna go down, we're gonna go down fighting with you and for you", and that message was received by the players on the pitch. Less than 10 minutes later Union caught NYCFC sleeping on a free-kick and drew the game level from the foot of Juliana Carranza.
3 minutes after the first, Julian Carranza headed a ball back across the front of the net for Daniel Gazdag to give Union a 2-1 lead. And just 10 minutes after that, Cory Burke bulldozed his way down the pitch and slammed home the 3rd goal that would eventually send Union to their first-ever MLS Cup.
The noise level and the scene in the crowd after that Cory Burke goal will live with me for a long time, and after being down 1-0 and seeing all hope vanish in front of their eyes, the fans willed their team to 3 goals in 15 minutes.
Fans play a pivotal role in the Union's success
It's kind of cheesy, I know – but it can have an impact. Look at what the standing ovation did for Trea Turner and the Phillies. It's why Union has had such a good record at home over the last 2 years. Just 3 losses in their last 51 games at home, outscoring opponents by a score of 120-35, and a lot of it comes down to the support these fans show this team.
It's simple – players feel more comfortable when they're being supported, and play better when they feel comfortable. But at the same time, the dynamic between a soccer team and its fans is sort of like a good concert – the band feeds off the energy that the fans give and the fans feed off the energy the band gives.
If both the fans and the team on the field aren't putting in effort, you lose a big piece of what's made Subaru Park a fortress over the last few seasons.
So I hope fans can put their frustration to the side heading into playoffs. Trust me I get it, I truly do understand the dissatisfaction around not only the form of this team but all the background noise going on with contracts and Front Office spending, but noise can be made about that later. It's time to come to terms that this Union team probably looks a little different when we line up for pre-season in February, and the sad reality is that Saturday could very well be the last home game for a number of those Union players.
Don't take this Union team for granted. Show up and support this team and these players the way they deserve to be supported. They've fought so hard during a strenuous season and they don't deserve to have the support that makes Union so good at Subaru Park vanish at the most important time of the season. They're still one of the league's best teams. They're still one of CONCACAF's most tested sides – making runs to a Leagues Cup Semi-Final, CCL Semi-Final, and MLS Cup Final within one year.
I know this season's been a drag at times, but the Playoffs are a new season, it's all about getting hot at the right time. All I'm saying is, that a beautiful day at Subaru Park, an animated crowd, and an early Union goal sure as hell would do a lot to change the mood around here. The forecast says 80 degrees and Jim Curtin says the team is ready to go so the rest of the pieces are in place It's your turn to show up, Union fans.
A Letter to Philadelphia: Support the Union
As the Union heads into their sixth straight playoffs, there's been a lot of talk. Talk about fatigue after a long, artificially lengthened performance season. Talk about the front office and their (I almost wrote "its," but I think it's important to remember that we're talking about people on both sides of the equation) treatment of long-serving players.
Talk about how difficult it has been to find any sort of hype for the Union, or indeed any sports, for much of this year after last season's runners-up finishes for three different Philly sports teams. Okay, that last one may have just been me, as I wrote about here. 
And now, just this week, the Phillies have broken our hearts once again, arguably even worse than they did last year when we were more just happy to be there and didn't have the same weight of expectation. A weight the Union have been carrying all season as well. 
As difficult as it may be, I'm going to ask that you join me in trying to set all that aside. Just for today. For today, our Union, our Boys in Blue, are going to battle against the New England Revolution in OUR HOUSE.
Are we really going to let it be anything less than the earth-shaking fortress it's been all year? Attendance this season averaged over a sell-out. A small stadium by the river that sits only 18,500 has been averaging over 19,000 and you're trying to tell me it won't be bursting at the seams come playoff time? I thought this was Philly? You punch us in the face we get back up and knock you out. If you don't get it, get the f@$% out of Philly. Right?
And I understand, I really do. Just read the aforementioned article about how much I've struggled with generating enthusiasm around sports this year. It's only gotten worse with the front office's frustration. But the front office isn't who we're cheering tonight on the field. Tonight, we're cheering to thank Kai Wagner, the best left-back in the league, for all his bombastic forward runs and the many, many, maaaaany assists.
We're cheering for our long-serving captain, whose work rate, passion, and fiery speeches have helped drag the Union from the doldrums of lower mid-table to the heady heights of the top of the league. We're cheering for this team who, let's not forget, has already reached two tournament semi-finals this season, even if they weren't always playing as well as we know they can.
My goal here isn't to shame you if you can't drum up the enthusiasm. Your feelings and emotions are your own, and they are valid. I'm simply eager to share some of my own enthusiasm, a level of hype I honestly didn't expect to be able to summon. If I can do it, anyone can. So forget the front office.
Forget last season. Forget the Philli- okay that's too far- use the Phillies' disappointment as fuel. We haven't just been punched in the face, we've been knocked to the ground and kicked a few times. So let's climb back to our feet and knock New England the f@$% into next season.
Tonight, I'll be cheering for the Union as loud as I ever have. Whether you're at the stadium, in a bar, or on the couch, I hope you'll join me.
Best Philadelphia Union Bets
Be sure to return to Philly Sports Network for more Philadelphia Union and other soccer content!
Follow our Union team on Twitter:
Tim Lovenguth | Justin Friedberg | Jimmy King
Eric Frysinger | Paul Frenzel | Liam Jenkins
Zach LoBasso | Steve Beavon
Doop on Union fans!
Mandatory Credit: Philadelphia Union