As someone who likes to take the time and appreciate the hard working athletes at the pinnacle of their career, the United States Women's National Team in the 2019 World Cup may be one of the best teams I've watched in the past decade. Now sure, in the past decade, I've had the opportunity to watch my all-time favorite sports franchise, the Philadelphia Eagles, win their first Superbowl. That was big and there was an Ertz on that team as well, but this USWNT squad meant a lot more to many people.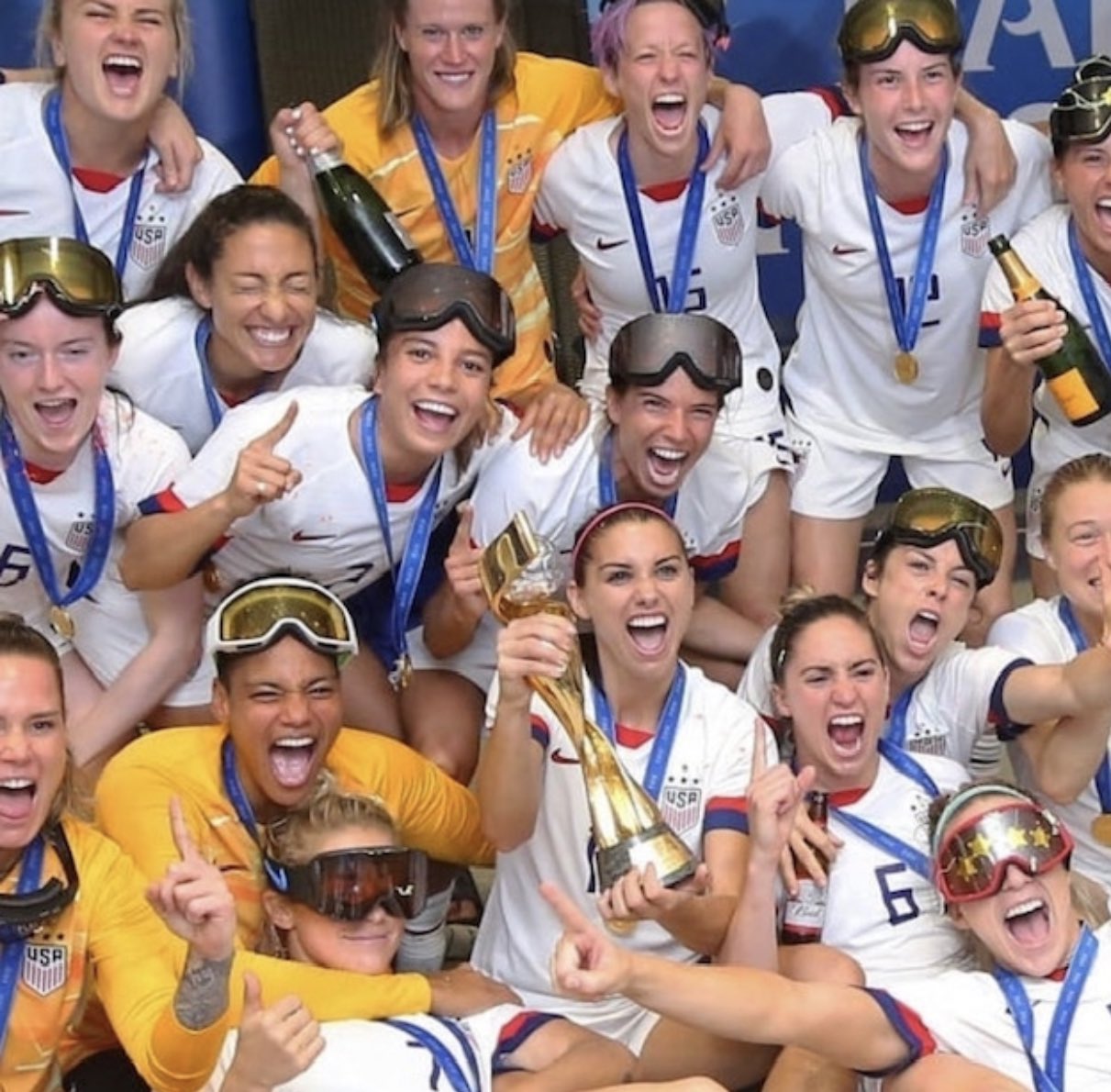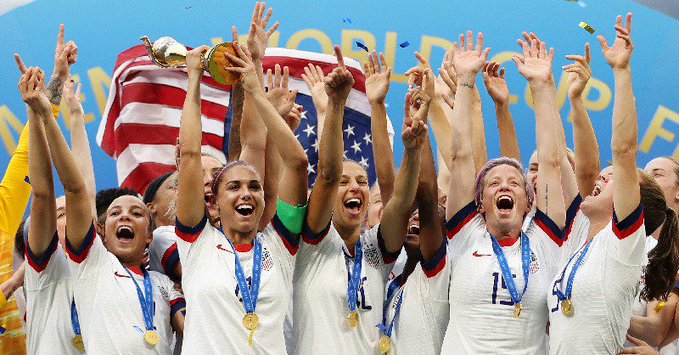 This wasn't just an opportunity to show that yes, our USWNT can defend the crown. This World Cup tournament was an opportunity to show that our female soccer players are at the forefront of our country when it comes to athletes, they don't care about your criticism whether it is political or not, and they certainly come drenched in a swagger that is legendary. It could be a Megan Rapinoe pose, it could be Alex Morgan sipping her tea, or it could be the way that this team boldly walked around like the cream of the crop that they are. At the end of the day, these ladies proudly walked onto the field, kicked butt, and didn't care to take names. Along with being role model athletes and, even better, role model people, they are world champions.
The first thing that I remember people talking about as a narrative was that our USWNT "ran up the score" against Thailand. No, when you are the best representatives of your country and you are playing in the World Cup tournament, this idea of "running up the score" goes out the window. That goal differential in a final score of 13-0 against Thailand held a significant advantage for the USWNT. The lopsided score then kickstarted a lot of different discussion points including sportsmanship, excessive celebration, sexism, equal pay, and the lack of investment in women's soccer. In the face of those specific conversations, our USWNT remained more than motivated to be the best and handled everything in good form.
I've stated my case in sportsmanship; if you are the best in your country, play like it. Any athlete who lays off the gas pedal in global play is making a mistake. These roster spaces are limited as well, so as a coach, get the person who is going to keep pressing into the last minute. Getting irritated for "excessive celebrations" is wild because it is something wanted in the National Football League. In a game where touchdowns are usually more prevalent than a soccer goal, NFL fans were calling that league the "no fun league" for quite some time. Now, the USWNT is getting people offended for celebrating goals in the World Cup?
Sexism and equal pay fit right in the same shoe. I've heard many good points, but I think this is the one that explains the gap between the pay of the United States Men's National Team and the USWNT. Could it be that the pay is higher for the men because the women actually win and the men don't, so it's not expected? Probably not even close, but it's what it seems like. The USWNT has been miles ahead of the USMNT for quite some time and wins the tournament. The USWNT has a maximum salary of $99,000 ($4,950 a game) while the USMNT can make $263,320 ($13,166 a game.) If the USWNT wins the World Cup, as they do, they get paid $90,000 per player. If the USMNT wins the World Cup, like they don't, they get paid $500,000 per player. It's no questions who deserves to be paid based on performance. The USWNT has five World Cup final appearances, four World Cup victories, four Olympic gold medals, eight Gold Cups, and 38% of the salary. The USMNT has two Olympic gold medals and six Gold Cups.
So, what does a team do who has seemed to offend everyone on the way to the promised land? They kept their heads up and kept kicking. They were blamed to have "poor sportsmanship" after routing Thailand. They were and are still grossly underpaid in comparison to their male counterparts and showed exactly why they deserved more. Megan Rapinoe, Julie Ertz, and Alex Morgan still celebrated just as hard as they wanted to. A lot of naysayers had their opinions, but that didn't shake the USWNT from bearing down on England and getting to the finals. With the championship game in mind, there was one final narrative for the USWNT that stared our society in the face:
The USWNT pre-emptively turned down the invitation to visit the White House if they won the World Cup. This started a whole political conversation, but to cut the politics out of our sports, not only did the USWNT say "no" to Trump's invitation, but they doubled down after winning the World Cup against the Netherlands by saying "no" even louder. These ladies are an important voice for Americans to stand up and speak out for what they believe in.
Sue Bird wrote a fantastic piece for The Players Tribune titled "So The President Hates My Fckng Girlfriend," stating that Trump has "never invited a WNBA champion into the White House," "in 2017, when South Carolina Women's Basketball, coached by a black woman (the legend Dawn Staley) won the national championship, they were not initially invited to the White House," and "in 2019, when Baylor Women's Basketball, coached by a white woman (also a legend, Kim Mulkey) won the national championship, they were invited to the White House with no issues."
It is obviously clear the bigotry that President Trump displayed and it just isn't with those three examples from Sue Bird's piece. It's in his legislation and in protest of his entire administration. I stand by not only Megan Rapinoe's decision, but by Ali Krieger's quote that she refuses to "respect a man that warrants no respect." Perfectly put.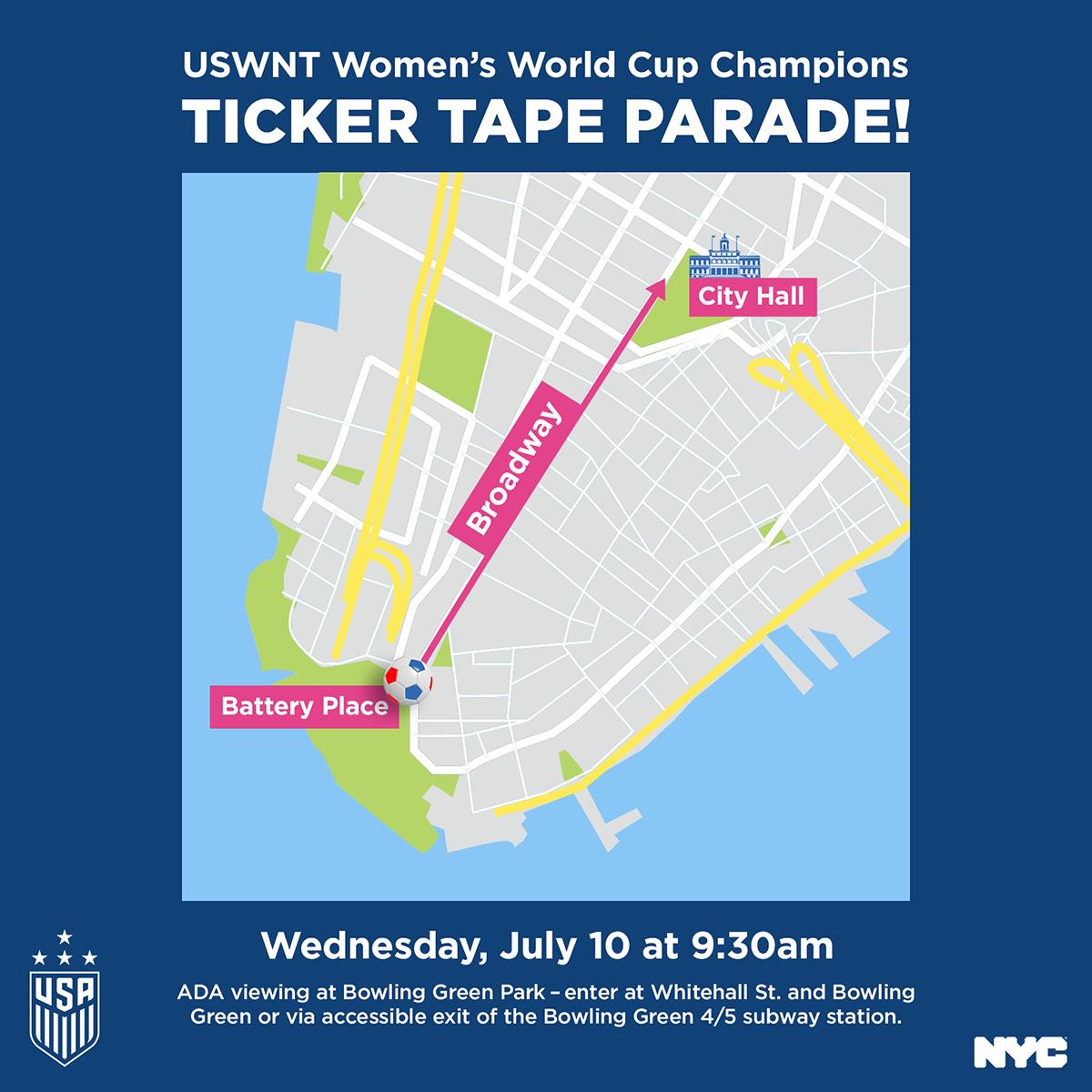 The USWNT is flying high right now and they deserve every moment. I think that we all need to just soak this in with the USWNT and be great. When you see people succeed, it's a beautiful thing. These ladies earned their keep (really deserve more) with a style and grace that commands the respect of their country. This is the team that the United States needs. The USWNT will have their ticker tape parade in New York City on July 10th, 2019 at 9am. I hope all of New York City, NY looks like a USWNT locker room after a World Cup tournament win!
Mandatory Credit: Richard Martin/Presse Sports via USA TODAY Sports
Eric is a University of Delaware graduate with a degree in English. While in school, he began writing for different publications such as The Highlight Network, Amps and Greenscreens, and he did color commentary for the University of Delaware Men's and Women's lacrosse teams throughout the 2013 season as an alumni. Prior to being featured with Philly Sports Network, he began a pro-wrestling podcast with a childhood friend called the Totally Over Podcast. As an avid sports die-hard for all things Philadelphia, Eric is also a proud supporter of West Virginia University.