It's a fun time to be an Eagles fan as the team is now 6-1 and has just made a move for a player that will help build on their success. After an impressive outing against the Dolphins, the Eagles will now take on the Washington Commanders in week 8 which could be a great measuring stick for them. 
The last time that these two teams met, the Commanders found a way to force the game into overtime as the offense had its way with Philly's defense. Times have changed since then. The Eagles lost to the Jets but then found a way to stop the number-one offense in the NFL a week later.
Both teams are heading in different directions at this time but there's never a tougher matchup than a divisional one. Here are five players to keep an eye on during this NFC East battle:
Kevin Byard
I mean, he's the new guy so it's expected that all eyes will be on him. The team's newest weapon should be set to make this Eagles debut this Sunday and I'm curious to see how he is used. His skill set greatly reminds me of Malcolm Jenkins but Byard is more of a ballhawk. 
The Eagles have struggled with creating turnovers at this point and Byard has the most interceptions for a safety since 2017 with 27. He's been pretty quiet on that front this season but that can change due to this new beginning.
Jalen Hurts
It's not a secret that the Eagles franchise QB is dealing with a nagging leg injury. The secret is just how severe it is and what exactly it is. Interestingly, it has yet to be reported but I'm sure that it will come to light after the world saw him limping. 
This will be a big game for Jalen as he's struggled with turnovers all season but he seemed to have taken over whatever was blocking the offense in that drive against the Dolphins following the unlucky interception. Hurts was precise and was able to get the ball out of his hands quickly as the team went with no-huddle to keep the Dolphins on their toes.
He's facing a more physical defensive line on Washington and you can bet your life that they're extremely motivated after that loss against the Giants. I would look to see how the WR's routes are developing and if Hurts can make quick reads to protect himself.
Eli Ricks
Philly's diamond in the rough shined bright against the Dolphins. He held Tyreek Hill to 0 receptions and made a key pass defense against the Dolphins. Ricks has only allowed 7 yards against him this season and could be in line for a larger role as the season progresses. 
I'm curious to see if they line him up in the slot against the Commanders or how they choose to deploy him. Ricks has been a great story for a secondary that's been riddled with injuries.
Haason Reddick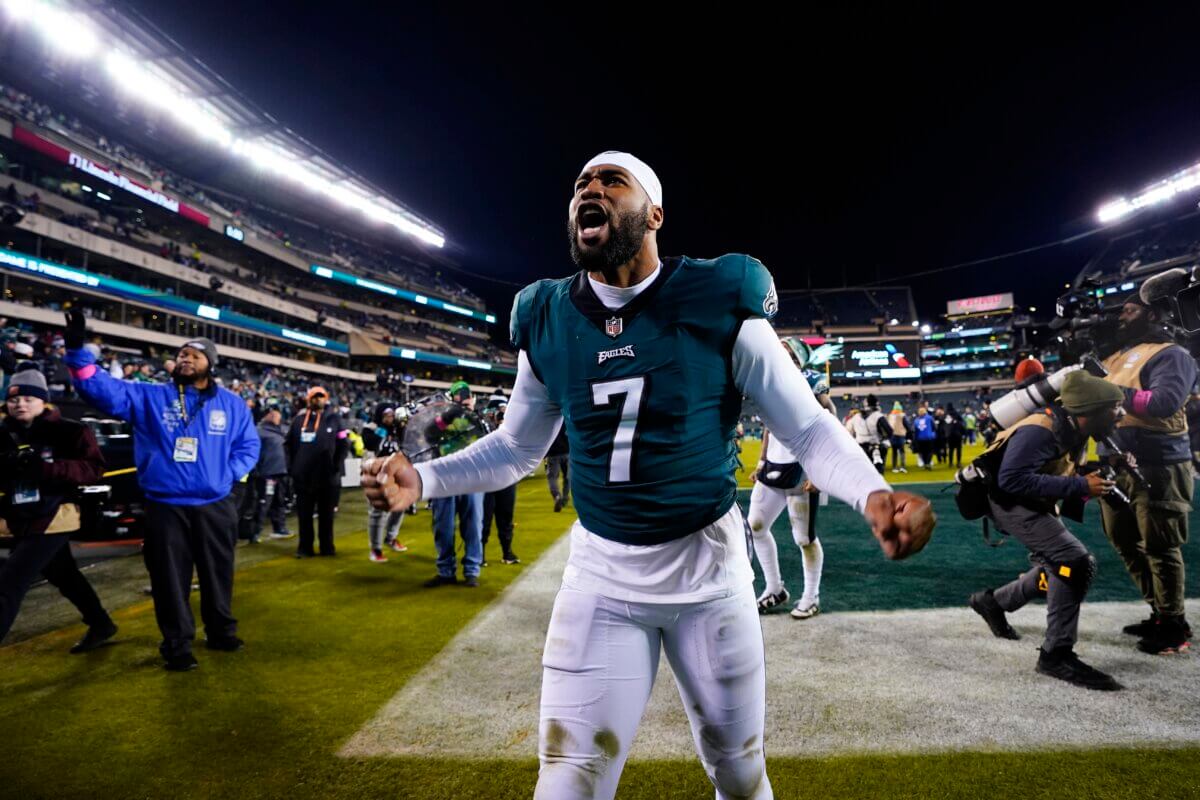 I think that it's safe to state that Haason Reddick is one of the better signings in franchise history. The man has been on a tear since joining the Eagles and he's shown his value week in and week out. Reddick has a big reason as to why the Dolphins could not run the ball against the Eagles. 
It seemed as if Reddick blew past the line every time before the ball was handed off to the opposing running back. He has 5.5 sacks already this season and is on pace to match his 16 total sacks from a year ago.
DeVonta Smith
With all of the A.J. Brown preside it seems that Smith is being pushed into the shadows a bit. He has only 383 receiving yards at this point in the season with only two touchdowns. Those touchdowns came back in weeks 1 and 2 of the season. He's been targeted a ton so that is definitely not the problem but we haven't seen many of the big plays that we're accustomed to seeing. 
It could be the consequence of the offense struggling or even Hurts injury. The spark that was there last season hasn't shined as bright this year. Look for the Eagles' offense to get Smith involved with some big plays against Washington.
AP Photo/Matt Rourke