ARIZONA – Postseason records are arguably some of the hardest to break due to the performance it requires and the consistency of teams to make it there in the first place. Kyle Schwarber is no amateur when it comes to Red October and etched his name in the history books when he smashed Reggie Jackson's playoff record for most homers by a lefty batter in Friday night's game against Arizona.
Schwarber Is the New Mr. October
Schwarber approached last night's game tied with the HOFer at 18 homers each until his blast in the fourth inning off relief pitcher, Kyle Nelson, put him in sole possession of the mark. The 408-foot moonshot marked his fourth homerun in this series against Arizona. He hit a solo homer in Game 1 and put up a pair in Game 2 to lead his team to victory in both matchups.
Since Schwarbo landed in Philly last off-season, he's put up back-to-back 40 homerun seasons while producing 90+ RBIs in each campaign. As if that wasn't enough to solidify his superstardom in The City of Champions, he also put up six homeruns enroute to a World Series appearance last year. They say lightning never strikes twice but the narrative he's created only serves to counter that statement.
With that homerun last night, Schwarber now puts himself fifth all-time on the playoff homerun list behind notable names like Manny Ramirez (29), Jose Altuve (26), Bernie Williams (22), and Derek Jeter (20). When you talk about some of the best DHs in MLB history, I think it's fair to say that he's made a case to be included in that conversation, especially after a record-breaking night. Before his playoff magic with the Phils, Schwarber made a name for himself when he slapped five homeruns with the Chicago Cubs during their 2015 run.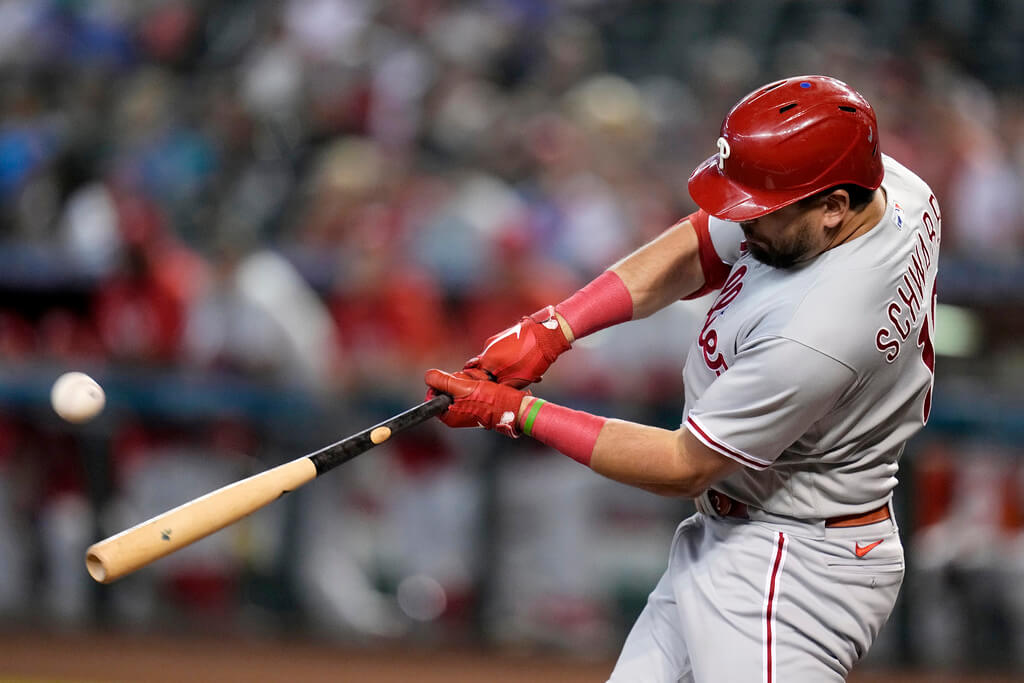 Looking Ahead Against Arizona
With last night's gut-wrenching 6-5 loss, Philly and Arizona now sit tied at two games each in this series with the former set to host Game 5. It was an interesting road trip for the Phightins as their bats seemed stifled at times and the bullpen managed to blow both games during a tight lead. Nonetheless, they'll now set their sights on obtaining at least one win in Arizona before they head home to try and win the series.
The competition tonight will see a rematch of Game 1 as the Phils roll with Zack Wheeler (2-0, 1.93 ERA) to face off against D-backs ace Zac Gallen (2-1, 4.96 ERA). Wheeler has been solid during this postseason run as he's only surrendered five runs in 19 IP while tallying 26 strikeouts. Gallen, a south jersey native and Bishop Eustace alumni, surrendered three homers and five runs in the first game of this series so he will most certainly be looking to rewrite the script tonight.
Photo Credit: AP Photo/Matt Slocum