As the calendar turns to the tenth month, the city of Philadelphia is once again gearing up for hopefully another lengthy postseason run after the Phillies clinched their second-consecutive playoff berth this past week. As a result, October will once again run red in the City of Brotherly Love.
Philadelphia wraps up their regular season today in a match up against the New York Mets who were eliminated from postseason contention a few weeks ago despite their inflated payroll. This year's team is built very similarly to last year's, with some improvements. Manager Rob Thomson spoke about this when congratulating the team on their return trip to the playoffs:
"This is just the start. This team is built for where we're going. To get there is the tough part, now we gotta finish this thing off.

Phillies Manager Rob Thomson
Just because the "tough part" is over, doesn't mean there aren't a lot of pressure filled decisions left to be made. Thomson already confirmed that Zack Wheeler will be the starting pitcher in Game 1 of the Wild Card Series, and Aaron Nola will be the starter in Game 2. Without knowing their opponent quite yet, several of the other decisions are still to be made. S
eptember welcomed expanded rosters, but the team will need to carry two less players. The rotation is always shortened come playoff time, and the Phillies already have an excess in the rotation. Who sticks on the bench? Some of these things may depend on who their opponent in the first round is. Let's take a look at some decisions and strategy that may be required.
Phillies offense
The Phillies hitters have been a strong unit all season long. Nick Castellanos not only had a complete rebound at the plate this year, but took on more of a leadership role – especially with the young outfielders. Kyle Schwarber has done a complete 180 since starting the season very slowly (in areas besides power, of course).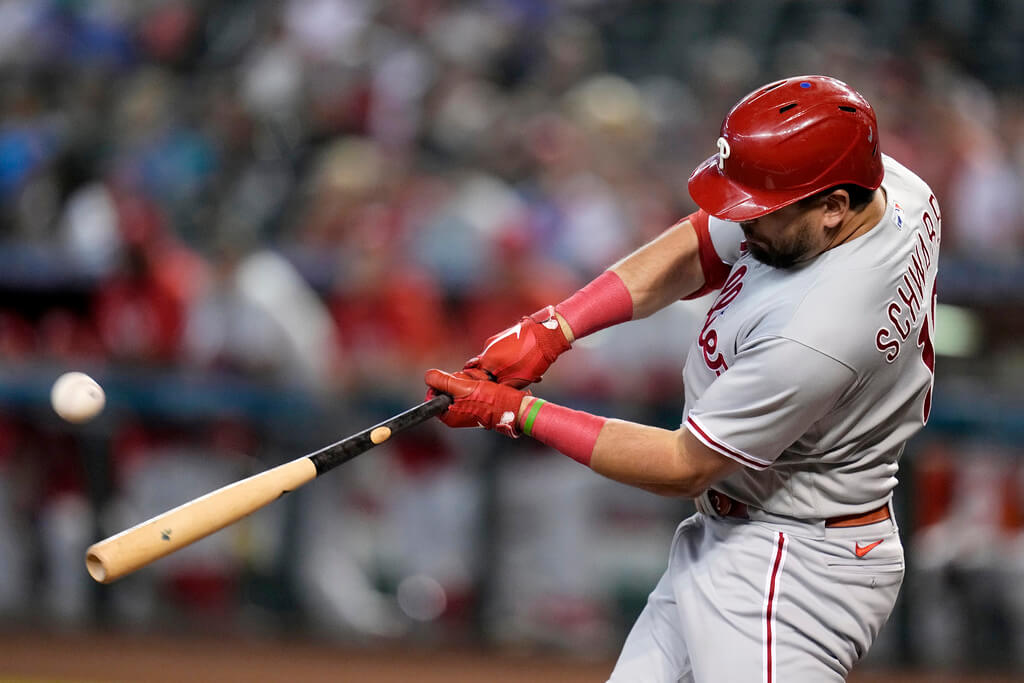 His batting average may not have jumped much, but his on-base percentage improved significantly later in the season. The much-maligned lead-off designation didn't feel right during the first half when Schwarber was hitting .184 with a .313 on-base percentage. After the All-Star break, however, the veteran turned in a .213 /.383./.541 slash line.This, plus the fan-spurred resurgence of Trea Turner, corrected the offense and helped this team get closer to its lofty expectations.
The lineup is likely to be close to what the Phillies have deployed recently:
Kyle Schwarber – DH
Trea Turner – SS
Bryce Harper – 1B
Alec Bohm – 3B
JT Realmuto – C
Bryson Stott – 2B
Nick Castellanos – RF
Brandon Marsh – LF
Johan Rojas – CF
Rodolfo Castro, the least used bench player, will likely be the man left off the post season roster, if not the Wild Card series roster at the very least. That leaves backup catcher/king of vibes Garrett Stubbs, utility man Edmundo Sosa, outfielder and defensive wizard Cristian Pache, and corner outfielder/first baseman Jake Cave to occupy the bench.
Cave will be clutch all post-season, as his ability to play outfield and first base will help keep Schwarber at DH as much as possible while providing back-up for Harper just in case he has any reason to have to move back to DH. Sosa has double digit home runs and is a great defender in the infield, and more than capable of playing the outfield in a pinch without worry. Pache's rebuild has been promising and his defense has always been great, and Stubbs is, well, Stubbs.
The Phillies offense needs to continue to click for a long time to compete long into October, but they should easily out power which ever team they face, whether it be the Diamondbacks or the Marlins. The key will be in how the pitching performs.
Phillies pitching
If you were to read about the Phillies pitching from afar, you may think they their pitching was great all year, the numbers for the group will tell you as much. However, if you are a day-in day-out fan of the Phillies, this group scares you overall. Yes, there are almost guaranteed positives like Wheeler, Jose Alvarado, and a surprise in Jeff Hoffman. But there are plenty of names that may worry various members of the fan base.
Let's start with the outside looking in. Dylan Covey is the odd-man out as he was added to the injured list just yesterday, but he was likely the one to end up off the roster regardless. Last season, Rob Thomson rode four key relievers on the teams ride to the World Series. This year, the Phillies manager plans to take a similar approach.
Thomson will deploy his bullpen based on favorable "pockets" in the opposing lineup. It's doubtful Kimbrel would be used before the seventh inning, but he is not guaranteed the ninth.
"Oh yeah," Thomson said. "Everybody understands. Everybody is all-in."

Matt Gelb, The Athletic

Beyond the first 2 games starters, three of the remaining four starters have experience out of the bullpen. A month ago, I may have suggested that Cristopher Sánchez move to the bullpen. However, he has pitched above expectations to the tune of a .348 ERA, and stabilized the back end of the rotation. That leaves Ranger Suazez, Michael Lorenzen, and Taijuan Walker as options out of a bullpen even deeper than last season.

Seranthony Dominguez and Craig Kimbrel may have thier scary moments, but they will be the right-handers deployed out of the bullpen in key spots. Matt Strahm has been what the team needed him to be all season. Starting the year in the rotation due to injuries, he filled the job admirably, despite coming into the year expecting to reside in the pen.

Philadelphia Phillies relief pitcher Matt Strahm works against the Toronto Blue Jays during the seventh inning of a baseball game Wednesday, Aug. 16, 2023, in Toronto. (Spencer Colby/The Canadian Press via AP)

As a reliever is where he truly shined. Strahm pitched to the tune of a 2.82 ERA with a 1.012 WHIP since transitioning back to a relief role. Jose Alvarado has been the most electric reliever on the team, and one of the best in baseball since the middle of the 2022 season and will be critical to Philly's success in October. Add in the nasty stuff from recently called-up rookie Orion Kerkering, and Rob Thomson has even more weapons at his disposable than last year's post season run.

Thomson plans on deploying the bullpen in a match-up based fashion instead of set innings or roles within the ranks. The addition of two of their normal starters being added to the pen throughout their stay in will only help, especially depending the opponent. For example, the Diamondbacks are one of the fastest teams in the league.

Even if Kimbrel might be the best choice on paper, his slower pace to the plate may open the door to more danger. This is a situation where Thomson could go to Dominguez earlier than normal, or bring in Walker to close out an inning. That way, Kimbrel can be saved for situations with less danger on the base paths.

What should we expect from the Phillies?

All-in-all, the offense and pitching are both much stronger this year, but the positives that drove the Phillies to the Fall Classic in 2022 are even stronger positives going into the postseason in 2023. Thomson was correct in his post-clinch speech – this team is built for where they are going. Now, it is simply time to execute.

AP Photo/Matt Slocum