After Chris Donovan, the unlikely Leagues Cup hero, sent Union through to the next round with his 100th minute winner against Queretaro, Philadelphia Union earned the right to host the competition's Semi Final match at Subaru Park against Inter Miami and Lionel Messi.  
Messi coming to Chester is a big deal of course, maybe one of the biggest Subaru Park has ever seen.  But it's a big game for other reasons, and ones that dont pretain to the opponent and one of their players.  With a win on Tuesday night, Union not only would punch their ticket to next seasons CONCACAF Champions Cup, but earn the right to host the Leagues Cup final at home.   
Philadelphia's plan to thwart Lionel Messi
It was an interesting lineup Jim Curtin rolled out.  A back 5 with Wagner, Elliott, Lowe, Glesnes and Harriel.  Bruno, Flash, Bruno and Gazdag set up in the midfield, with Chris Donovan, the Quarter-Finals winner as the lone forward up top.  The setup specifically was extremely defensive-minded. Mikael Uhre left on the bench to start, Ale Bedoya made the bench for the first time in Leagues Cup play, and Julian Carrana was also fit enough to make the bench despite an injury sustained on Friday night.  
A poor start
With the lineup Union rolled out, it was clear they were hoping not to give up chances and concede early.  But unfortunately, that's exactly what they did.  Josef Martinez collected a pass just outside the box to Blake's left side with Elliott on his hip, and fired the shot past Andre Blake and into the back of the net in the 3rd minute to give Miami an early 1-0 lead on the road.  
Union fans came right back with support, cheering their team on and trying to pick them up from the early let down which was nice to hear.  After that, Union settled their nerves a bit, and got their first look on net in the 8th minute, when Kai Wagner picked out a perfect pass to Gazdag running into the box behind the Miami defense. He collected the pass and got a shot off, but was denied by the outrushing Drake Callendar to keep the game at 1-0.  
For the next couple of Minutes, Union tried to inch their way back into the game, stringing together a fair number of passes and getting deeper into Inter Miami's final third.  Kai Wagner got in position to lob a ball towards the backpost, but Bueno's header attempt back across the box with canceled out.  
Things go from bad to worse
Just as Union started to find their rhythm in the game bit, the midfield opened up after Damion Lowe made a crunching tackle on Josef Martinez.  With the ref granting advantage, Lionel Messi picked up the ball, took a few strides forwards, and fizzled a left foot shot, skipping across the pitch and beating Andre Blake to his left hand side and into the corner of the net.  Just like that, Messi makes it 2-0 Miami.  
This one was a huge fit punch. It wasn't like Miami was controlling the play and pepper tons of shots at Andre Blake, they were just striking with lethal force when getting a chance.  I credit Union for continue to fight after that goal. In the 29th minute, Damion Lowe did a great job to edge around Messi, disposes him of the ball, and move it to Daniel Gazdag.  Gazdag let the ball fly off his right foot from 25 yards out and it stung the gloves of Drake Callander, but he gloved it away to safety.  
Around the 30th to 33rd minute, Union got a number of opportunities from free kicks and corners, but weren't able to muster up anything threatening against Miami. Inter did a really good job of slowing down the game by drawing fouls and taking forever to restart. It killed both the momentum on the pitch and in the crowd for Union.  At this point, Union needed to get to halftime with the score where it was, and chip away at things in the second 45.  But just before half time,  Jordi Alba was sent down the left flank behind the Union defense, and was able to slot it away past Blake it make it 3-0 Miami heading into the dressing rooms. A knock out punch. A really really bad first half.
Second half adjustments
Heading into the second half, Jim Curtin needed to make some changes and he did. Jack McGlynn on for Leon Flash, and Mikael Uhre in for Damion Lowe, which also means a formation shift for Union.  Now they'd be set up in the 4-4-2 Diamond, a formation I personally would have preferred to see from the start.  And Union right away were getting the ball in deeper, more threatening positions, but couldn't conjure up a real chance on net in the first 10 minutes of the restart, despite a number of good crosses into the penalty area.  
But in the 55th minute, Union finally saw their way back into the game appeared, when a Kai Wagner ball found its way to Chris Donovan just outside the box with Drake Callender rushing out.  Chris Donovan did very well to touch the ball around the oncoming Callender, but sailed the ball over the goal and into the crowd with an open net staring him in the face.  A huge opportunity for Union missed, and while he was the one who claimed the game-winner against Queretaro, this moment was another big example on why Union went out and got Tai Baribo during this transfer window, who's unfortunately still unavailable to play due to visa issues.   
Too little, too late
Union continued to do their best to push their way back into the game.  Another good chance for Union came in the 60th minute, when Chris Donovan headed a Kai Wagner cross on net, but Callender was able to keep the ball out with a diving save.  The rebound popped to Daniel Gazdag, but his attempt also flew over the bar and out to safety to keep the score at 3-0.  
Union got another good chance in the 66th coming off another cross from Wagner into the box, this time headed on by Donovan, but Glesnes attempt to stab it on frame while off balance couldn't hit the net once again.  A few minutes later it was Chaos in both boxes, when Chris Donovan just missed connecting on a bicycle kick, Miami took the ball all the way down to the other end of the pitch, and Jack Elliott makes a goal-saving clearance on Messi to keep the score where it was, before being called offside.
Union were creating a lot more opportunities and looked a lot more like themselves, and the crowd had started to come back into it. And finally, in the 73rd minute Union found their break-through, with a goal off a corner kick by Ale Bedoya in his first game back from injury to make It's 3-1, and Union re-install some hope around the stadium.  
That got the crowd back into the game and reinvigorated the team, and Union almost got the lucky bounce they needed a few minutes later, when a shot in the box deflected off a Union attacker and just wide of the net.  That would have sent Subaru Park off entirely, but the game remained at 3-1 and the lid stayed on.  Union were running out of time, and would need to find the second quick if they wanted any chance at pulling off the improbable and forcing PK's with a late 3rd.  And although they showed a lot of fight in the second half, it just wasn't enough, and Union were put to bed in the 84th minute when David Ruiz was able to add a 4th passed Andre Blake.  
Union crash out of another silverware opportunity
It's another disappointment end to a trophy run for Philadelphia Union. Regardless of how seriously of a completion Leagues Cup Is perceived to be by some, it would be another milestone in Union's history and another trophy in the cabinet. That's what this team should be doing, competing and pushing for trophies consistently, but Union have to get over the line.
And when you're in a position like playing a semi-final at Subaru park with the prospect of hosting the final as well, losing just your 3rd game at Subaru Park in their previous 44 matches to crash out of a competition has to be seen as a failure in some regard. 4-1 at home, the first time Andre Blake and Philadelphia Union have conceded 4 goals at home since September of 2018. I think Jim Curtin just over-thought this one – put too much focus on how to stop Miami that he swayed away from what has brought Union so much success and cemented them as one of CONCACAF's toughest competitors over the years.
I get the injury to Carranza throws a huge wrench in mix, but throwing a completely new lineup out in a game like this is just such a head scratcher and I dont think it fills your team with any confidence heading into kickoff. It was a really bad first half, but when Jim took off Damion Lowe and Leon Flach and went to the 4-4-2 diamond with McGlynn in the midfield and Uhre up top with Donovan, Union looked miles better than they did in the first half.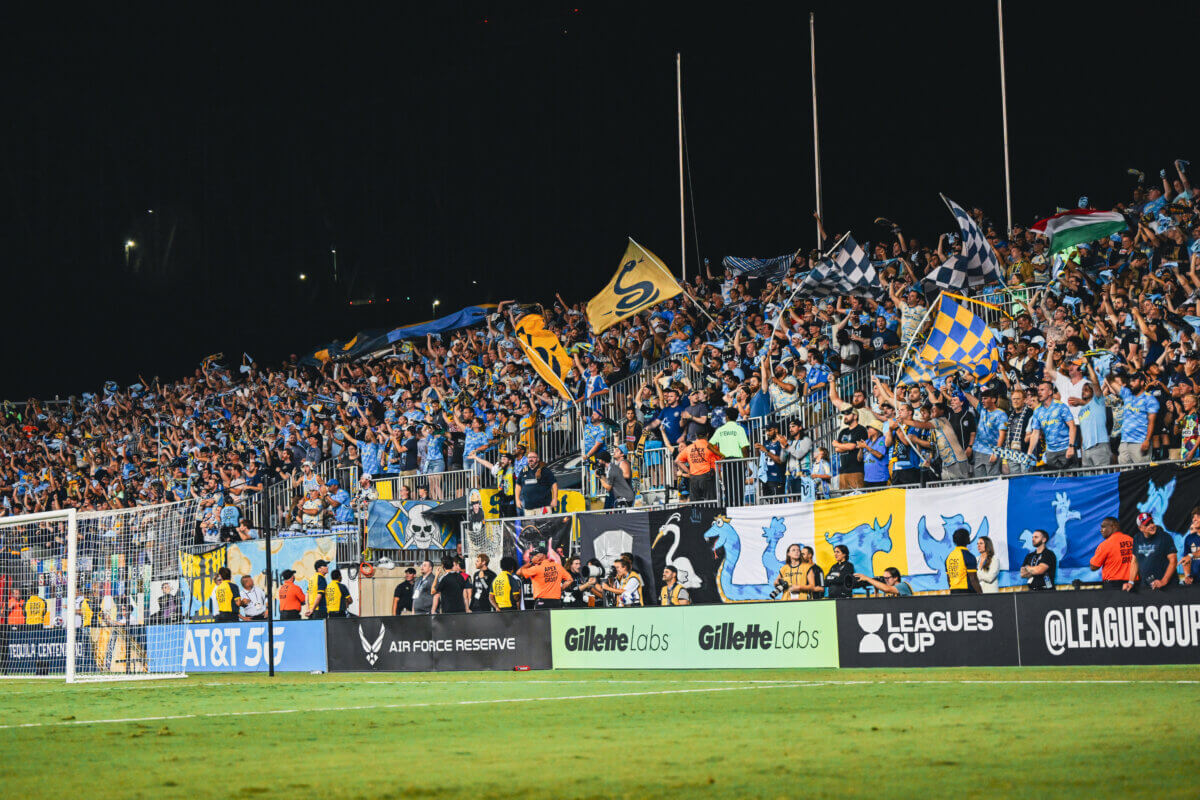 And thank god, I dont know if I could have picked myself off my seat to go home if I had to watch another 45 minutes of soccer like the Union displayed in the first half. It's disappointing, though. I and many others thought Union should have went with the 4-4-2 diamond from the start, and not because we think we know what's best, but that's what we all thought JIm would do considering the strengths of this team and how he likes to utilize them. 
While it was another trophy in reach that's slipped through Union's fingers, there is a silver lining I suppose, and that's the fact that Union have zero time to sulk in their sorrows and still have an opportunity to punch their ticket to next seasons CONCACAF Champions Cup with a win in the 3rd place game on Saturday night against Monterrey.  
And with Monterrey having already punched their ticket to CCC, Union might face a weaker Rayados side than normal.  While winning Leagues Cup was ultimately the goal at this stage of the competition, getting that CCC berth has to be the bottom line of Union want to claim any sort of success out of this competition.  Hopefully fans are there to back their team on Saturday night.
Mandatory Photo Credit: Philadelphia Union