The Philadelphia Eagles are a few weeks away from kickstarting their 2023 campaign, but fans looking to bet on the upcoming season already have plenty of exciting markets available. Whether you're looking to back a Jalen Hurts MVP run or potentially find some value on DeVonta Smith's receiving total, there's something for everyone.
We've found 5 of the most promising prop bets currently available to Eagles fans.
Use this DraftKings PA promo code and get an exciting bonus after placing a $5 wager on any NFL game. Win or lose the $5 wager, DraftKings will give you $100 INSTANTLY.
Jalen Carter to win Defensive Rookie of the Year +700
A $100 wager wins $700
Is this a knee-jerk response to his thunderous Training Camp debut? Sure. But Jalen Carter dropping down the NFL Draft board lit a fire in his stomach. Now he's surrounded by former Georgia teammates and strong leaders and on a defense that recorded a league-leading 70 sacks last year.
Carter will have some stiff competition here, but he's second only to Will Anderson in the odds list as things stand. It's very viable to foresee a Jalen Carter breakout in 2023 and this price is just too good to ignore for the man set to replace Javon Hargrave.
Haason Reddick to lead the NFL in sacks +1800
$100 returns $1800
The hometown hero burst onto the scene last year with a dominant 16-sack campaign in Philadelphia. This didn't come as a surprise to many given that Reddick has previously ripped offensive lines apart with both of his former teams. He's had 10+ sacks in each of the last 3 seasons and looks set to build on an impressive debut season in midnight green.
Reddick was confusingly and arguably wrongfully asked about his contract status recently and whether or not he's underpaid. The former Cardinal candidly replied 'y'all see it, y'all know what's going on". His contract ranks 24th in value in the entire NFL despite his 19.5 sack (postseason included) campaign.
Could we see Reddick lead the league in the regular season with a potential new payday on the horizon if he's out to prove his worth?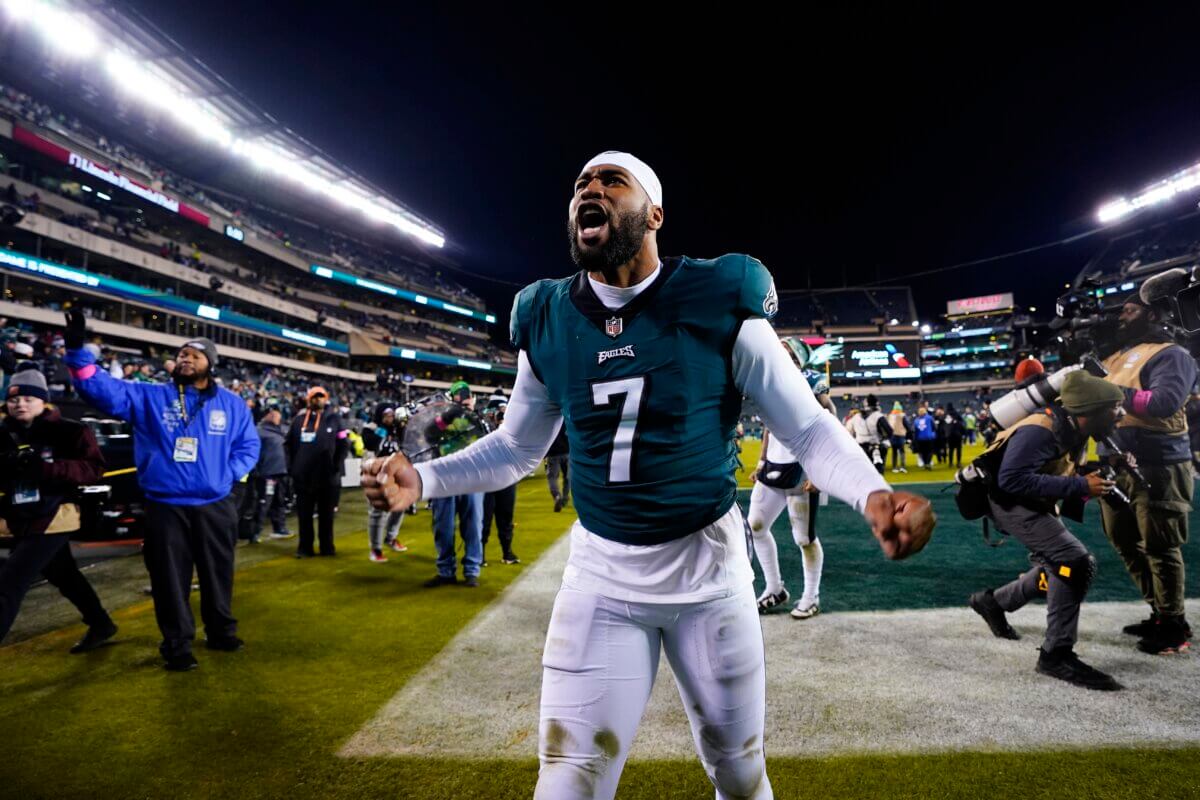 Nick Sirianni to win Coach of the Year +3500
$100 returns $3500
Many believe that Nick Sirianni was snubbed of the NFL's Coach of the Year award last year. History might not repeat itself if the Eagles can find their way back to the Super Bowl in spite of a very difficult schedule.
Sirianni has come a long way since his first press conference was confusingly mocked by just about everyone. Now armed with a franchise quarterback and a star-studded offense along with a defensive coordinator who might actually make changes to his scheme every now and then, there's no reason why Sirianni can't continue to prove himself as one of the best young minds in the game.
He's started Training Camp with a real sense of intensity, too. The Eagles Head Coach was seen holding a megaphone and berating his players on occasion to shake off the offseason rust. He's maturing very quickly and could well be a favorite come November time, so betting him now could be a very profitable decision.
Philadelphia Eagles to win the NFC
$100 returns $340
Sure, the Dallas Cowboys did get better this offseason, but the NFC East is realistically going to be a one-horse race for a while. This should push Philadelphia deep enough into the postseason where they only really have to only worry about one or two teams – the Niners and maybe a couple of others. But the NFC as a whole is in a state of flux with only one or two real established contenders.
Jalen Hurts to surpass 4,000 regular season passing yards +200
$100 returns $300
I love this bet. The 3,700-yard mark feels extremely attainable for Jalen Hurts, who displayed sensational growth as a passer in 2022. There just isn't enough value on that prop to bet anything substantial on it. However, the 4,000-yard prop is much more interesting.
Patrick Mahomes, for instance, is -3500 to surpass 4,000 receiving yards (which is wild in itself) while Hurts ranks…14th.
That's right, 14th.
The same quarterback who shattered records in 2022, led his team to a Super Bowl berth, and is bringing back an all-star offense, ranks behind Matthew Stafford and Dak Prescott in this market??
I get that Hurts is seen as a dual-threat quarterback and will therefore throw less (in theory), but the incredible growth he showed as a throwing quarterback last year is hard not to double down on.
With the Eagles playing a much harder slate of games, the Birds will likely find themselves in more dogfights this year too, meaning Hurts is going to have to step up and will the team to victory which is only going to tack on significant passing yards to his totals.
This is the ONE market where Jalen Hurts is being overlooked and if you're a betting man, it's the one market worth backing.
Best Philadelphia Eagles betting offers
If you are looking to back any of these prop bets, make sure you sign up to some of these EXCLUSIVE betting offers. Instead of betting $20 on a prop that returns $40, depositing it with one of the below sportsbooks will net you HUGE BONUS BETS that you can place on the same markets and maximize your return!
AP Photo/Matt Slocum