The Major League Baseball trade deadline is now less than a month away, and the Phillies will certainly need to be active again this time around.
It is hard to call a team that is 5 games over the .500 mark "underachieving," but when you look at the Phillies' payroll and caliber of talent, I think it is a fair assessment.
There is plenty of room for improvement for the Phillies, and we saw last year that President of Baseball Operations Dave Dombrowski made some great trades for the club. Dombrowski acquired Edmundo Sosa, Brandon Marsh, Noah Syndergaard, and David Robertson in separate deals, and all four players played a big role in winning the National League Pennant.
This year's edition of the Phillies will need to follow that same mold if they want to return to the World Series.
Phillies Team Needs
There are a few needs that the Phillies will need to address. I don't expect them to be involved in any major transactions, rather improving by the margins in an effort to solidify the team.
The most important move the Phillies need to make is adding a right-handed corner outfielder.
Currently, the Phillies have Nick Castellanos and Cristian Pache as their right-handed outfield bats. While Pache has certainly impressed, I do think that the Phillies could benefit from a player with more power.
Kyle Schwarber currently occupies left field, and I think we can all agree that getting Schwarbs out of left is a must, as he has been brutal defensively this season.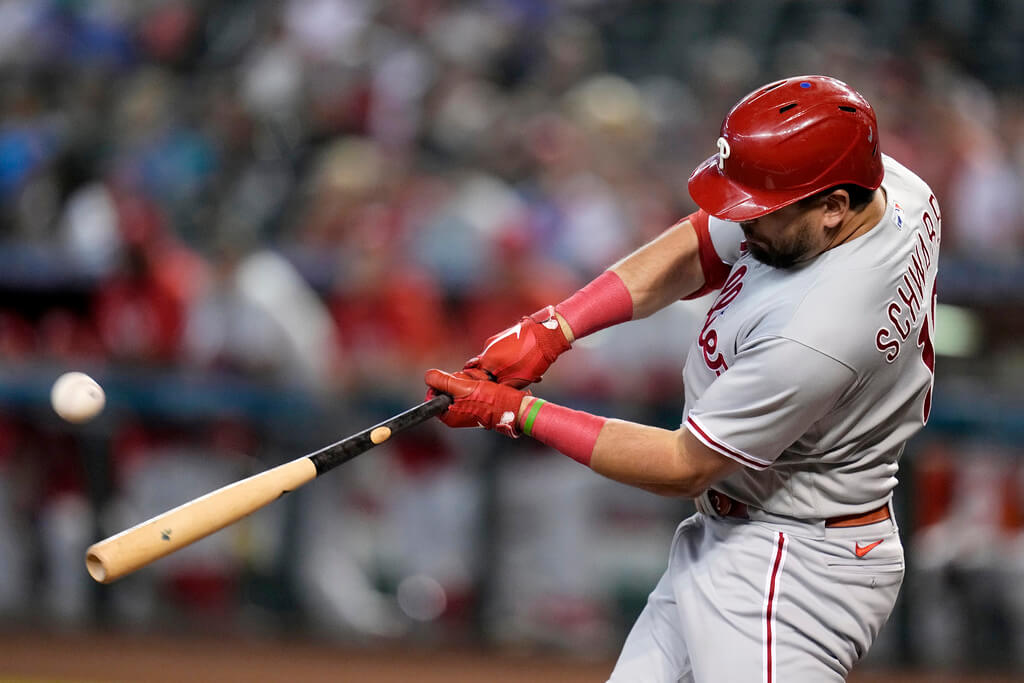 Rumors of Bryce Harper moving to first base after the All-Star break will free up the Designated Hitter role in their lineup. Moving Kyle to that spot and adding a new left-fielder would greatly benefit the Phillies.
Even if the former MVP doesn't translate well to first base, I do think that he will produce better than what Kyle is giving the team in the outfield.
Phillies Trade Idea: Randal Grichuk
The concept I came up with for the Phillies is a deal with the Colorado Rockies.
Colorado is a team that has quickly fallen out of contention and will certainly be a seller at this year's trade deadline.
The player that I have targeted from the Rockies is outfielder Randal Grichuk, a right-handed bat who is hitting 293/.356/.436/.792 with 3 home runs, 16 doubles, and 19 RBIs.
The package going back won't be a lot for Colorado, and that is why I selected the Phillies' 18th prospect, Jhailyn Ortiz.
Ortiz is hitting .255/.354/.430/.784 in both AA and AAA this season. He is learning how to play first base in order to expand his value and potentially get him to the big leagues quicker. His path with the Phillies is blocked; at the age of 24, he is looking to break into the bigs as soon as he can.
The Rockies are going to give younger players opportunities to shine and see what they've got. They've got first baseman CJ Cron on their roster, but chances are Cron might be dealt at the deadline as well.
This could give a path for Jhailyn Ortiz to maybe find himself in the big leagues in the coming seasons. It makes sense for the Phillies to give him a fresh start, and for Colorado to get something in return for an expiring contract.
AP Photo/Charles Krupa