When the Philadelphia Eagles and Lane Johnson worked out an extension that added one more year to his current deal the assumption was it would probably be his last contract. The Pro Bowl right tackle will be 37 years old once the ink dries on that one.
Johnson — acknowledging his advancing age with a wry smile at OTAs on June 6 — confirmed that, yes, the plan is to ride off into the sunset after the 2026 season. Maybe he gets fitted for one more Super Bowl ring with the Eagles before all is said and done.
"Yea, hopefully … 37, that would be pretty old," Johnson told reporters. "Then again, JP [Jason Peters] is 41 so always chasing. But, I'm super fortunate to be where I'm at. And, like I said, to be in the second half of my career my goal now is to develop the younger guys and bring those guys along in the O-line room and be a better leader. But, yea man, it's crazy. Crazy how fast time flies. It doesn't feel like I'm in my 11th year but here I am and you don't realize how fast it goes, so very fortunate."
With the thought of retirement hanging over the room, the topic quickly turned to legacy. Johnson, a first-round pick in 2014, had the perfect answer ready to go. The 6-foot-6, 325-pounder has already come to peace with how he wants to be remembered for his time with the Eagles.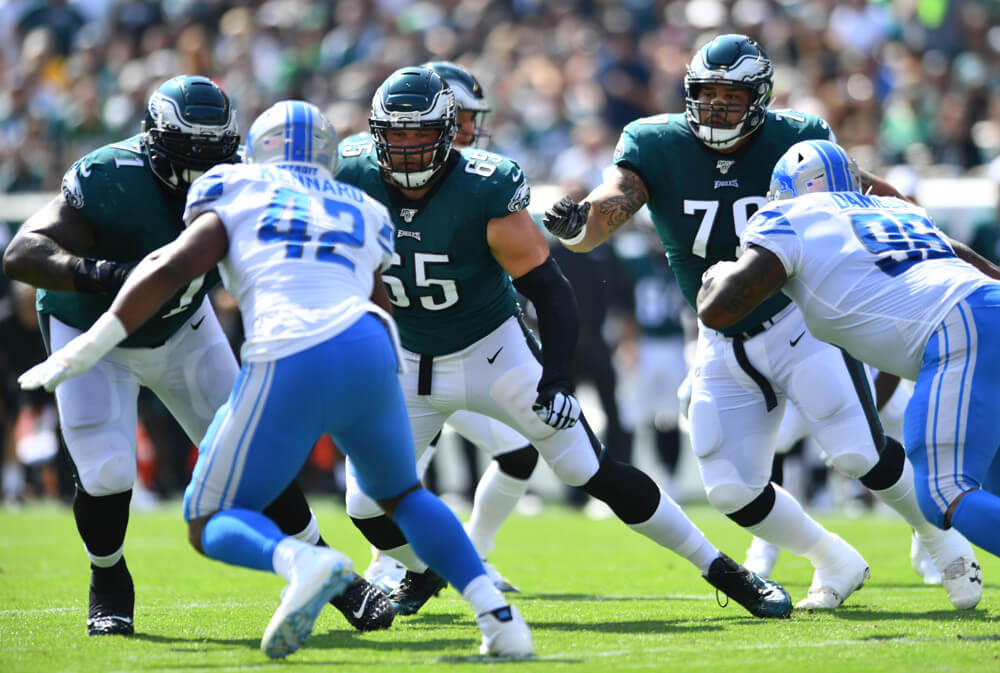 "I'm just a guy that loved his teammates, loved the City of Philadelphia, loved playing," Johnson said. "Just a guy that grinded hard, and just tried to be a good example on the field and help guys off the field. Just be a good human."
Tyler Steen vs. Cam Jurgens: Battle to be the Eagles starting right guard
Rookie Tyler Steen and second-year man Cam Jurgens are expected to battle for the starting spot at right guard. They'll be looking to take the torch from Isaac Seumalo who left to join Pittsburgh in free agency. That competition won't start heating up until Eagles training camp, but Johnson shared what he's seen from the two youngsters so far.
"It's all about consistency. I think both of these guys coming in are new to the position, and really it goes down to angles," Johnson said. "It goes down to communication, a lot of it. Making sure you get the call, like Landon [Dickerson] was saying, it's totally different, guard and tackle. Tackle, you have a lot more space to operate. Guard is you're kind of fighting in the phone booth. You obviously have to be strong, stout, good balance and body control. But, the communication factor is big, just echoing all the calls and making sure everybody's on the same page."
The new position element will be the hard part. Steen is transitioning from tackle — he started 13 games at left tackle for Alabama in 2022 — while Jurgens is making the leap from center after red-shirting behind Eagles great, Jason Kelce. Jurgens appears to be the early favorite due to his massive strength.
"He's so damn strong, I think he front-squatted like 550 [pounds] the other day," Johnson said of Jurgens. "The thing about him being 6-3, I feel like he has natural leverage on some of the defenders. The more reps that he gets the better he's going to be. As far as the explosion and athletic traits, he's unbelievable."
Jalen Hurts: Ultimate Thermostat in the Room
Jalen Hurts nearly knocked Michael Irvin out of his chair last September after his quote about being the thermostat and "setting the temperature" in the room went viral. It was a brilliant quote, one that paints a vivid picture of what Hurts is all about. Johnson revealed that the Eagles franchise quarterback acts that way every day. It's not an act.
"He stays pretty consistent, as far as how he acts and goes about his business," Johnson said. "He's very professional in here and just one thing he does is he's always working his tail off. So, with that, the actions speak a lot louder than words. He'll say a little bit every now and then. When he needs to. But, just how he conducts himself, just his presence in the huddle, just how calm he is, that kind of sets the tone for everybody to be calm and focused, and be ready to play one play at a time."
Photo by Kyle Ross/Icon Sportswire