The Philadelphia Eagles have long been known as a loyal organization, taking care of their home-grown talent and rewarding them financially. Right tackle Lane Johnson was the latest player to benefit after the team handed him a one-year, $33.445 million contract extension.
Lane Johnson given a one-year contract extension
ESPN's Adam Schefter shared the news on March 24. Johnson, the No. 4 overall pick from the 2013 draft, received $30 million in guaranteed money and stays locked up through the 2026 season. He originally inked a four-year, $72 million deal in 2019 which made him the fourth-highest-paid right tackle on a per-year basis at $18 million. Johnson will earn $14 million in base salary for the 2023 campaign.
Eagles were right to reward Lane Johnson
Lane Johnson has been the best player at his position for the better part of a decade. He hasn't surrendered a sack since Nov. 22, 2020: Week 11 against the Cleveland Browns, per Pro Football Focus. That's a streak that spans 29 games, 794 days, and more than 1,800 snaps. His skill is unmatched. Ditto for his toughness. Johnson played on a torn abductor — stemming from a groin injury suffered on Christmas Eve — during the 2022 postseason where he started in all three playoff games and failed to give up a sack. He eventually opted for surgery to repair it following the Eagles' Super Bowl loss. He's expected to be ready for the start of training camp.
"He's a warrior. He's a true warrior and a very important piece of this team," quarterback Jalen Hurts said after the NFC Divisional Round, per NBC Sports Philadelphia. "He's been doing great things for a very long time, and I'm very grateful to have him. We're grateful to have him and I'm happy that he's kind of coming out of this thing clean."
Head coach Nick Sirianni added: "Lane is the best tackle in the NFL, so to have him back and just shutting down a side, that's huge. It was awesome to have him back. He makes us go. That entire offensive line makes us go."
Eagles Save $9.4 Million in cap space with Lane Johnson's extension
On paper, it looks like the Eagles shelled out big money to a great player. Which they did. But, general manager Howie Roseman always has multiple angles working and the decision to extend Lane Johnson actually saved the team $9.4 million on this year's salary cap. His new deal lowers their cap number from $24.2 million to $14.8 million, according to NFL Network's Mike Garafolo.
The Eagles had been trending up in terms of salary-cap space after letting several high-profile players walk in free agency, guys like Miles Sanders, Isaac Seumalo, T.J. Edwards, C.J. Gardner-Johnson, Kyzir White, Marcus Epps, and Javon Hargrave. They currently have $13.92 million available (via OverTheCap), the fourth-best total in the NFL right now.
Roseman provided some insight on his offseason strategy at the NFL Scouting Combine. He had 19 unrestricted free agents on the roster and decided not to extend anyone in the middle of their Super Bowl run. He didn't want to break up the team chemistry, choosing a wait-and-see approach and knowing full well he couldn't sign everyone.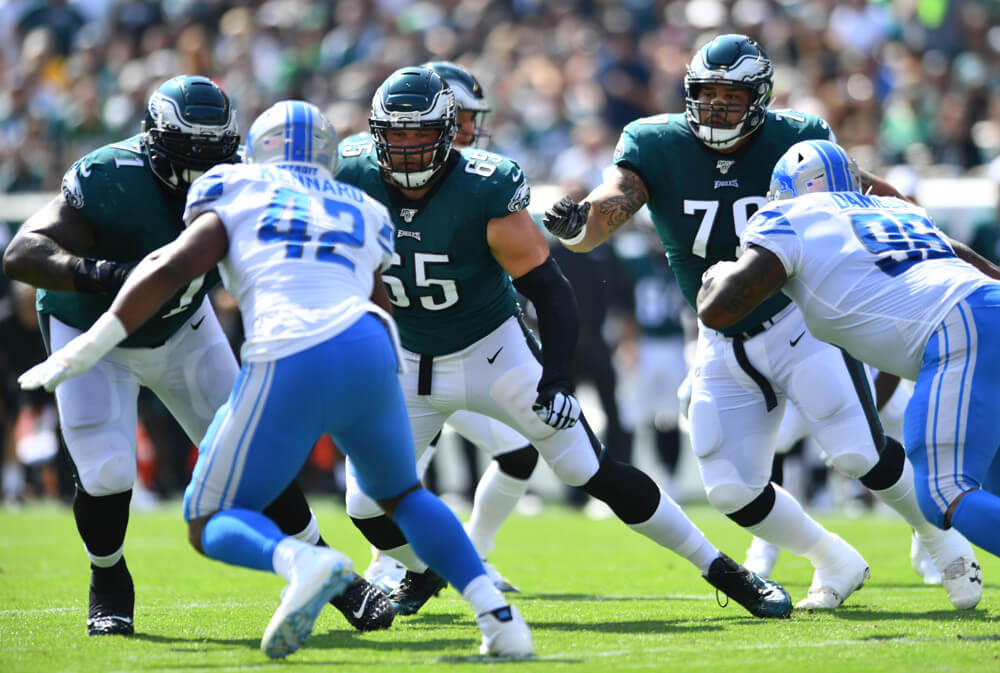 Howie Roseman uses a different tactic to retain Lane Johnson
"I think just obviously we took a little bit of a different tactic this year," Roseman told reporters. "Usually, we like to sign guys early and sign guys during the season, and because of how hot we started, how well we did, and how many free agents we had, we thought it would create a different dynamic if we started to pick one guy and not another guy. We understood that could cost us in the end, but we felt like it was worthwhile because of the opportunity to potentially win a championship. Unfortunately, we came up short."
Photo by Kyle Ross/Icon Sportswire