The Philadelphia Eagles were among the biggest winners of the 2023 NFL Draft, but how does their defensive depth chart look ahead of what promises to be an exciting Summer?
Defensive tackle
Jordan Davis, Fletcher Cox, Jalen Carter, Milton Williams, Marlon Tuipolotu, Moro Ojomo, Kentavius Street
The Eagles traded up for Jalen Carter in the first round of the 2023 NFL Draft, ensuring a 4-year pairing comprised of two of the most dominant forces in recent college football memory. Jordan Davis & Jalen Carter tore opponents to shreds as teammates at Georgia, and they'll do the same in Philadelphia.
Moro Ojomo was later added to the positional group as a developmental talent who could well challenge Marlon Tuipolotu for a spot in the rotation this summer. He's a low-risk addition with a high ceiling who could be fun to watch during Training Camp.
Defensive end
Brandon Graham, Josh Sweat, Derek Barnett, Janarius Robinson, Tarron Jackson, Matt Leo
There was some push from fans to add an EDGE rusher to the roster this offseason, but so far, no dice. This could be in part due to the nature of Desai's defense, which will build on Gannon's philosophy of using OLB's (Hello Hasson Reddick) as edge-rushers as well as in coverage.
However, you could still make an argument that the position could use a new name or two if options do come up in trade possibilities between now and week 1.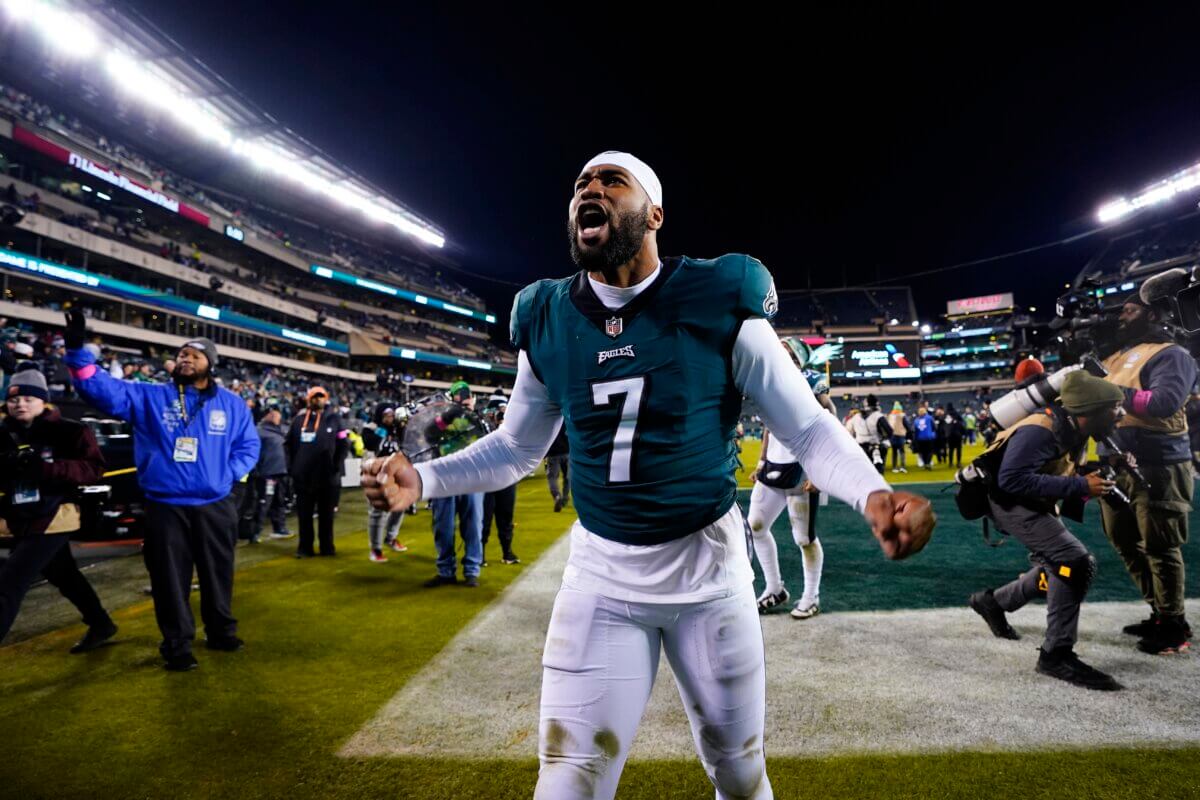 Linebacker
MIKE: Nakobe Dean
SAM: Hasson Reddick, Nolan Smith, Patrick Johnson, Kyron Johnson
WILL: Nicholas Morrow, Christian Elliss, Shaun Bradley, Davion Taylor
It's clear now that the Eagles really do view Nakobe Dean as the starting MIKE linebacker this year, while Nolan Smith's stunning availability at pick 30 will really add some explosiveness to the outside spots. Smith can also play on the EDGE which takes some of the strain off that spot.
Jeff Stoutland is quite the wizard as we know and it will be fun to see what he can do with another powerful prospect.
Cornerback
Darius Slay, James Bradberry, Avonte Maddox, Greedy Williams, Keele Ringo, Josh Jobe, Josiah Scott, Mario Goodrich
Adding Keele Ringo to this CB room was a brilliant move. There is a real sense of long-term upside in this group now and when the time comes for Darius Slay to move on, there should be a healthy crop of candidates waiting to step up thanks to two stellar offseasons by Howie Roseman.
Safety
Reed Blankenship, Terrell Edmunds, Sydney Brown, K'Von Wallace, Justin Evans, Andre Chachere, Tristin McCollum
The Eagles already had two viable starters in the defensive backfield, but Sydney Brown's ball-hawking ability could really open things up, if not now, then definitely for 2024. Brown's versatility will also benefit a Safety group that could really use some stability.
AP Photo/Matt Slocum