A few days ago, the 2022-2023 Philadelphia Flyers grades were released for the forwards.
Shifting focus, these grades address the goaltenders and defensemen. Three goaltenders started games for the Flyers in 2022-2023, and seven defensemen appeared in more than fifty NHL games.
Carter Hart (B)
Hart kept the Philadelphia Flyers in games, helping steal victories. By the numbers, they improved, but weren't explosive. He finished 2022-2023 with a 2.94GAA and a 90.7%SV, which isn't bad considering the defensive help he had. John Tortorella praised Hart for the way he handled himself throughout the season:
"Our goaltender [Hart] has kept us in some games to allow ourselves to get back into it, which is important. As far as the attitude on the bench, I think it's been a good bench."

John Tortorella; 10/26/2022
His effort, for a large portion of the season, carried the Flyers. Entering a rebuild, rumors swirled regarding Hart wanting to spend his prime years in Philadelphia.
The Flyers will hope to avoid arbitration with Hart, who enters a contract season in 2023-2024. Expect Daniel Briere and the upcoming President of Hockey Operations to offer an extension in the early stages of the upcoming season.
Cam York (B)
York didn't make the team out of training camp, but he was one of the most exciting Flyers' defensemen since making his 2022-2023 debut against the Vegas Golden Knights on December 9th. Since, he established himself as a full-time NHL skater.
Developing rapidly after Tortorella didn't put him on the opening night roster, York notched 20 points (2G, 18A) in 54 games. At times, he struggled, but found his footing on the top pair next to Ivan Provorov. Overall, sending York down to the AHL to begin the season proved beneficial.
"I've seen players get better each game. I've seen our back end get better. Cam York, [the] minor leagues worked. That whole situation you guys were pissing and moaning about when we sent him down worked. Cam comes up and is trying to make a difference."

John Tortorella; 12/20/2022
Sam Ersson (B)
In twelve games, Ersson earned the attention of the Flyers. He finished with a 6-3-0 record, making a strong case to rotate in 2023-2024 with Hart. During the 2022 Flyers Training Camp, he competed with Felix Sandstrom for the backup role.
"He's [Ersson] just not afraid. He just plays."

John Tortorella; 1/2/2023
Ersson made an impression in North America. The journey to the AHL Calder Cup finished prematurely; the Lehigh Valley Phantoms were eliminated by the Charlotte Checkers. In the NHL, Ersson finished with a 3.07GAA and a 89.9%SV.
Nick Seeler (B-)
Seeler played the best hockey of his career in 2022-2023. He played his role on the third pair, stabilizing his position as a defensive anchor. At times, Seeler looked like the best defenseman on the Flyers' roster.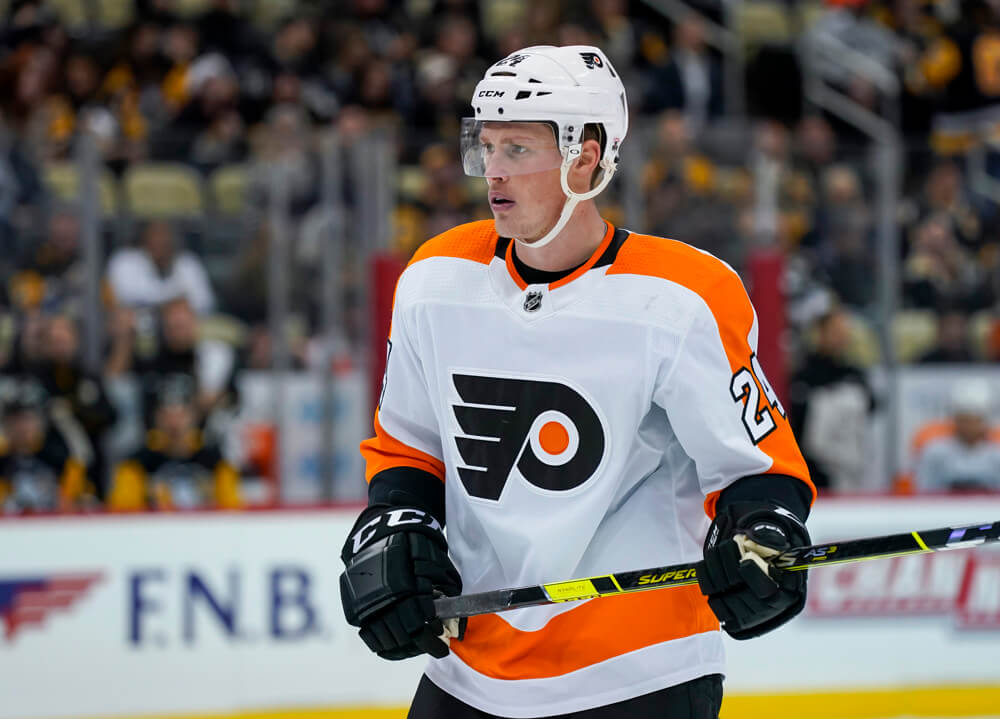 His story is as impressive. Seeler stepped away from hockey to take a mental and physical break. Chuck Fletcher, familiar with Seeler, offered another opportunity at the NHL.
"I just needed a mental and physical break. A few months went by, and [I] started to get that fire, that passion back; that true passion for the game."

Nick Seeler; 2/10/2023
The Flyers' nominee for the Bill Masterton Memorial Trophy, Seeler leaves everything on the ice. He became a fan favorite because of his effort and grit.
Rasmus Ristolainen (C+)
Ristolainen stabilized his game after a very disappointing 2021-2022 campaign. He did have a slow start in 2022-2023, notching his first point on December 23rd against the Carolina Hurricanes.
Earlier in the season, Tortorella challenged Ristolainen to focus on defensive positioning and awareness instead of looking for the big hit. Ristolainen improved, finally evolving into a defenseman who can also drive the puck deep into the offensive zone. He continued to rattle the boards with hits, and increased his offensive output to 20 points (3G, 17A) in 74 games.
Next season, Ristolainen has to sustain his growth from 2022-2023, and with Tortorella, there is still a lot of room for development after a decade in the NHL.
Justin Braun (C+)
Braun did everything expected of him during his final NHL season. A defensive defenseman, Braun only tallied two assists in 51 games. He kept a veteran presence in the locker room, especially when there wasn't a captain.
"He's [Braun] almost like a parent; that guy that's been through a lot of circumstances, or different situations, and is able to relay that to the rest of the team; help calm the team down. We had some other veteran guys that did that also; he's just one of those guys that's a great example: his leadership, demeanor for all the young guys to be able to look at and learn from, help them with their careers going forward."

Darryl Williams; 4/13/2023
On the brink of a career milestone upon his retirement, Tortorella did what he could to get Braun his 200th point while his father watched from the Flyers' bench. He finished his NHL career as the consummate professional; earning the Yanick Dupre Class Guy Award.
Ivan Provorov (C-) 
Provorov needed to take the biggest jump of anyone on the defense in 2022-2023. Since 2019-2020, Provorov hasn't lived up to his top pair potential.
In 82 games, Provorov recorded 27 points (6G, 21A). He isn't one to produce a ton of points, but his most recent pace lags both seasons between 2020-2022. Provorov was responsible for the overtime game-winner against the Chicago Blackhawks to finish the season on a high note, however.
Tortorella spoke highly of Provorov, but it doesn't keep his name out of the trade rumor mill.
"I was pretty honest with Provy that we weren't going to give him a lot of powerplay minutes until we got his five-on-five game straight because I've seen the level he's played at. He's basically told me, with his play, that 'I'm ready to bring in all situations in my game.' He's been our most steady defenseman from the start of the year."

John Tortorella; 11/3/2022
He earned the Barry Ashbee Trophy, presented to the most outstanding Flyers defenseman, for 2022-2023. Perhaps the organization believes Tortorella can unlock his game. It wouldn't be a huge surprise if Provorov remains in Philadelphia next season.
Tony DeAngelo (D)
Fletcher traded a 2022 fourth round, a 2023 third round, and a 2024 second round pick for DeAngelo and a 2022 seventh round selection. He didn't fit with Provorov, eventually finishing the season on a five-game healthy scratch streak.
Of course, the Flyers were a much weaker team than the Hurricanes, but DeAngelo wasn't expected to fall out of the lineup. He did help on the powerplay, but was a defensive liability. Overall, DeAngelo scored 42 points (11G, 31A) with 19 (4G, 15A) on the man advantage.
Clearly, DeAngelo didn't agree with the way the season ended. Tortorella, as usual, kept the matter between him, the player, and the team. DeAngelo wants to be in Philadelphia.
"I plan on being back. I want to come back. I have no clue what's going to happen. It's not my decision, but I'll be training and getting ready to play another season here."

Tony DeAngelo; 4/14/2023
Travis Sanheim (D)
Sanheim regressed after signing an 8yr/$50mil extension on opening night. In 2021-2022, he earned the Barry Ashbee Trophy and Pelle Lindbergh Memorial Trophy, the most improved player. Tortorella mentioned that he didn't see consistency with Sanheim:
"Not good enough. Not nearly good enough. I don't know him; I haven't seen him make a difference for us. I know him as far as people have talked to me about him, but I certainly haven't seen it. Forget about using the word 'consistency;' I have not seen it."

John Tortorella; 11/3/2022
Scratched against the Calgary Flames, Tortorella made it known that he expects more from Sanheim. He scored 23 points (7G, 16A) in 81 games, looking his best when he was aggressive, joining the offensive rush. Similarly, the expectation was for Sanheim and Provorov to take huge strides in 2022-2023, but they didn't.
In 2022-2023, the hefty contract extension kicks in. It's boom or bust for Sanheim with that money and term attached to his tenure in Philadelphia.
Felix Sandstrom (D)
Sandstrom started eighteen games in his first season as the designated backup to Hart. He wasn't amazing, but not terrible. He still has value in a league where goaltending isn't easy to obtain.
Owning a 3-12-3 record, he didn't get a lot of help when struggling. Eventually, Tortorella showed more confidence in Ersson, acknowledging that Sandstrom routinely needed to find "one more save." There will be a part two to the goaltending battle in training camp, but this time, Sandstrom is the underdog.
(Photo Credit/Alex McIntyre)