The Philadelphia Eagles looked dazed and confused in Week 6. The offense was anemic. Jalen Hurts was inept. And the play-calling was curiously questionable as the offensive line struggled to set the edge once Lane Johnson exited with an ankle sprain.
The whole thing was a mess. One day later, head coach Nick Sirianni attempted to explain what went wrong while updating what is starting to become a lengthy injury report. Sirianni was extra guarded when asked for return timelines and contingency plans, although he seemed to drop a hint that general manager Howie Roseman was eyeing up some outside help.
"Hopefully we're getting a couple guys back and feel good about it," Sirianni told reporters. "I know Howie is always working to put ourselves in great spots as far as personnel goes."
Sirianni's answer was getting a bit blown out of proportion in the media. You see, the answer was in direct response to a question about the play of undrafted rookie cornerback Mekhi Garner who saw 23 defensive snaps against the Jets. Garner stepped in and played safety after Reed Blankenship hurt his ribs.
"I thought he did a nice job. He hasn't played a lot at safety outside of practice, so I thought he did a nice job under the circumstances, and he'll continue to improve," Nick Sirianni said of Garner. "One thing he does have, and I credit Howie [Roseman] and his staff of what they look for and us being on the same page of what we're looking for, they look for guys with traits, and Mekhi is big, strong, can run. He did some nice things in pre-season there at corner, and so you can work with guys like that."
Nick Sirianni Updates Injury Update on Lane Johnson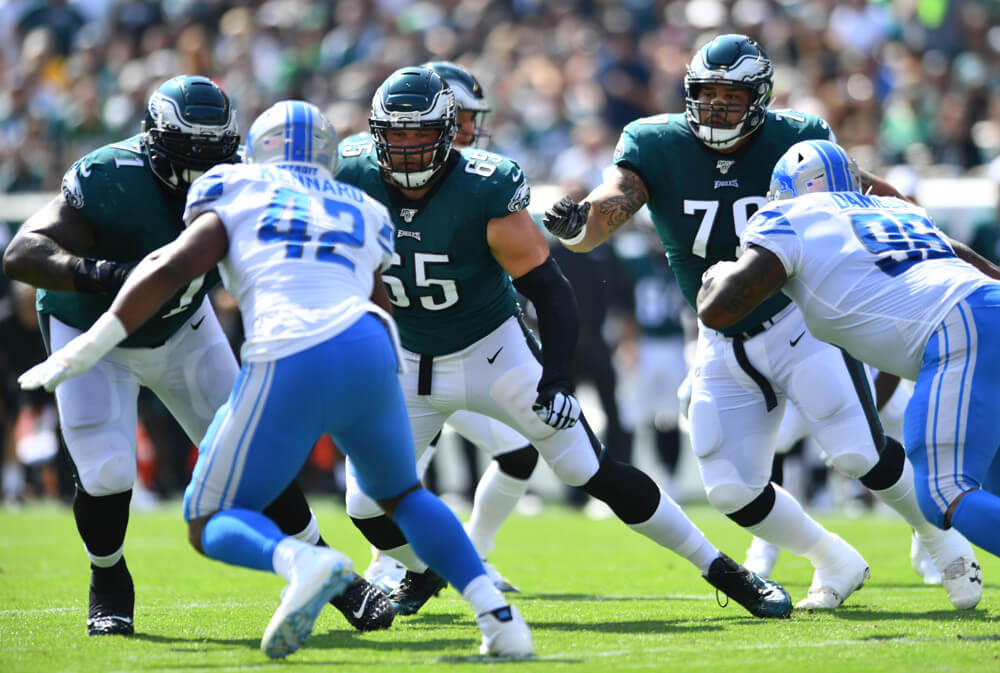 The biggest cloud hanging over Nick Sirianni and the Eagles heading into Week 7 is the status of starting right tackle Lane Johnson. The way he hurt his left ankle – opposite foot of his surgically repaired right ankle – looked horrific on the replay. He twisted it badly and landed awkwardly on it yet avoided the golf cart.
Johnson walked off on his power, ever gingerly, after seeing only nine snaps at MetLife Stadium. There is already budding optimism that the Pro Bowler will suit up and play on Sunday night versus Miami.
"I know Lane is going to want to do everything he can do to play," Sirianni said. "We're going to want to do everything we can to get him to play. He's one of the best players in the NFL. It's going to be important that he's on the field."
According to The Inquirer's Jeff McLane, Johnson suffered a Grade 1 "lateral" sprain in his left ankle but he "feels good." Remember, the 33-year-old played through a significant groin injury during last year's playoff run and Super Bowl. If he can't go, Jack Driscoll – 61 snaps against New York – would be the next man up again.
"Obviously we're really early. Real early," Nick Sirianni said. "Got to see Lane today. Got to talk to Lane today. Status is to be announced."
Nick Sirianni on Jack Driscoll: "I've got a ton of confidence in Jack. We'll continue to work with Jack. Jack is versatile and can do a lot of different things. We'll try to put Jack in the best positions we can to help him succeed as well."
Nick Sirianni on Injured Starters Jalen Carter, Darius Slay, Reed Blankenship: "We'll see on all those guys. They're all going to be in a little bit different categories as far as potential time out, but, again, I don't want to put unnecessary timetables on anything really because there are just so many different things that can happen within the next couple days."
Nick Sirianni on Brian Johnson's Play-Calling: "I thought Brian [Johnson] did a nice job. I think when you really look at it, there are some detail things, right? Again, there are always going to be detail things as coaches you want back. Always going to be detail things as players you want back."
Nick Sirianni on Letting the Jets Score with 1:46 Left: "Maybe we did, maybe we didn't. I don't think that's something I want to get into because, again, that's discussing a strategy thing."
AP Photo/Matt Slocum