The Philadelphia Eagles aren't going to stop calling the quarterback sneak when they need to pick up a short yard for a first down. The controversial play — whether labeled the "Tush Push" or "Brotherly Love" — has been unstoppable.
They converted it 37 out of 41 times during the 2022 season, blocking out the noise from everyone lobbying to ban the play. Pro Football Talk's Chris Simms has been the most critical voice condemning it in recent days when he called for defenders to go head-hunting on Jalen Hurts and "try to kill the quarterback." Harsh words that didn't sit well in the Eagles' locker room.
"I don't understand why people want to wish ill will on anybody, maybe they couldn't run it as well as we are," Eagles' left tackle Jordan Mailata said. "They don't have the O-line like we do. Or the technique. You can just dive on the floor but it's a lot more than that, and it's probably why we're very successful is that we talk about technique and how to execute against dfferent looks because everybody thinks we just dive on the pile and the two guys just push Jalen for the first down … no, there's a bit more technique than just a tush push."
Mailata also went on record in his support to stop calling it the "tush push." The 365-pounder protecting Hurts' blindside prefers to call it the "Brotherly Shove."
"Brotherly Shove fits us better," Mailata said. "Tush push? I don't know who came up with that, but it's derfinitely not why we're converting it, I'll tell you that much."
Eagles' Edge Haason Reddick Sheds Thumb Cast, Ready to Notch First Sack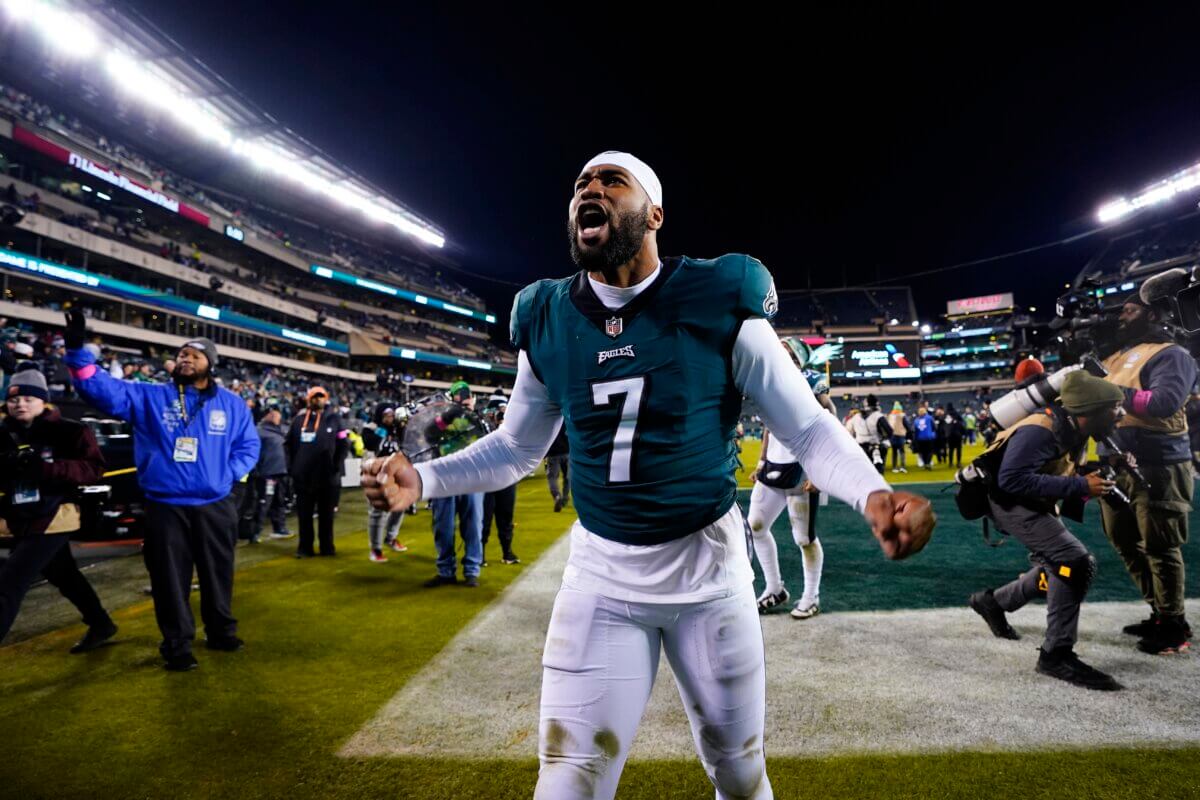 Haason Reddick has been wearing a cast on his hand after undergoing surgery to repair his right thumb during training camp. While the Pro Bowl linebacker would never admit to the injury limiting his production, it clearly has been a hinderance.
Reddick, fresh off a career-high 16 sacks in 2022, has zero sacks through the first three weeks this season. He talked about his health after Thursday's practice. Guess what? The cast is finally off.
"I'm not going to talk like that. I'm not a guy to make excuses. I'm just letting y'all know I'm extremely happy to be out of the cast," Reddick said. "But I'm not here to make excuses, what happened, happened. The injury happened. It is what it is. I'm still going to go out there and give my full effort no matter what condition I'm in as long as I'm able to play. But, like I said, I'm finally out of my cast and I'm extremely happy about that."
Haason Reddick on the Eagles' Run Defense (Ranked No. 1): "We just continue on our brand of football from last year … midway through the season we had some issues with that, we had brought some guys in and really buckled down on that. The thing about it here was, hey, last year was a great year. We was able to get all the sack production, able to rush the passer, because we were able to stop the run. So, as long as we keep everybody healthy and keep that mentality, man, we can keep doing what we like to do."
Brandon Graham: Guys Believing in Sean Desai's System
Sean Desai has been hitting all the right buttons in his first year as the Eagles' defensive coordinator. The unit has only surrendered 145 total rushing yards (No. 1) while giving up zero touchdowns and only six first downs on the ground. They are limiting opposing running backs to a miserly three yards per carry. The pass rush — six total sacks in three games — remains a work in progress.
"It's all about believing in the system and people," defensive end Brandon Graham said. "We already know that we believe in it, but like it's cool to see people making plays and that starts to grow even more, the confidence of, alright he called this … it don't matter what he call, we just know that he's putting us in position to make a play."
Brandon Graham on Washington QB Sam Howell: "You know what, he's a competitor. I see him, yeah, he might have got sacked nine [times] but they playing. They gonna play hard against us, too. NFC East opponent, first one for us, and so I know that it's going to be electric in the Linc at 1 o'clock, and we just gotta come out and be us. It's all about us."
Brandon Graham on Eagles' Defensive Tackles Jordan Davis, Jalen Carter: "Like I told them, both of them, they should be commanding a lot of money. They shouldn't be on the same team but Howie [Roseman] is a magician so he might make it work."
Jordan Mailata on Washington's Defensive Front: "They were drafted in the first round for a reason. They are gerat players. You gotta give respect to this D-line. If not, thay are going to make us look like fools out there. That's really it, you gotta give your respect."
Note: The Commanders have four starters drafted in the first round: DT Jonathan Allen (No. 17 in 2017); DE Chase Young (No. 2 in 2020); DT Daron Payne (No. 13 in 2018); DE Montez Sweat (No. 26 in 2019).
AP Photo/Chris O'Meara