Philadelphia Eagles head coach Nick Sirianni continues to pound the drum about riding the "hot hand" when it comes to his running back rotation. Never mind that D'Andre Swift went off for a career-high 175 yards last week. It could be posturing. It could be gamesmanship. It could be nonsense. Time will tell.
"Like I said, this is going to be … depending on who gets the hot hand, that's how it's going to look," Sirianni told reporters on September 18. "We know they are all capable of doing what they did and what they've done, so really excited about D'Andre and his ability of what he showed in the game. We're going to continue to want him to touch the football."
Moving on. Here are five key matchups to watch when the Eagles take on the Buccaneers at Raymond James Stadium in Tampa Bay on Monday Night Football.
WR Chris Godwin vs. Avonte Maddox's Replacement
Godwin is the Buccaneers' most productive slot receiver despite an effort to spread those snaps around under new offensive coordinator Dave Canales. He has 10 receptions for 109 yards, with 33% of his snaps coming in the slot. He's super quick and incredibly shifty in space. So, the Eagles might have a problem after starting nickel cornerback Avonte Maddox was ruled out. Who gets the start there? No one knows. The in-house options are Mario Goodrich or Josh Jobe, with James Bradberry emerging as a candidate in a potential move inside. Also, keep an eye on free agent Bryce Callahan.
Buccaneers D-Line vs. Eagles O-Line
The main guy to highlight here is Buccaneers outside linebacker Shaq Barrett (6-foot-2, 250 pounds). They'll move him around the formation as they try to figure out whether he can better exploit right tackle Lane Johnson (6-foot-6, 325 pounds) or left tackle Jordan Mailata (6-foot-8, 365 pounds). Barrett may be able to use his athleticism to give the Eagles' hogs fits coming off the edge. Tampa Bay's entire defensive line can ball out, though. Their eight total sacks through two games are tied for the third-best mark in the NFL. Linebacker Joe Tryon-Shoyinka leads them with two sacks, followed by 1.5 sacks for defensive tackle Vita Vea and one for Barrett. The whole pass-rushing group is disruptive and chaotic.
WR Mike Evans vs. CB Darius Slay
The reports of Evans' demise were overblown. The four-time Pro Bowler has 12 catches for 237 yards and two touchdowns so far this season, including a 171-yard outburst last week. He's a big, physical target who will try to bully Slay with his massive frame. It'll be interesting to see whether the Eagles lock-down corner bodies him up or plays off him. I would guess the latter. Either way, Slay is a master tactician and studies film to find tendencies. He'll be ready. Ditto for Evans.
QB Baker Mayfield vs. DT Jalen Carter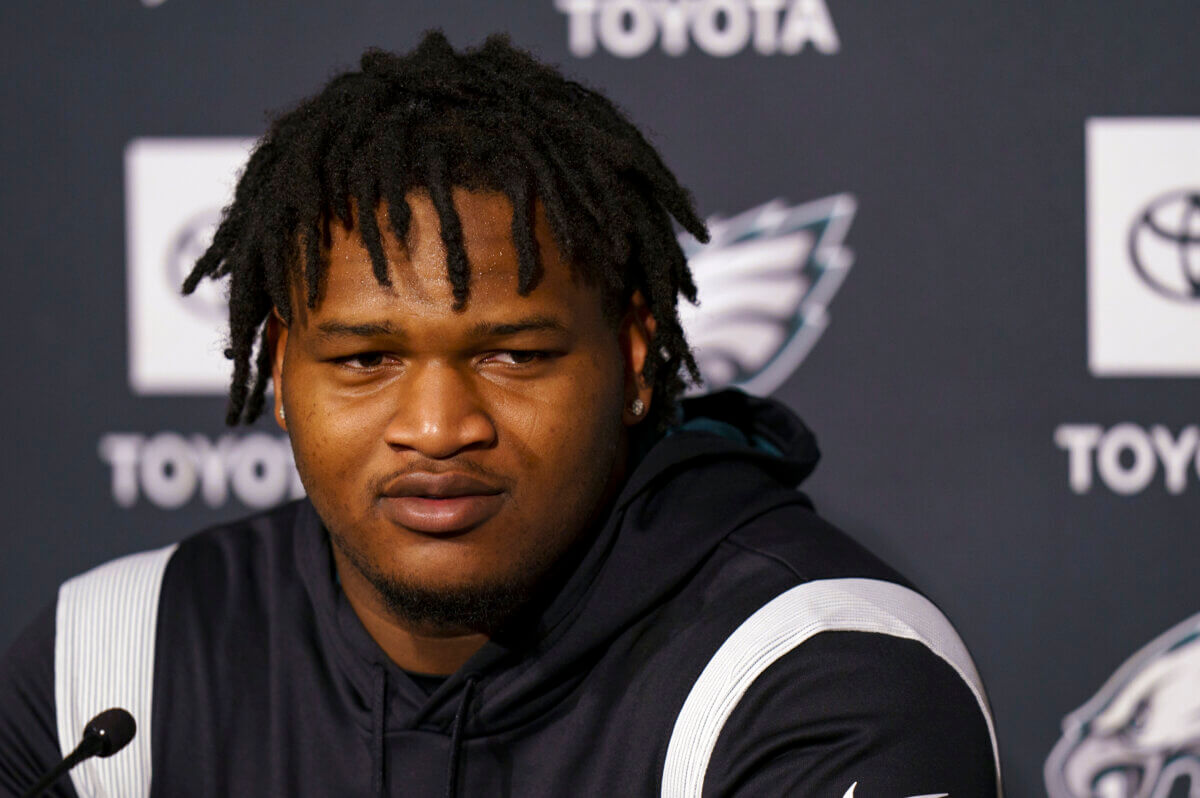 Yes, Carter will have to overpower the Buccaneers' offensive line – good luck, Matt Feiler and Robert Hainsey – before he gets a chance to flex on Mayfield. Everyone understands that. However, Carter has been on another level to start the year and he'll be up to the task again this week. The 314-pound rookie has one sack while wrecking people to get into the backfield seemingly at will. Let's not forget that Mayfield has shown an ability to use his legs over his career – 203 career rushes for 688 yards and two scores – and he'll need to get on his horse often to escape Carter's clutches in this one.
LT Tristan Wirfs vs. DE Josh Sweat
It's time to anoint Sweat as the next great pass rusher. He should have made his second straight Pro Bowl in 2022 (blame a loaded Eagles' defense for making it a numbers game) and the 265-pounder has picked up right where he left off: 1.5 sacks, plus 6 QB hits. He's the real deal. And Sweat will get to prove it to the world, under the bright lights of Monday Night Football, against one of the best left tackles in football.