When the Philadelphia Phillies signed Bryce Harper to the massive 13-year, $330 million contract in 2019, it seemed pretty clear what their plan was for Harper at the time. He was set to be the Phillies' starting right fielder for next 7-10 years. After that point, knowing the universal designated hitter was on the horizon, the Phillies were looking to move Harper to the DH position when his defensive capabilities in the outfield diminished.
A season full of twists and turns for Bryce Harper
Five months ago, that plan changed. First, Rhys Hoskins went down with a torn ACL during Spring Training. With the "next man up" philosophy in mind, Darick Hall was then looked at to step up as the starting first baseman for 2023. Unfortunately, Hall tore a ligament in his thumb while running the bases, sending the Phillies back to the drawing board. It was around this time that photos began to surface of a new face getting reps at first base: Bryce Harper.
While Harper had seldom stepped foot into the infield on his career to that point, he had always done some infield work with a first base mitt as part of his offseason training regiment. With that in mind, the Phillies committed themselves toward trying out Harper at first base when his arm had recovered enough from Tommy John surgery to make the necessary throws from first base over the course of a game.
A little over three months later, that time had arrived. On July 21st, Harper made his MLB debut at first base against the Cleveland Guardians. Since then, Harper has split his time between first base and designated hitter as manager Rob Thomson has navigated balancing Harper's recovery with the need to keep his bat in the lineup.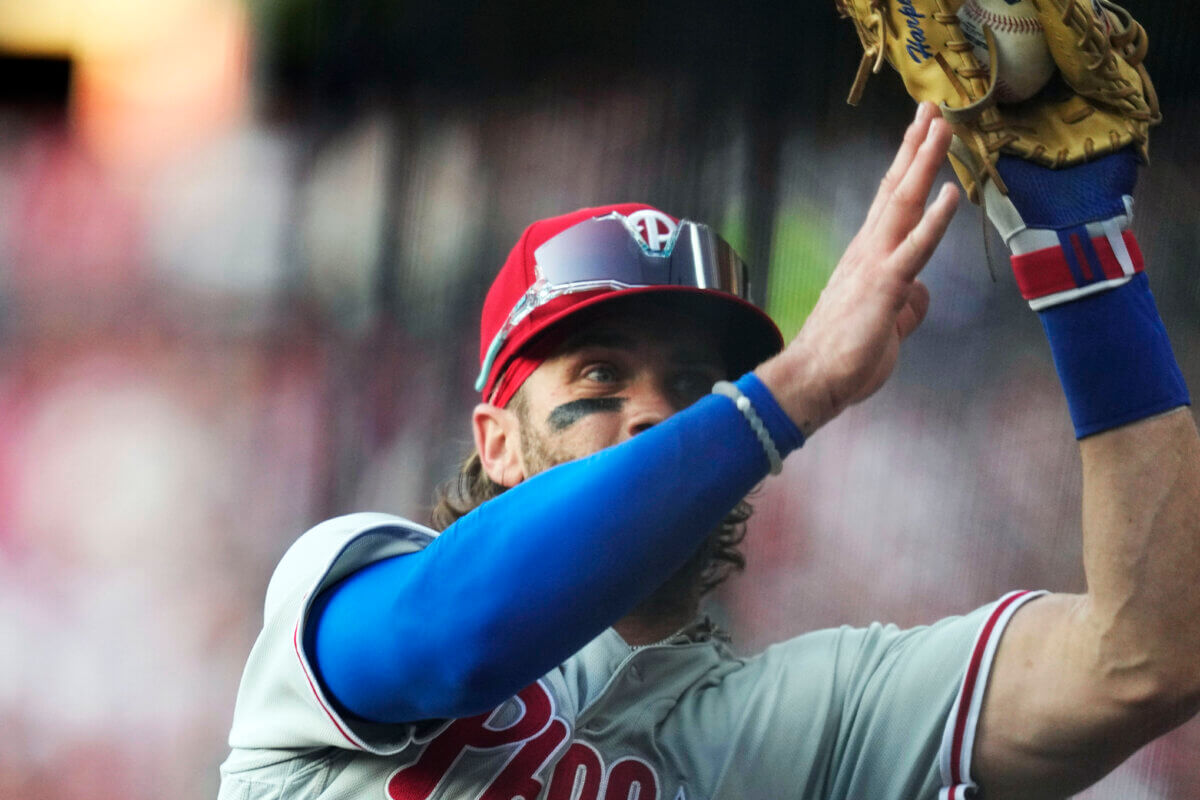 Good Impressions
Bryce Harper has acclimated himself well to the first base position thus far. His .993 fielding percentage is just under the league average of .994 on the year, a good starting point for the transitioning seasoned veteran. Barring a miraculous resurgence from Rhys Hoskins, it seems almost a given that Harper will remain at first for the remainder of the 2023 season and postseason. He has done so well in fact that he's generated a lot of buzz recently wondering if his transition to first base will be permanent.
Recently, Phillies broadcaster Tom McCarthy went on the Foul Territory Show to discuss Harper's positional future:
"I do think it's [the Phillies] plan is to maybe put him there at some point. He looks great. His throws have been fantastic. And I think footwork is still a bit wonky at times but man he puts the work in. He's there every single day trying to do it. He's made some really good plays, he's made some really good picks."

Tom McCarthy on the Foul Territory Show
McCarthy went on to say that he does not expect Harper to start at first base next season, but believes he may transition there full-time in the years to come.
Adding further fuel to the fire is mister bow-tie himself, Ken Rosenthal. In a recent piece for The Athletic, Rosenthal ponders a potential gold-glove future at first base for Bryce Harper, quoting his willingness to play anywhere: "I'm open to anything really."
Bryce Harper: Resident First Baseman
If the MV3 becomes the permanent starting first baseman for the Phillies, let's begin with the obvious implication: Rhys Hoskins has played in his last game for Philadelphia (again barring an early return.) Harper starting at first would also lock Alec Bohm back in at third base again. Given the amount of work Bohm has done at third to improve his game, returning him to first full-time would only bolster his growth. Harper's .993 fielding percentage is just under the league average of .994 on the year, a good starting point for a seasoned veteran trying a new position for the first time.
Should the Phillies decide to keep Bryce Harper at first base going into 2024, then Saturday night's lineup is the perfect starting point for such a change.
Kyle Schwarber's time in left field needs to come to an end. As Harper recovers and as he no longer requires time out of the DH position, Schwarber needs to moved full-time to DH as long as he remains in Philadelphia. As far as the outfield goes, a young outfield featuring Johan Rojas in center field and Brandon Marsh in left field is a much more defensive-minded approach that the Phillies have been lacking as of late. Nick Castellanos then stays in what has become his home in right field.
The only curveballs come if the Phillies choose to add to their offense over the offseason. And no, I am not referring to Shohei Ohtani. I fully expect the Phillies to put a bid in but not to win the fight for the One-Man Sho. An outfielder like Teoscar Hernandez or Harrison Bader come to mind as potential additions.
On another note, as a former NCAA statistician and someone who occasionally brings a book to Citizens Bank Park, there would be something satisfying about writing in number three, batting third, and playing at position number three (first base in case you have never done the book yourself!)
Should Bryce Harper return to right field?
Should the free agent market for Hoskins dry up due to his torn ACL, Hoskins could potentially return to Philadelphia on a one-year contract to prove himself healthy. In that case, the Phillies would be faced with a difficult choice as to whether or not to trade away Schwarber and rely on Harper and Hoskins as a platoon covering both first base and designated hitter.
Or, even more complicated, would be the Phillies essentially having ten starters on any given night with any of Harper, Hoskins, Schwarber, Rojas, or Marsh sitting depending on the day. While Thomson would likely have fun with that much lineup manipulation, it would suffice to say that is not a desirable situation in general as half of the roster would be in flux daily.
Personally, I would rather Bryce Harper return to right field in 2024 for the simple reason that I believe Bryce Harper provides more value to the team defensively in right field. Whether that means re-signing Hoskins, promoting Hall, or finding an external option at first base is up for debate. This would also likely force a platoon between Marsh and Rojas with one of them likely winning out to earn the starting center field job. Regardless, there are options as to where to play MV3 moving forward.
P Photo/Matt Slocum