As mid-round picks go, Josh Sweat has been one of the biggest steals for the Philadelphia Eagles in recent memory. In five seasons with the team, Sweat's sack total has increased every season since being a fourth-round selection out of Florida State.
During that run, Sweat has played under two defensive coordinators with different techniques for each season. Now under Sean Desai, the Eagles top pass rusher is more than confident with what he's seen from the new play-caller on defense.
"I like what he's bringing," Sweat told PSN after Thursday's preseason loss to Indianapolis. "So far, I like what we're doing. He's letting the D-line be the D-line. He's not holding us back. He's a lot more aggressive but we'll get after the quarterback a little more on the pressure side."
In 2022, the Eagles may have set a new franchise record for sacks in a single season, but they were one of the teams that blitzed the least across football. Under Desai, that could certainly change.
For Sweat though, more pressure along the line doesn't mean anything changes in his goals and career aspirations.
"It's the same thing. Just playing my game and doing what I've been doing. I think this is the year I get my name out as one of the best pass rushers in the league but that's for me," Sweat added. "No one can put more pressure than I already have on myself."
Helping Sweat along the way is fellow Pro-Bowl edge rusher Haason Reddick. Reddick is coming off a 16-sack season with the club while being a finalist for Defensive Player of the Year. While Reddick is recovering from thumb surgery, the Eagles and Sweat are not concerned about the duo's effectiveness once the regular season ends.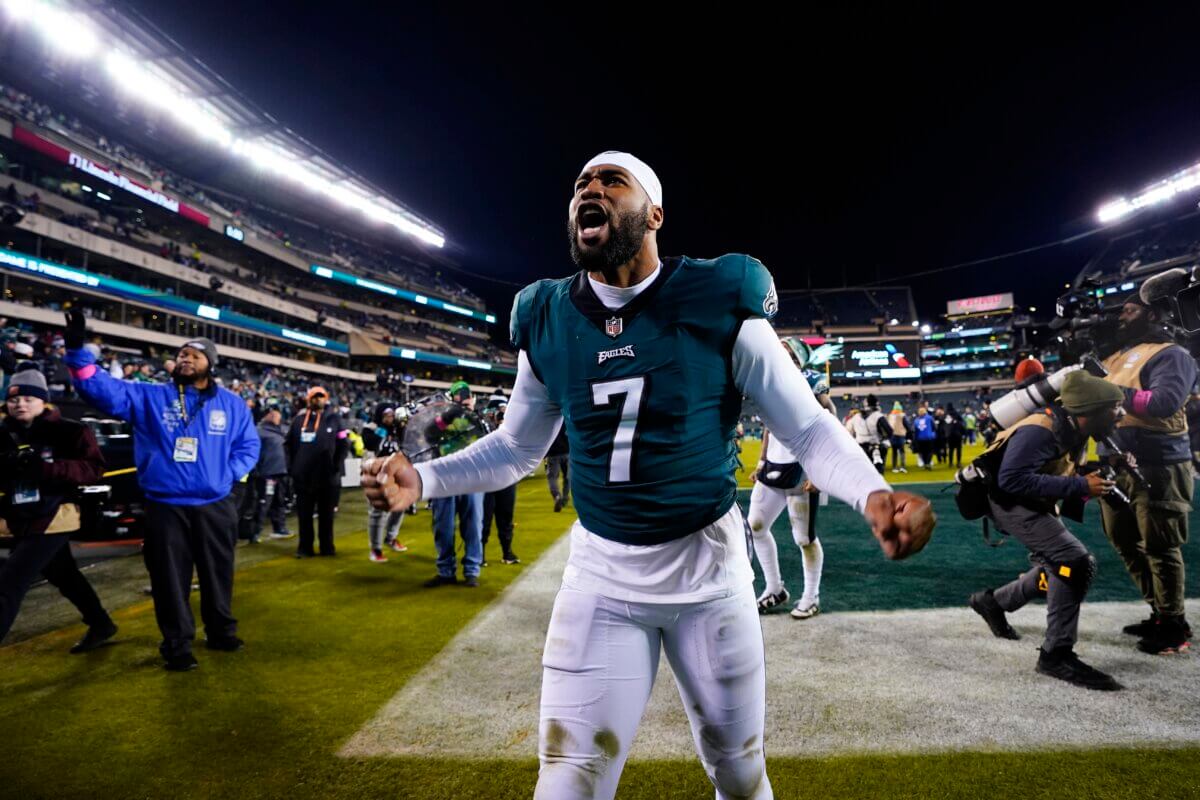 That includes making up for the loss of five different defensive starters who have left the team in free agency.
"We're still attacking, we might even be more aggressive on the defensive side now. I don't notice anything different. Whoever moves into the new roles, they'll get it done too," Sweat said.
Philadelphia will be looking to replace many of last year's starters with young rookie or second-year talents. With four coming from Georgia in just the last couple of years, Sweat is confident that they'll be ready for the season opener in New England.
Josh Sweat wants to be seen as one of the top pass rushers in football next season. With another 10+ sack season and a potential All-Pro nomination, he's certainly on that path. If Philadelphia is to return to the Super Bowl for the second straight year, they'll certainly look to players like Sweat to lead the way along the defensive line.
Photo by Kyle Ross/Icon Sportswire