The Philadelphia Eagles wrapped up their 2023 preseason slate with a 27-13 loss at Lincoln Financial Field. They exited exhibition play at 0-3, although don't read into the lopsided record. Jalen Hurts didn't see a single snap. Neither did the majority of the team's projected starting offense.
All eyes turn to how head coach Nick Sirianni is going to construct the final 53-man roster. Obviously, general manager Howie Roseman will have heavy input on the personnel. Following Thursday night's loss to the Indianapolis Colts, Sirianni reflected on the task at hand. Cuts are going to be hard. The deadline for making them is August 29 at 4 p.m.
"The better the roster, the more tough decisions you are going to have to make," Sirianni told reporters after the game. "We are going to have a bunch of tough ones. The guys that are going to end up getting cut, they made it hard on us. We will evaluate this tape tonight. We still have some question marks of who it is going to be. I look forward to watching this tape, and hopefully, some of these guys made it real hard for us."
Predicting the Eagles' Final 53-Man Roster
Let's take a stab at the Eagles' final 53-man roster, shall we? The starters, outside of linebacker and safety, are easy to predict at this point. The major question marks will likely be at the backup spots — nickel cornerback remains a big one — while the coaching staff considers which players bring the most juice to special teams. Without any further adieu, away we go:
Quarterbacks (3): Jalen Hurts, Marcus Mariota, Tanner McKee
Analysis: Despite all the hype generated by rookie sixth-rounder Tanner McKee the backup job belongs to Marcus Mariota. It comes down to experience and he has more of it. Next year? Look for McKee to be holding the Eagles QB clipboard for Jalen Hurts.
Running Backs (4): D'Andre Swift, Kenny Gainwell, Rashaad Penny, Boston Scott
Analysis: There is a case to be made for Trey Sermon taking a roster spot from Scott. He clearly provides additional value as a kickoff returner, plus he looked more explosive and more decisive in his cuts throughout the preseason. However, Scott is beloved among the coaching staff and fans. He also knows the Eagles offensive system a lot better.
Wide Receivers (6): A.J. Brown, DeVonta Smith, Quez Watkins, Olamide Zaccheaus, Britain Covey, Devon Allen
Analysis: The Eagles rarely keep more than five receivers — and I'm probably going out on a limb here thinking they keep six — but Allen did something spectacular every day over the past two weeks. His 74-yard kickoff return for a touchdown against the Colts should have sealed up a spot.
Tight Ends (3): Dallas Goedert, Jack Stoll, Grant Calcaterra
Analysis: Eagles GM Howie Roseman has been very high on Tyree Jackson for three straight training camps, choosing to roster him while injured in previous seasons. As intriguing as his potential is, it just doesn't make sense to keep him over Grant Calcaterra who had a much stronger camp.
Offensive Line (9): Jordan Mailata, Landon Dickerson, Jason Kelce, Cam Jurgens, Lane Johnson, Tyler Steen, Jack Driscoll, Josh Andrews, Fred Johnson
Analysis: The Eagles put a weighted value on the offensive line, particularly hybrid players who can switch between guard and tackle. That covers Tyler Steen and Jack Driscoll. Josh Andrews sticks around as the backup center. And Fred Johnson just inked a two-year contract. I thought Julian Good-Jones played well enough to warrant a spot but there just isn't enough room at the inn. Meanwhile, veteran Sua Opeta is the odd man out.
Defensive Line (6): Fletcher Cox, Jordan Davis, Jalen Carter, Milton Williams, Marlon Tuipulotu, Moro Ojomo
Analysis: Moro Jomo — the rookie seventh-rounder out of Texas — is the biggest question mark on this list. He suffered a concussion against Cleveland, but the team didn't place him on injured reserve. He was having an impressive camp before the injury so he makes the squad over Kentavius Street.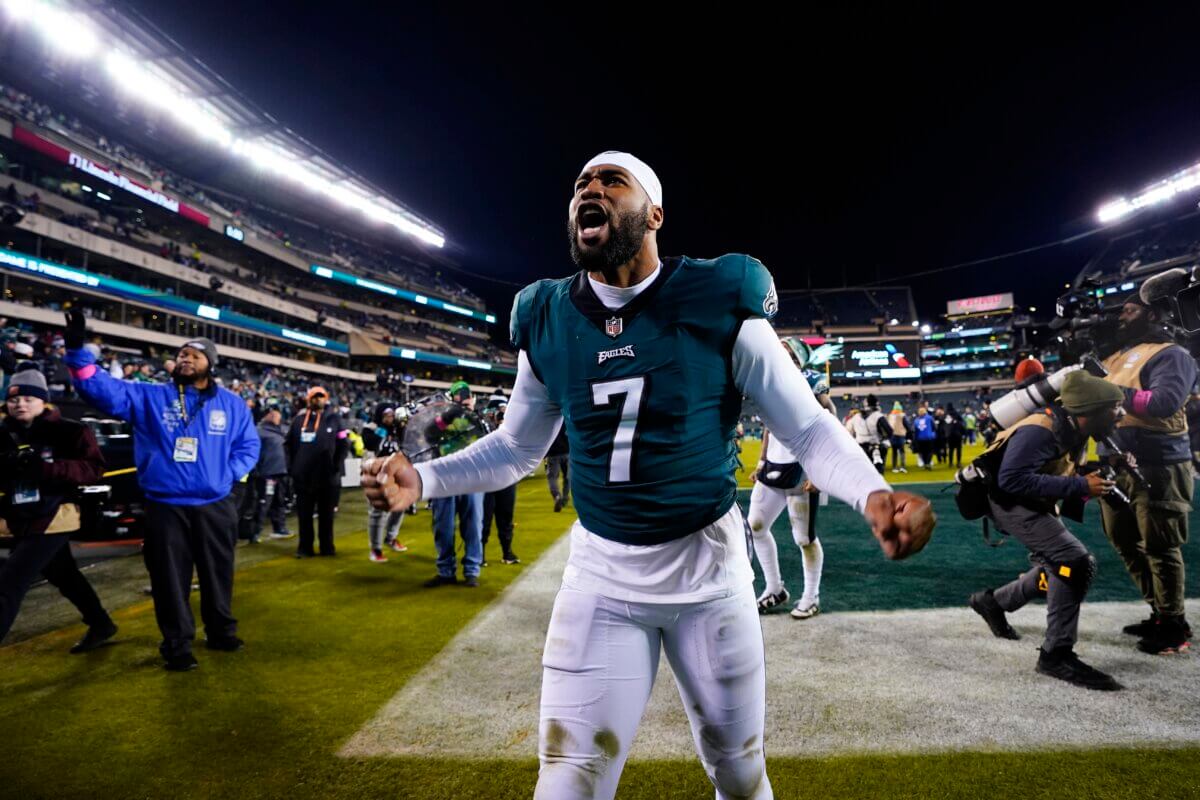 Edge Rushers (6): Brandon Graham, Josh Sweat, Haason Reddick, Nolan Smith, Derek Barnett, Tarron Jackson
Analysis: A strong case could be made to cut Derek Barnett when you factor in all the preventable penalties he picks up, including picking unnecessary fights at practices. But he's a former first-round pick who remains under contract. I still think there's a chance they try and trade him. Tarron Jackson flashed throughout camp.
Linebacker (3): Nakobe Dean, Zach Cunningham, Christian Elliss
Analysis: Nakobe Dean was always going to be one starter, with Zach Cunningham appearing to lock up the other spot following a string of strong practices in recent days. Outside of them, the position is a bit jumbled. Nicholas Morrow struggled at times, but they might want a fourth backer. Undrafted rookie Ben VanSumeren remains an intriguing candidate to make the roster. No doubt they'll look to add him to the practice squad if he clears waivers.
Cornerback (7): Darius Slay, James Bradberry, Avonte Maddox, Josh Jobe, Eli Ricks, Kelee Ringo, Mario Goodrich
Analysis: It's going to come down to Eli Ricks vs. Mario Goodrich. I got them keeping both here. They need Goodrick as the backup nickel cornerback due to Avonte Maddox's long injury history; meanwhile, Ricks played his way onto the roster with lights-out performances against Baltimore and Cleveland.
Safety (3): Reed Blankenship, Sydney Brown, Justin Evans
Analysis: We're still not sure who the starter opposite Reed Blankenship is going to be. My guess is Justin Evans starts there in Week 1, then eventually gives way to rookie Sydney Brown. Terrell Edmunds? The veteran safety struggled all summer and, experience or not, the Eagles decide to move on. Either way, the K'Von Wallace experiment is officially ended.
Specialists (3): Jake Elliott, Arryn Siposs, Rick Lovato
Analysis: Don't be surprised to see the Eagles audition punters as roster cuts come in.