The Philadelphia Eagles are just a few days a way from a preseason clash with the Indianapolis Colts. Prior to the game, the teams are set to engage in some joint practices, with the first taking place earlier today. It didn't take long for tempers to flare, however.
Here's all you need to know from today's practice.
Some Training Camp trickery
Things started enough positively enough for the Eagles. Kenny Gainwell and Grant Calcaterra linked up on a trick play. The young running back targeted the second-year TE for a deep completion that set the tone for the offense that day.
DeVonta Smith seemed to understand the assignment. The star wideout 'mossed' a Colts DB on two occasions, flaunting his athleticism on both occasions. It's scary to think just how good Smitty can be. He's been consistently impressive this Summer, but that shouldn't come as a surprise to anyone.
The Georgia boys are at it again
Jalen Carter got more first-team exposure today while running-mate Jordan Davis sacked Anthony Richardson. The duo look set to become a force to be reckoned with in their first season together as Eagles. It's unclear whether or not Carter will start in week 1, but it feels inevitable that he will earn that role eventually.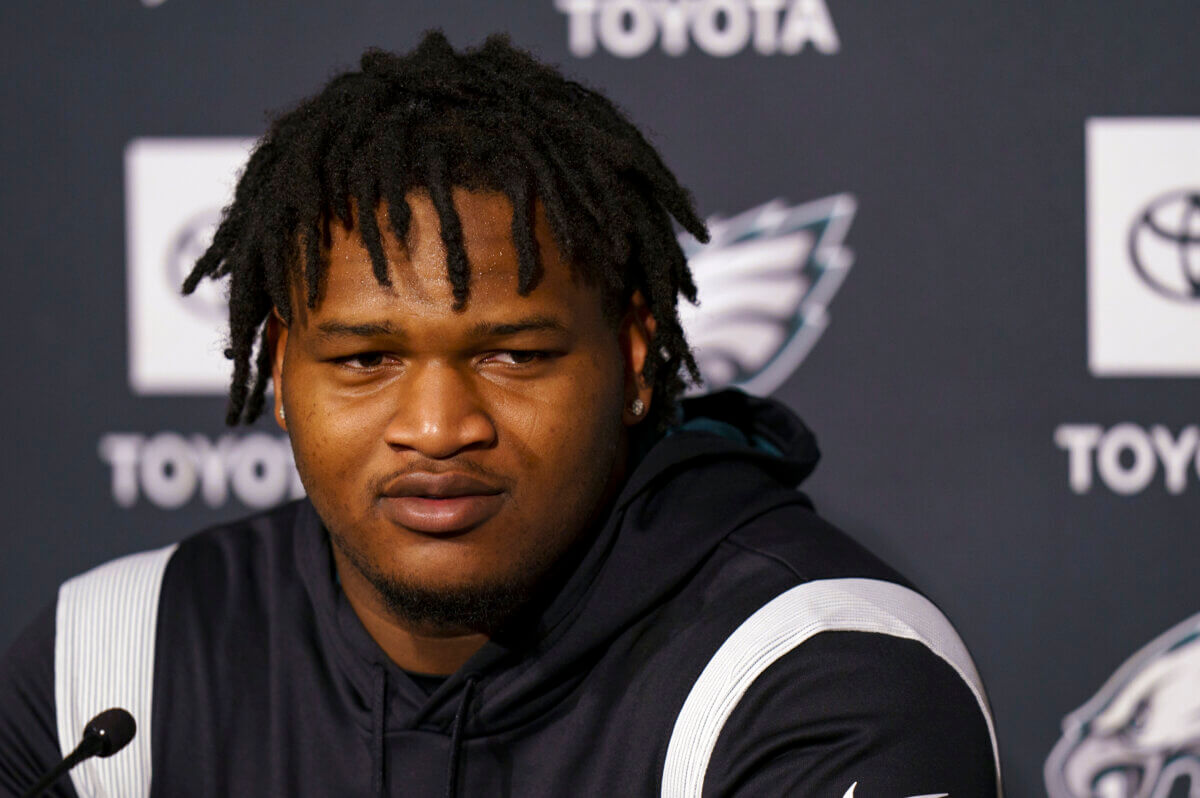 Sydney Brown is on the road to a starting role with the Eagles
Another young player constantly improving is Sydney Brown. The rookie safety has had a very strong Summer and added another good day at the office to his resume today, flying into Mo Alie-Cox to force the PBU.
It was first assumed that Terrell Edmunds would be the second starter alongside Reed Blankenship, but it's looking increasingly more likely that it will be Brown rolling out with the first-team defense in week 1.
Super Smash Training Camp Melee
Tempers flared on Tuesday afternoon. Eagles RB Kenny Gainwell was violently knocked down by Colts linebacker Zaire Franklin. This lift a fire in Jason Kelce, who sprinted over and threw himself into Franklin. This sparked a brawl on the field which led to both sidelines being cleared.
Kelce was very accountable in the press conference and admittedly called his tackle on Franklin a 'cheap shot'. He came across ashamed of his actions and was quick to complement the play of Franklin. He also stated that he can't let his emotion take control and hurt the team.
It was a very out of character moment from Kelce, but he's always been a strong leader. The passion and love for his teammates is clearly still there and while the reaction is probably one he regrets, it is one that demonstrated how close the team is on and off the field.
Photo by Andy Lewis/Icon Sportswire