The Philadelphia Eagles are enjoying their last days of summer freedom before things get real. Veterans and rookies must report to training camp on July 25 at the NovaCare Complex, their home away from home across the street from Lincoln Financial Field. Fans wishing to see the team up close can purchase tickets for an open practice slated for August 6 at 7 p.m.
Enough promotion. It's time to start previewing the roster set to hit the field. The Eagles are deep and talented at several key positions, including defensive end where Brandon Graham once again leads a loaded room. He inked a one-year deal worth up to $6 million to return to the team that drafted him after recording a career-high 11 sacks in 2022. Graham is happy to play the mentor role.
"I know my reps are going to down because we're trying to get these boys ready for the future," Graham told JAKIB Sports. "So, I'm excited just to help them and give them all the game that I have, to be able to help them. Like I told them, I want to see you win, that's it. I know what it feels like. I'm at that point know where I've won at everything I've wanted to do in this football life, and I want to make sure I pay it back by giving it to them boys."
Defensive End: Evaluating the Depth Chart
Brandon Graham
It's hard to imagine ever slapping the bust label on the affable pass rusher out of Michigan, but it was a real thing for his first seven seasons in midnight green. Low sack numbers and frequent injuries were talking points, then he delivered the most clutch play in franchise history. Graham has 41 sacks since 2017, jumping into No. 4 on the Eagles' all-time list with no plans on slowing down. The youth movement at defensive end has only made him better by lowering his snap counts and keeping his 35-year-old body fresh, like a fine Chianti at your favorite Italian restaurant.
Josh Sweat
The 6-foot-5, 265-pounder keeps getting better and better as evidenced by the way he has perfected Von Miller's patented "ghost move." Using a two-handed strike, Sweat can pull of the magic trick in the blink of an eye due to his quick first step and ability to bend off the edge. He had 11 sacks and 23 quarterback hits in 2022 while holding his own on non-passing downs (79.5 run defense grade). He's added at least two sacks per year since 2019.
Derek Barnett
The definition of a make-or-break year is coming for the former first-round pick who suffered a season-ending ACL injury in Week 1 of the 2022 campaign. Barnett has been mentioned as a trade candidate multiple times this offseason so it wouldn't be shocking to see him dealt, although reports suggest the organization remains high on him. He has 21.5 sacks over 65 career games.
Tarron Jackson
The sixth-round pick from 2021 wasn't able to crack Jonathan Gannon's regular rotation last season and saw his snaps go down considerably, from 253 defensive snaps during his rookie year to 27. The Eagles actually waived Jackson midway through the season to make room for trade deadline acquisition Robert Quinn, only to pick him back up and send him to the practice squad. He's still a very raw prospect who has to prove he can win at the point of attack. There has been talk that he bulked up this summer.
Haason Reddick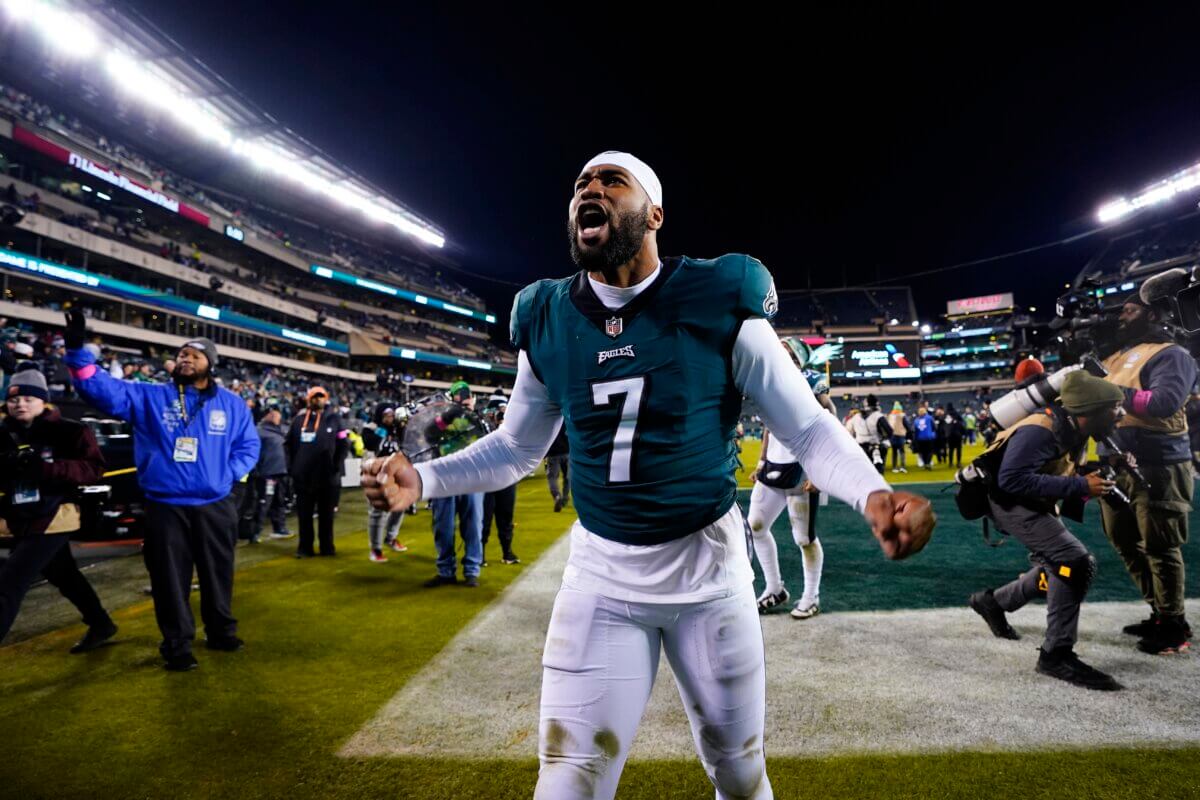 Technically he's listed as a linebacker on the depth chart but this dude is a game-wrecking pass rusher. Reddick exceeded all expectations in his first year with his hometown team, racking up a career-high 16 sacks and an insane 16.8% pass rush win rate. His $45 million contract over three years looks like highway robbery, just ask the San Francisco 49ers who lobbied the league for a rule change after watching him destroy their entire quarterbacks room. Reddick is the "weapon of mass destruction" he claimed to be.
Nolan Smith
Like Reddick? Then you are going to love the first-round pick out of Georgia. Smith (6-foot-2, 238 pounds) looks like a mirror image of Reddick as the two players possess similar physical measurements and athletic traits. He had three sacks and 16 quarterback hurries before a pectoral muscle shut him down in 2022. The injury caused him to fall in the draft – don't worry, he's fully healed – and the numbers don't tell the whole story there. Smith might have the fastest closing speed of anyone in the Class of 2023, including a vicious version of the aforementioned ghost move. Watch out.
Janarius Robinson
The Eagles poached the 6-foot-5, 258-pounder off the Minnesota Vikings' practice squad last season immediately after losing Barnett for the year in what was widely heralded as a sneaky good move. Robinson, a fourth-round pick in 2021, has been called an "insane athlete" with 11-inch hands, 35.25-inch arms, and an 86-inch wingspan. Once viewed as the top weakside defensive end in the country, the 25-year-old has drool-worthy potential (think: Danielle Hunter) assuming he can hit his ceiling.
Matt Leo
The one-time Aussie plumber might be the longest shot to make the roster at any position. Following three straight years of international player exemption status, Leo has to win a job outright at training camp. The 31-year-old has been stuck on the practice squad, with zero snaps to his name and four years since his last meaningful snap at Iowa State.
Photo by Kyle Ross/Icon Sportswire