Hold back all those Haason Reddick comparisons. It's too soon. In fact, Philadelphia Eagles rookie Nolan Smith is refusing to pick up the phone and even dialing Reddick's number. He doesn't feel comfortable reaching out until the proper incubation period has passed, perhaps some freshman hazing is on the horizon.
Whatever the case, Smith is adamant about learning how to handle business without help. That's not to say he doesn't have a deep respect and admiration for Reddick. He does. The two players share eerily similar skill sets, especially when it comes to raw athleticism. It's crazy how much their highlight reels look like mirror images.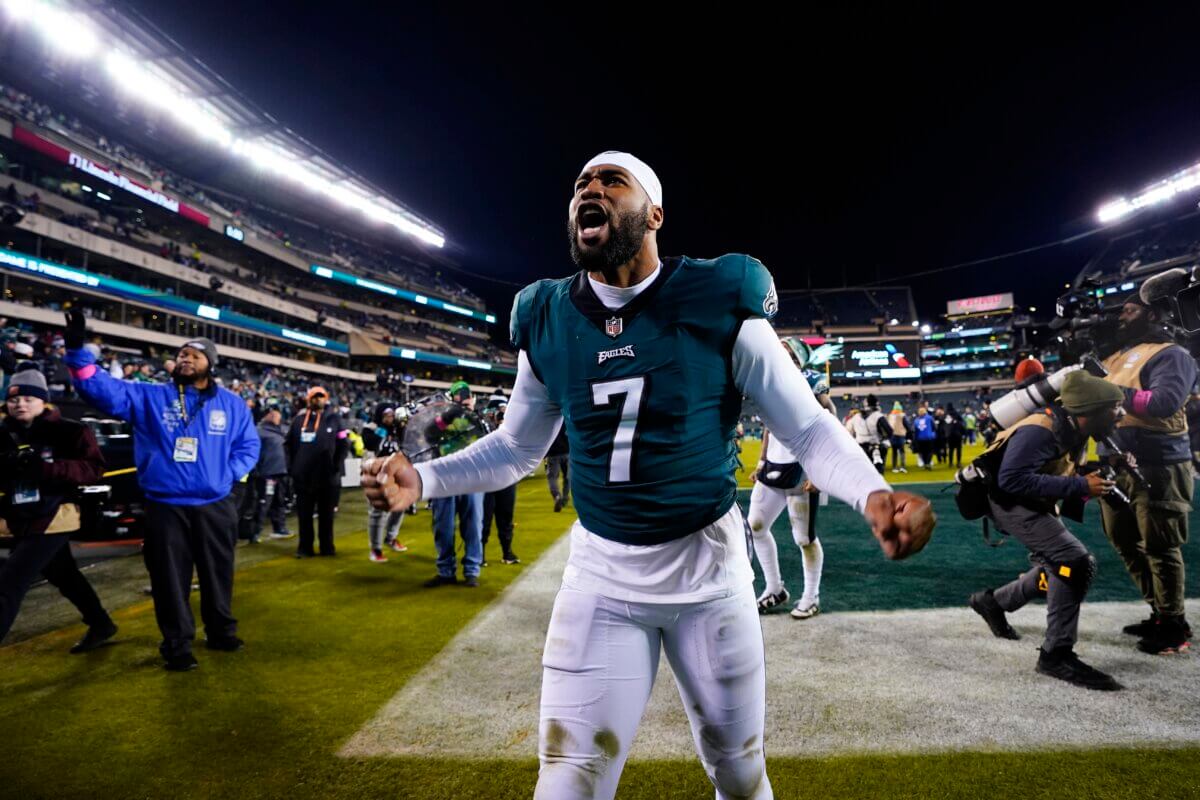 "I'm not going to dial him up," Smith told NFL Network's James Palmer. "It's respect, that's a vet, I'm a rook, I ain't going to call him. When I was a senior I wouldn't expect no freshman to just call my phone. I would be like, 'What is wrong with this freshman? Did he done lost his mind?' I'm going to handle everything the right way and I mostly watch how he does and what he does, and really everything, and just not really talk to him, just take notes behind his back and he doesn't even know it."
Reddick, of course, is one of the most talented pass rushers in football. Scratch that: Weapon of Mass Destruction. Smith has a long way to get on Reddick's level, but it's hard not to salivate at the possibilities. His stats don't jump out — 12.5 sacks in 38 college games — but his natural ability to "bend-and-flatten" make him a dangerous threat to the quarterback on every snap.
"I'm very familiar with his game, just because he's one of those guys that I turn on my tape because he's my body type," Smith said of Reddick. "I watch guys like my body type like Von Miller, Haason Reddick and the moves that they use and just the different things that they do, not only with their hands but how they bend the edge and use speed to power and how they set up their moves and play a game within the game."
Nolan Smith: Freak Athlete High on Eagles' Radar
Nolan Smith was the 30th overall pick in last weekend's NFL draft, a guy ranked high on general manager Howie Roseman's scouting reports. The 6-foot-2, 238-pounder out of Georgia ran the 40-yard dash in 4.39 seconds at the NFL Scouting Combine, then nonchalantly posted a 41.5-inch vertical jump. When he slipped down in the first round, it was a no-brainer.
"You go into the draft and you say here are a couple names at 30, and then you see guys sitting up there like Nolan, and again, an incredible person," Roseman said. "Obviously, he has unbelievable traits in his body, a leader and a winner."
Meanwhile, head coach Nick Sirianni revealed he put Smith and top pick Jalen Carter through the grinder during an intense game of H-O-R-S-E at their pre-draft interview. How did that turn out?
"I beat Jalen, but Nolan beat me," Sirianni said. "So I'm looking forward to continuing to get to know them. Connecting with all our guys is a top priority."
Eagles Rookies, UDFAs Report for Minicamp
The Eagles inked three rookies to contracts — DT Jalen Carter, QB Tanner McKee, and DT Moro Ojomo — then announced the signing of nine undrafted rookie free agents before the start of minicamp on May 5. Then, everyone showed up to the NovaCare Complex to begin their NFL journeys. Is it football season yet? Because it sure feels like it.
AP Photo/Matt Slocum