The Philadelphia Eagles added two young studs to their defensive line on April 27 in what was widely regarded as a major heist by most draft experts. First, they traded up to grab Jalen Carter at No. 9 and then picked up Nolan Smith at No. 30 in Round 1. It was an embarrassment of riches for a team that finished with a league-high 70 sacks in 2022. Winning in the trenches continues to define the Eagles' Super Bowl blueprint.
Introducing the Georgia Eagles…
Carter and Smith addressed the media on April 28 at an introductory press conference at the NovaCare Complex in South Philadelphia where the former Georgia standouts talked about teaming up at the next level. They also provided some fascinating nuggets about meeting their new Eagles teammates and assimilating into the Eagles culture. Here is the best of what was said prior to Round 2 of the 2023 NFL draft:
Jalen Carter on being drafted in the first round with one of his favorite college teammates: "It's very cool. Me and Nolan had a great connection at Georgia, and I plan on bringing that to the Philadelphia Eagles and having a great connection out here and balling out."
Nolan Smith answering the same question: "I'd say it was amazing for me just because not only one of my favorite [teammates], not only one of my most athletic teammates here, man, we have a lot of boys, a lot of Georgia Philly Dawgs, and it's going to be great."
Jalen Carter on spending time with Jason Kelce during his pre-draft visit: "No, I was pretty much just hanging with Kelce. He was just cool, cool vibes. He's a cool guy to be around. He made it fun for me, just explaining what Philly is about, that it's just a family here, everyone is going to take care of you and you're going to have some fun while being on a business trip playing football."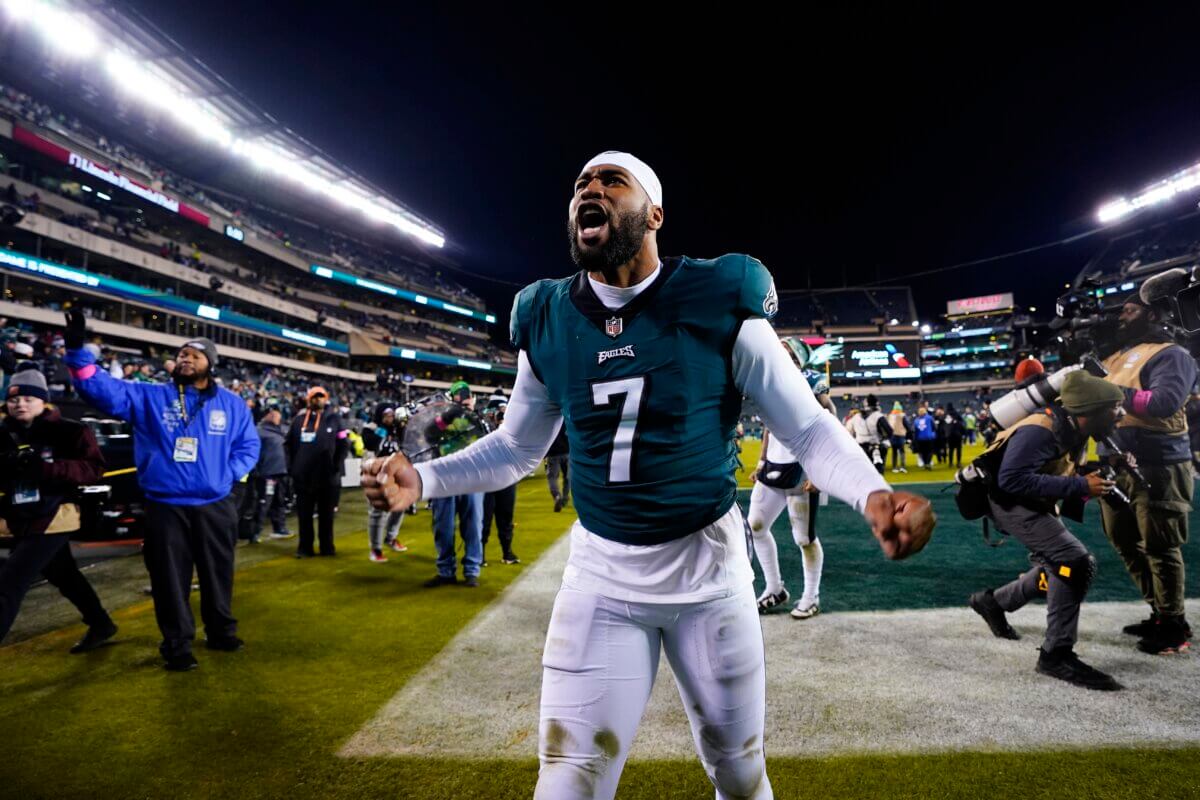 Nolan Smith on being compared to Haason Reddick: "I'm very familiar to his game just because he's one of those guys that I turn on my tape because he's my body type. I watch guys like my body type like Von Miller, Haason Reddick and the moves that they use and just the different things that they do, not only with their hands but how they bend the edge and use speed to power and how they set up their moves and play a game within the game."
Jalen Carter on being compared to Aaron Donald: "Yeah, I look up to Aaron Donald. I've been watching his film a lot. I try to add some of his moves to my toolbox. He's mainly the most guy I watch."
Pro Football Talk Details 'Not Great Talk' on Jalen Carter
Jalen Carter has been the topic of much scrutiny leading up to the draft stemming from reckless driving and racing charges. The Georgia standout was exonerated of any wrong-doing – two people were killed in a car crash last January – but character concerns remain a talking point. Remember, Carter was supposed to be the No. 1 overall pick at one point.
The Eagles traded up to get the 6-foot-3, 314-pounder after he started falling down the draft board. They believe in him. They believe they have the support system to fix any lingering maturity issues. But, a troubling report from Pro Football Talk's Mike Florio has raised more questions about the type of teammate he was at Georgia. Here is some of the scuttlebutt making the rounds:
When it comes to defensive tackle Jalen Carter, the word making the rounds before the draft was that the Georgia coaches did not have nice things to say. (We specifically decided not to mention any of that until after he was picked, so as not to participate in the pre-draft effort to get guys to fall.)

Ian Rapoport of NFL Media hinted at that last night after Carter became the ninth overall pick in the draft. We've heard it more bluntly and strongly. Members of the Georgia coaching staff are not Jalen Carter fans, and they weren't bashful about saying so.
General manager Howie Roseman downplayed the issues surrounding Carter, chalking it up to a young person making mistakes. The Eagles are confident that all of Carter's issues are correctable and no one seems to have any fears about him polluting the Philly locker room.
"We understand that all these players — they need to be developed," Roseman told reporters. "They're coming into the league at a very young age. They're not finished products. And you just really want to get to know the person and what's in their heart. And I think when we got to know Jalen, we just felt like here's a kid that does love football."
AP Photo/Butch Dill