The Union continues into the second-third of the 2021 season with a trip to Nashville. Nashville SC is a mid-table team in the eastern conference, so the Union should be seen as the favorite in this one. However, Nashville is unbeaten at home in 2021 with three wins and four draws. Philly looks to handout Nashville's first home loss of 2021 this weekend.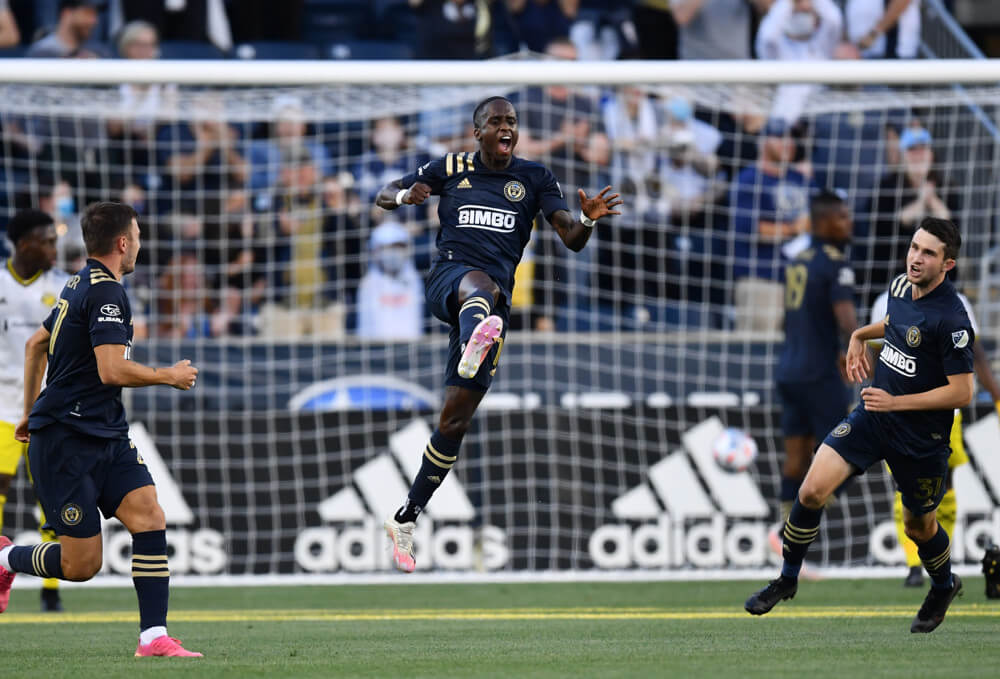 Union look to handout Nashville's first home loss
Philadelphia Union is unbeaten since the beginning of May. That streak could span two whole months with a win or a draw at Nashville. Philly has proven that they are just as good of a team on the road that they are at home. They have only won or drawn away from home. The Union needs to keep this going on the road as Nashville has not lost at home this year. There's a clear opening for Philly to take advantage of when they head down to Nashville this Fourth of July weekend!
Nashville offensive struggles headline this mid-table side
Nashville has been a very good team since they came into MLS. They made and won a playoff game in their first season, and have shown a real commitment to defensive soundness. It's clear in their second season they have put emphasis on their attack to complement their strong defensive structure. Unfortunately for them, it has not been clicking this season, not for lack of trying.
Nashville SC is number one in big chances created with 27 and is tied for the biggest chances missed with 22 misses. That difference of five means that Nashville has only scored five goals off of big chances created. They get into amazing spots but fail to put the ball in the back of the net when they do so. Nashville has only scored 13 goals in their 10 matches played but has an expected goals average of 19.3. No matter how you look at it, Nashville is a team that creates chances but fails to find their finishing ways when they do so.
The Union will need to see this and do what they have done best for the better part of this season so far, defend. They are still top four in MLS in goals conceded per game, averaging just under one at 0.9. If Philly can weather Nashville's storm of attacks by playing good defense in their high-pressing style, then they should be able to be on the front foot and secure points. Another reason Philly could handout Nashville's first home loss is because of their form on the road in 2021.
Union have not lost on the road in 2021
Philly has played five away matches out of 11 league matches, and also two matches away in CCL since the start of 2021. Philly has not lost on the road and has a record of four wins and three draws across the competitions. Their style of play gives them a good advantage when playing on the road.
The Union's defense-first approach through pressing their opponent in the midfield and denying them real chances on the backline has led to this impressive record. Before the international break, they had done so well on the road that they didn't even concede a goal. However in their past two away matches they have conceded five goals in two draws that could have been wins if things had been just a touch cleaner when defending set-pieces. This is something the Union will have to get back to at Nashville.
The mental lapses on set pieces this season has led to the majority of bad play we've seen in 2021. It's how the Union lost to Miami and drew at Atlanta and Chicago. Jim Curtin has his work cut out for him. There need to be fewer fouls in the opposition's build-up, and the man-marking on set pieces needs to be hammered home at training. Getting back to the number one backline could help tighten up these mistakes.
Potential Union starting XI
The Union will need to play their best 11 players in these matches. There is starting to be some space between them and the other top teams in the east. Whether it be on points to New England or games in hand to Orlando, Philly needs to be playing at their best to get back to the top of the east. For this match against Nashville, the Union will have to play their best players from the start.
Keeper & Backline
The keeper and backline should return to normal after some rotation in Chicago. Blake; Wagner, Glesnes, Elliot, and Mbaizo seem to be locks as they have kept the Union in matches that they would've been out of early on in years past. The midfield is where things get tricky.
Midfield diamond
Should Leon Flach be with Philly and not off to Gold Cup training with the USMNT, he'll be the starting number six. The first choice shuttlers are Alejandro Bedoya and Jamiro Montiero. Bedoya may or may not still be injured, and Montiero may still be called upon to be the number 10. If both of them are healthy, and one other Union player is ready for a start, then they should be your shuttlers. In the last match, Philly saw Dániel Gazdag play for thirty minutes. He looks like a difference-maker coming off an injury. However, should he be able to give it a go from the start, then you finally will see the constructed midfield that this team needs to be successful. This brings us to the strikers.
Striker pairing
It looks like Kacper Przybylko and Cory Burke are the preferred strike pair for Philly. Both have shown a knack for scoring goals, but are very similar players. While it could be beneficial to have a more direct/speedy striker like Sergio Santos on the pitch, he has failed to impress with his opportunities this season. Santos seems more like an of the bench option right now, as his pace will help spread the field late on. Here's what I see as the preferred XI should all be available:
Blake; Wagner, Glesnes, Elliot, Mbaizo; Flach, Montiero, Bedoya, Gazdag; Przybylko, Burke.
While this is hopeful, if these players are deemed good to go, this is how the team should line up to have the best chance to be the first team to handout Nashville's first home loss of 2021. With that being said, it's time to get down to the nitty-gritty.
Prediction
This Union team has not been at full strength in a very long time, if at all in 2021. They went on a long run of games in short succession to start the season without their best XI. They then came out of the break and played three matches in seven days taking four points. Now, the Union has three successive weekends of matches with a full week of training in between. I say all of this to show that the Union is a top-three team in the east while going through a tough stretch, and should be able to push even higher when they can focus all their attention on playing one game a week with their best XI.
I see the Union having their best XI ready from the start in this match. That means we see Gazdag get his first start and Bedoya coming back from his injury. If this happens the Union should have no trouble playing their game in a hostile environment like Nashville.
Handing Nashville's first home loss of 2021 won't be easy. This match will be one where Nashville has chances to score; while, the Union will be able to press them and hit on the counter-attack. I see this match ending in a closely contested match with fireworks. The Union gets the win 2-1. Will this happen? We'll have to watch on Saturday night to find out.
Be sure to come back to Philly Sports Network for more Philadelphia Union and other soccer content!
Follow our Union team on Twitter:
Tim Lovenguth | Justin Friedberg | El Parcero Philly
Zach LoBasso | Jeff Green | Liam Jenkins
Doop on Union fans!
Mandatory Credit: Kyle Ross/Icon Sportswire