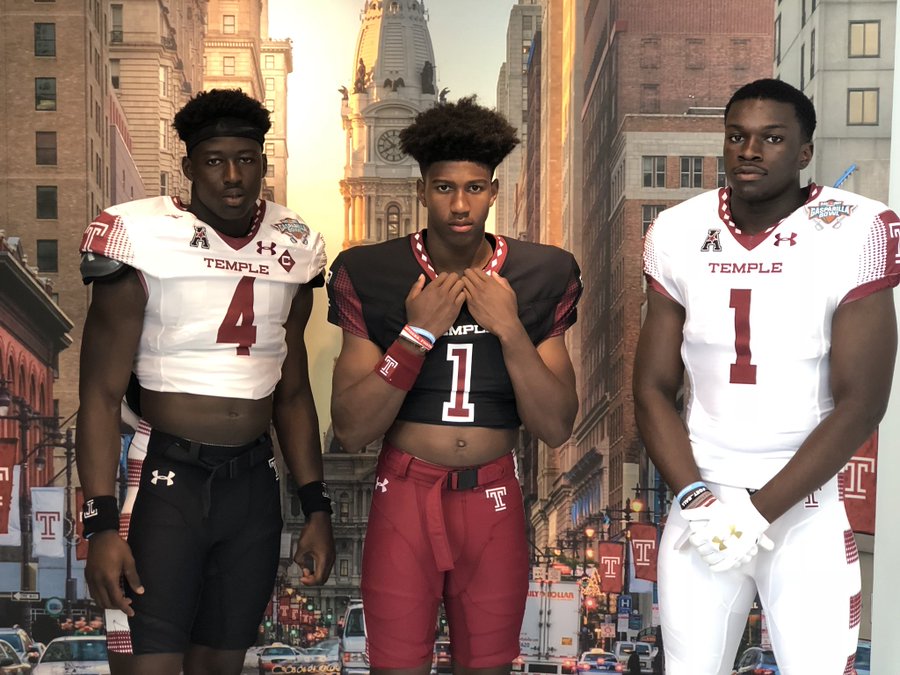 2020 outside linebacker Earnest Howard is a 5-11 200 linebacker who plays for Pleasantville high school in Pleasantville, New Jersey. I talked to the talented prospect about his recruitment and interest in Temple.

LJ: What position are most teams recruiting you for?
Earnest: Mostly getting recruited at linebacker but as an ATH too.
LJ: Tell me what you like about these programs and do you plan to visit:
Temple: I like how you have to earn your stripes nothing is given.
Rutgers: I like how they play some of the top-notch programs in the nation.
Earnest: I like how both programs recruit south Jersey players. I plan to visit both programs
LJ: What has Temple told you they like about you?
Earnest: They like how I'm very versatile and I can really play anywhere in a defense at middle, strong side or weak side back even at hybrid.
LJ: What will scouts see has improved the most in your play?
Earnest: .playing faster to the ball and seeing me more active in pass coverage and playing the game more relax and more understanding
LJ: What were your stats last season?
Earnest: I recorded 52 tackles but I had to sit out 4 games because of transferring over to Pleasantville
LJ: Describe how often these teams have stayed in contact with you.
Earned: Sacred Heart: SHU always making sure I'm good and I'm staying healthy. They are always on me. I can talk to them anytime of the day.
Morehead State: Rarely hits me up now. I'm looking to visit Sacred Heart and Howard.
LJ: What teams are recruiting you the hardest?
Earnest: NIU, UCONN, Temple, Elon, JMU, Rutgers, Holy cross
LJ: What visits do you have scheduled? Do you have a commitment date set?
Earnest: Everything is up in the air but plan on visiting NIU UConn, Elon, and JMU. No commitment date yet just working on finishing the season strong.
Derrick Raheem"Leader" Johnson is one of the fastest rising young talented writers out. He writers for Scout.com for Villanova sports, NBA draft for nbadraftroom.com, and he is the lead college writer or Philly Sports Network. Johnson also does interviews and reports news on his personal blog page on facebook titled Leader Johnson. Johnson was Born in West Philadelphia, PA and was raised in southwest Little Rock, AR, he is known as Mr. 1on1 for always getting many 1 on 1 exclusives with some of the top athletes in high school and college, Leader also started the Success series and Villanova rundown for VUsports.com along with the Prospects Corner and Prospect Watch on nbadraftroom.com. Leader also does 1 on 1's called the legacy series in which he interviews young athletes who parents were infamous athletes such as NBA great Ron Artest(Jeron and Ron Artest) etc. Leader has recently started the PSN college game balls given to the best performances among the chosen Philly and Pennsylvania schools and PSN NFL game balls given to best philadelphia pro team performers. The name Leader comes from Raheem setting his own standard as a writer while appreciating the writers before him.