Jahlil White is a 6-6 2020 shooting guard with good all-around skill. He plays for Wildwood Catholic high school in North Wildwood, New Jersey. We had a talk about his recruitment and his development from the last college season.
LJ: How did it feel to get the Temple offer? What do you like about the Owl program?
Jahlil: It felt great to get an offer from Temple, knowing how good the program is and what the coaches have accomplished in their past. They also offered me in person when I visited. I like everything about Temple.
LJ: Your teammate Taj Thweatt recently released his top schools and included Temple. It's no secret the Owls want you both. Have you and Taj talked about playing for Temple together?
Jahlil: Yes, we spoke about playing together at the next level and how cool that would be, but at the end of the day I want both of us to pick what's best for us, whether that be us going together or splitting up.
LJ: What did you average last season? What were the stats from your best game?  
Jahlil: Last season I averaged 19 points per game, 7 boards, and 4 assists / my best game I had 30 points 10 rebounds and 10 assists.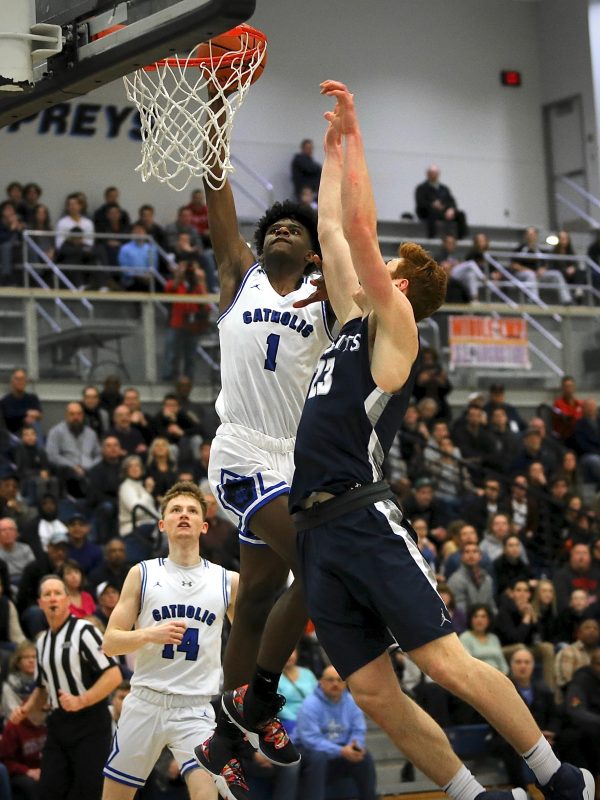 LJ: What teams are recruiting you the hardest? What teams that haven't offered are recruiting you?
Jahlil: Top 3 schools recruiting me the hardest would be Temple, Hofstra, Bowling Green / haven't offered LaSalle, Delaware, St. Joes etc.
LJ: What has been your best game this AAU season? What were your stats that game?
Jahlil: My best game was probably against Middlesex magic down in Pitt I had 23/8/5.
LJ: What are your top schools right now?
Jahlil: I haven't really narrowed my recruitment down yet, but Temple is definitely top 3.
LJ: What do programs like about you?
Jahlil: I believe they like my size and how I can run the point and also play all over the floor from the 1-5 etc.
LJ: What do scouts see this season that has improved about your game?
Jahlil: I'm more under control, smarter, shooting with confidence, ball handlings gotten tighter; I improved my finishing around the rim and getting the basket when I want also making plays for my teammates.
LJ: When do you plan to visit Temple?
Jahlil: Well I took an unofficial visit last year sometime and that's when I was offered but I will be taking an official visit June 6th-8th , Taj May be taking one the same dates also.
Derrick Raheem"Leader" Johnson is one of the fastest rising young talented writers out. He writers for Scout.com for Villanova sports, NBA draft for nbadraftroom.com, and he is the lead college writer or Philly Sports Network. Johnson also does interviews and reports news on his personal blog page on facebook titled Leader Johnson. Johnson was Born in West Philadelphia, PA and was raised in southwest Little Rock, AR, he is known as Mr. 1on1 for always getting many 1 on 1 exclusives with some of the top athletes in high school and college, Leader also started the Success series and Villanova rundown for VUsports.com along with the Prospects Corner and Prospect Watch on nbadraftroom.com. Leader also does 1 on 1's called the legacy series in which he interviews young athletes who parents were infamous athletes such as NBA great Ron Artest(Jeron and Ron Artest) etc. Leader has recently started the PSN college game balls given to the best performances among the chosen Philly and Pennsylvania schools and PSN NFL game balls given to best philadelphia pro team performers. The name Leader comes from Raheem setting his own standard as a writer while appreciating the writers before him.