We are going to structure this Midfield preview, as well as the upcoming Back Four preview, a little differently than the Striker and Winger previews. The reason for this are the separate depth charts for attacking, central and defensive midfield positions. Although the most glaring need of a better #10 is still unfulfilled, there is more depth at each position than in the past few seasons. Here's a look at our 2018 Midfielders preview.
#6 Defensive Midfielder
1 – Haris Medunjanin
Haris Medunjanin, the elder statesman of the Union, anchors the back of the midfield starting trio. Leading the club with 12 assists, he is probably the most accurate passer on the Union, although his accuracy tailed off towards the end of last season. Although his durability hasn't been questioned, playing all 34 games again at what will be 33 years of age, Medunjanin needs a competent back-up.
2 – Derrick Jones
I'm expecting bigger things from Derrick Jones in 2018 and he should be up with the big club the entire season. Blessed with a solid frame, 6'4″ 184 lbs, Jones has shown an ability to be physical, aggressive for possession and difficult to be pushed around. I'd like to see him in more of an attacking position, but with the current roster set as is, he is needed on the defensive side.
3 – Warren Creavalle
Not sure why Warren Creavalle gets a bad rep. Sure he can have an off game here and there. But when he's been called upon to fill in for a higher profile starter, he has played steady and mostly mistake-free, especially last season. Appearing in 40 games and starting in 26 since 2016, Creavalle is a steady hand that any coach would be glad to have in his back pocket.
#8 Central Midfielder
1 – Alejandro Bedoya
Unfortunately for U.S. soccer fans but beneficial to Philadelphia Union supporters, Alejandro Bedoya won't be missing much time this season due to national team commitments. Trust me, I'd rather he be off representing our club and country in Russia this summer. Hopefully we can get a little saving grace and all of his focus and energy will be spent on getting the Union to the playoffs. Except in case of injury or a rare rest, Bedoya will be out there 90 minutes every night.
2 – Derrick Jones
In the instant that Bedoya does sit out, you can expect Derrick Jones to get the nod at starter. Jones' versatility and ability to cover a large area of the field makes him the first option off the bench at this midfield position as well as the #6.
3 – Anthony Fontana
Anthony Fontana is the wildcard in this group. At the moment, it's unclear if he will flourish at the #8 or #10. It's also unclear how much time he will spend with the big club or with the Steel. His playing time will come mostly as a substitute late in the 2nd half or if Medunjanin and Bedoya are both out, forcing Jones to the #6 and Fontana to the #8.
4 – Warren Creavalle
Creavalle will also be available here for emergency situations or when the Union are riddled with injuries and have to contend with a high goal-scoring opponent.
#10 Attacking Midfielder
1 – Ilsinho
Is it hard to believe the Union still haven't signed a new #10? Yes and no. Yes, because it was clearly their most glaring need last season. No, not surprising, because their supporters are used to not expecting much. Hence, I give thee Ilsinho. As mentioned in last week's winger preview, Ilsinho has the knack to ooh and ah you one second, and have you ripping out your hair the next. But at the moment, he may be the best option they have. Not very encouraging.
2 – Adam Najem
Save us Adam Najem!  You're our only hope. That's right. Due to the lack of means from Union ownership and the status quo standard set, fans must hope that Najem blossoms into a quality #10, and quickly. The Union can't afford another horrid start to the season. We know what Ilsinho is, but Najem is still an unknown. Coach Jim Curtain's loyalty will stick with Ilsinho to start the season, I'm sure. But a few flashes from the quick-footed Najem could turn his head.
3 – Anthony Fontana
If Ilsinho encounters any fitness/injury issues and Najem isn't up to snuff, the #10 role might fall to rookie Anthony Fontana. That is a lot of pressure to put on a player as young as Fontana, but the Union have painted themselves into a corner. Hopefully it doesn't reach that point.
Starting 11 at this point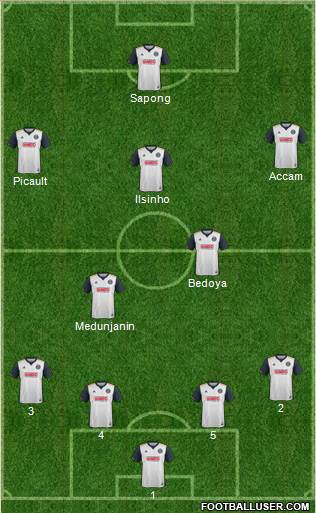 Only two more weeks until our starting 11 is set. As of now there have been little surprises. Stay tuned for the Back Four preview coming next week!
BE SURE TO COME BACK TO PHILLY SPORTS NETWORK FOR MORE UNION CONTENT. FOLLOW OUR WRITERS ON TWITTER:
Peace out Union fans!
Mandatory Credit: Russ Isabella-USA TODAY Sports