St. Joseph's class picked up a couple of quality forwards that will add necessary talents to the Hawks, both have size and range. Their no.1 prospect is 3 star small forward Taylor Funk. The 6-9 212 pound Manheim central high school star by way of Manheim, PA has good great potential. Funk is ranked as the 13th player in Pennsylvania by 247 for 2017 who not only scored 1,000 career points for Manheim Central but became the all-time leading scorer for Manheim Central high school by scoring a total of 1,977 points his high school career. Funk is good two way player with a great basketball IQ and quick hands, he averaged league leading 24.3 points a game his senior year at Manheim Central high while also hitting 229 three pointers.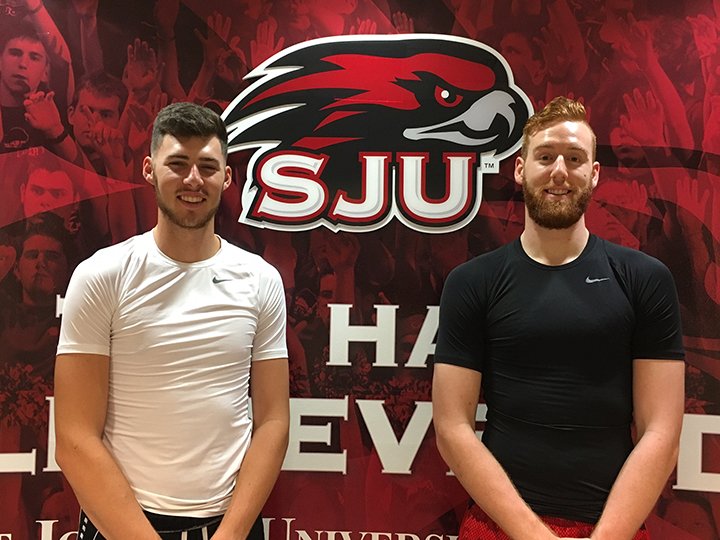 Anthony Longpre is a 6-10 220 power forward who played at Glenelg Country high school in Elliot City, Maryland. Longpre is a Canadian born player who played for the U19 Canada National team that won Canada's first ever gold medal playing in the FIBA international games. Longpre averaged 15.9 points 8.9 rebounds and 2.4 assist his senior season for Glenelg Country high school while also surpassing 1,000 points for his high school career. Longpre is another tall forward that will give the hawks a shooter and rebounder and is an underrated passer who gives the Hawks a player that can find other shooters from the post.
Funk and Longpre give the Hawks two decent offensive and defensive players with good range. Funk is a guy to watch, he is the player out of the two who can become an all-conference performer. He is not afraid to take the big shot and he is an athletic forward who can run the floor and score in transition. Longpre adds a player that can be a quality productive big off the bench adding much need size and depth, both players will add what the hawks are building and makes the hawks bigger and longer.
Derrick Raheem"Leader" Johnson is one of the fastest rising young talented writers out. He writers for Scout.com for Villanova sports, NBA draft for nbadraftroom.com, and he is the lead college writer or Philly Sports Network. Johnson also does interviews and reports news on his personal blog page on facebook titled Leader Johnson. Johnson was Born in West Philadelphia, PA and was raised in southwest Little Rock, AR, he is known as Mr. 1on1 for always getting many 1 on 1 exclusives with some of the top athletes in high school and college, Leader also started the Success series and Villanova rundown for VUsports.com along with the Prospects Corner and Prospect Watch on nbadraftroom.com. Leader also does 1 on 1's called the legacy series in which he interviews young athletes who parents were infamous athletes such as NBA great Ron Artest(Jeron and Ron Artest) etc. Leader has recently started the PSN college game balls given to the best performances among the chosen Philly and Pennsylvania schools and PSN NFL game balls given to best philadelphia pro team performers. The name Leader comes from Raheem setting his own standard as a writer while appreciating the writers before him.