It was a tough game for the Philadelphia Eagles last night and a true test of their ability. It was arguably the first matchup of the year that showed just how close or how far away the team is from competing for the NFC East crown. Games like that not only show where the strengths lie, but often where they do not..and the wide receiver will no doubt be a topic of many conversations today..but more specifically, the performance and later actions of Nelson Agholor.
Agholor has been underwhelming since making his NFL debut. The former first round pick has had a tendency to make a huge play before making a mistake or having a quiet run..leaving many to wonder if he will ever break out.
Last night against the Cowboys, Agholor received for just 25 yards on 3 catches.. which may not seem great on the surface, and it isn't. Agholor made some nice plays en route to having his 3rd worst performance of the season, but he also suffered from a drop. A problem that's plagued him since the moment he set foot in the NFL.
After the game, Agholor was asked about his drops and responded extremely defensively, saying:
"At the end of the day, man, that **** means nothing. You just got to make the next one. Everybody runs routes. Sometimes they're contested, sometimes we drop them, but if you make as many as you possibly can that come your way you're going to put yourself in a good position. No one's perfect. I don't look at no drops, that type of ****. I'm tired of hearing it, It's stupid. We play football. I dropped the first one. I ain't dropped one after that. What does it matter? Because if we lose now we're going to place blame on this person did this. No, as a team we got a responsibility to win football games and I get it. Some plays could have helped. But there's still four quarters of football to be played."
I've always been a believer that how you react to criticism, defines how accurate it is. Agholor's emotional reaction to the question signifies it's something that is very much on the mind of the former USC wide receiver..and why wouldn't it be? Not only is Dorial Green-Beckham becoming a complete receiver for the Eagles, but with all the trade rumors surrounding Torrey Smith, a poor showing is the last thing Agholor needed.
But his reaction provoked a reaction from myself, something that doesn't normally happen. If Nelson Agholor is really tired of hearing about drops and how they impact the game, the solution to prevent those questions is actually pretty simple. Don't drop the football.
It wasn't as if the drop was overthrown, hard to reach or contested, either. It was 3rd & 6 from just outside the ten and Agholor was relied on to you know, catch the football. He failed.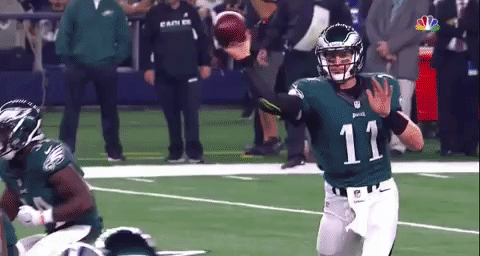 The new era of Philadelphia Eagles has been built on accountability, from the top down. Jeffery Lurie made it crystal clear upon the hiring of Doug Pederson that the days of passing the blame are over and for better, or worse, everyone in the organization has to be responsible for their actions..on and off the field.
Agholor's response is pinning the loss on the premise that there is a locker room of players who also have to make plays, downplaying the impact his "lone" drop had. But failing to take responsibility for your actions is the complete opposite of what Doug Pederson and the rest of the staff wish to see.
"I'm disappointed in the type of comments. Each individual has to be responsible for their own job, obviously." Pederson told the media earlier today.
"We've got to make good, smart choices. Everybody's mad and disappointed and angry after the tough losses we just came through, and cooler heads prevail. We just have to bite our lip sometimes, just suck it up, and get to work."
In fact, even when it isn't their fault (or very marginally), guys like Carson Wentz, Jordan Matthews, Zach Ertz and Malcolm Jenkins are far more self reflective on their performances..striving to get better and recognizing where they can improve. Nobody plays a perfect game, but if everybody overlooked their own individual errors and instead lived with the mindset than "WE as a team have to do better", then the Eagles would not be 4-3.
Yes, Football is a team game and absolutely you win and lose as a cohesive unit. But just like a clock every individual part matters..and it's the power of every tiny moving piece working as it should that makes the clock work so seamlessly. If one of those cogs stops turning, that's when things go wrong.
Agholor has had a troubled start to his career. From a lack of production on the field to an offseason arrest for an alleged sexual assault, it was hoped that Agholor would enter 2016 with a clear head, turning a new leaf under Doug Pederson and WR coach Greg Lewis. Instead, the ghosts continue to haunt the former USC receiver, chaining him down, mentally and physically.
Agholor has a right to be upset about his performance, but to pass the blame and express confidence that he wasn't part of the problem is just simply not the right attitude. Instead of moaning that you're "tired of hearing about it", Acknowledge the mistakes, acknowledge the success and strive to make each game better than the last.
The Eagles is a franchise trying to more forward and develop with a unified attitude. Nelson Agholor's comments not only go against the direction of the team, but fail to recognize that his part in the success of this franchise is just as important as anyone elses on the roster..and until he recogonizes that, nothing will change.
Mandatory Credit: Bill Streicher-USA TODAY Sports