After registering 70 total sacks in 202 — that lofty number set a new franchise record — the Philadelphia Eagles have certainly earned a reputation as quarterback hunters. They are indiscriminately dominant. They are unabashedly violent. But, do the Eagles possess the best defensive line in the NFC? Or have the 49ers inched ahead following their trade for Chase Young?
Let's take a closer look at the best fronts in the conference and how they stack up. Numbers and statistics don't tell the whole story.
Philadelphia Eagles
The reigning NFC champions currently rank No. 2 in team sacks (25) within the conference, trailing only the Seattle Seahawks (26), and hold the No. 6 overall spot in the NFL. That puts them on pace for 53 total sacks in 2023, which would tie them for the seventh-best number in franchise history with the 1986 and 1985 squads. Their top two studs coming off the edge are Haason Reddick (6.5) and Josh Sweat (5.5) — no one will argue about their ability to wreck a game.
But, Jalen Carter (3.5) has arguably been the linchpin of the Eagles' defensive line. Put on his tape and make some popcorn. The rookie sensation leads all defensive tackles in pass-rush win rate this season: 24 wins on 95 plays (25%) while being double-teamed 58% of the time. Carter is dealing with a back injury right now but should be ready for Sunday.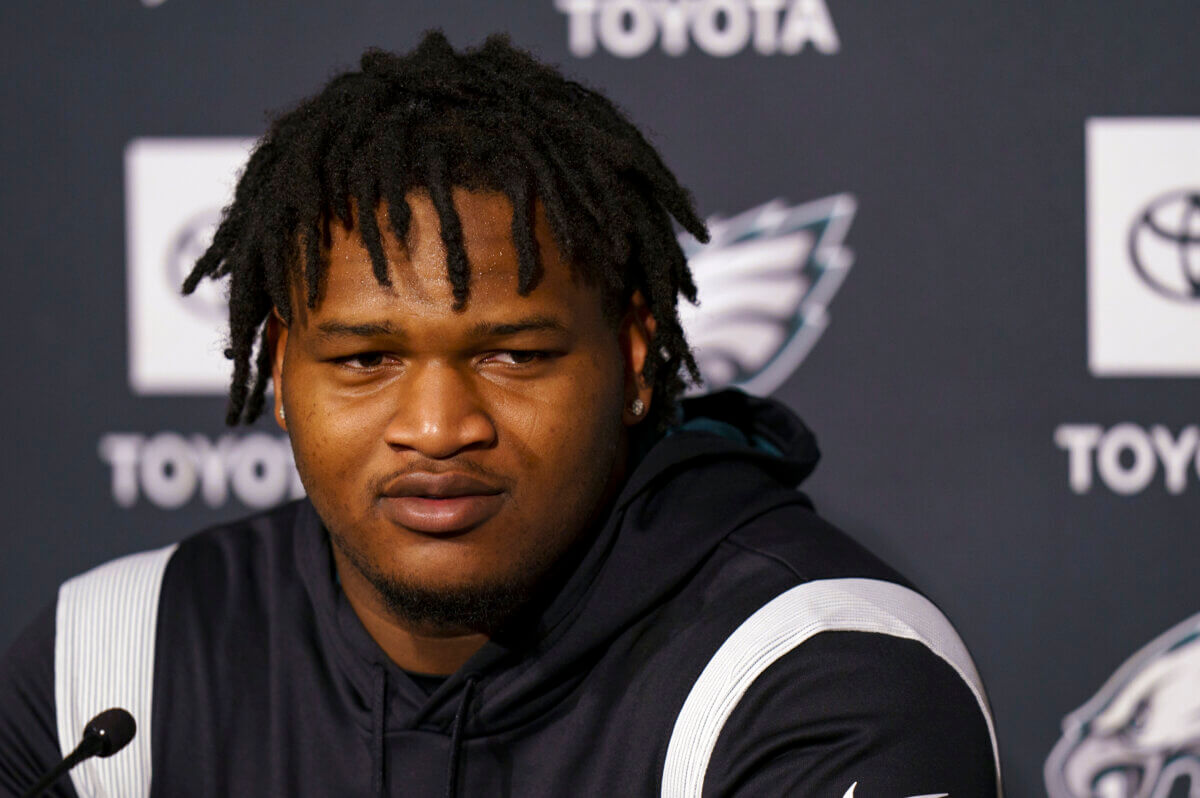 Meanwhile, Jordan Davis (2.5) has been a revelation while veterans Brandon Graham (0.5) and Fletcher Cox (1.0) are giving them meaningful snaps when asked. Watch out for rookie Nolan Smith (1.0) in the second half of the season.
"We want to be able to send guys in waves at these guys and make them stay fresh," Eagles defensive coordinator Sean Desai said. "That's why the standard is the standard in that room. That means you have to play first, second down defense, play run defense, and better be good with our techniques and fundamentals we're teaching so you can do that, and he's doing is that."
Bonus Fact: Eagles' Reddick has 37 pass-rush wins off the edge on 147 plays (25%) while being double-teamed 20% of the time (via ESPN Stats). Further, the Pro Bowl linebacker has 6.5 sacks on 269 total pass-rush snaps, with 28 pressures, 18 hurries, three QB hits, and one forced fumble (via Pro Football Focus). Unstoppable.
San Francisco 49ers
All the pass-rushing hype has shifted out to California after the 49ers pulled off a blockbuster trade for Chase Young at the deadline. And rightfully so. Young was the No. 2 overall pick in the 2020 draft. He has blistering speed, agility between the tackles, and a nose for the quarterback as evidenced by his five sacks and 38 hurries. Young joins a fearsome front that includes Nick Bosa (3.0), Javon Hargrave (3.0), Drake Jackson (3.0), and Arik Armstead (2.5). Add Fred Warner (2.0) into the mix. He's probably the best pure linebacker in football, maybe an MVP candidate to boot.
Despite all those talented names, something is amiss in San Francisco. The pass rushers aren't getting home like everyone thought they would, particularly Hargrave who has been good but not good enough to justify an $84 million contract. With sacks few and far between in recent weeks, the 49ers' defense has been left exposed.
As ESPN's Nick Wagoner pointed out: "The Niners ranked first in the NFL in points allowed per game (13.6), fifth in defensive EPA (33.98) and sixth in takeaways (9) while winning their first five games. Over the past three weeks, those ranks have dropped to 24th (24.0), 32nd (minus-16.49), and 13th (4), respectively, as the Niners have lost three straight to drop to 5-3."
Bonus Fact: The 49ers have been playing a bit conservative during their three-game losing streak. They blitzed 23.3% of the time to start the 2023 season, but that percentage has dipped down to 20.1% after eight weeks. Compare that to 24.4% for the Eagles. It's one thing to trust the front four — especially one that features Nick Bosa and his 21.1% pass-rush win rate — but it's quite another to not bring extra pressure when your secondary is struggling. San Francisco has allowed 1,955 yards and 10 touchdowns through the air so far this season.
AP Photo/Kevork Djansezian