Dear Atlanta,
Guess who's back? It's the Philadelphia Phillies. Did you miss us? Because we certainly didn't miss you.
It's Red October in our world and even as we venture to the land of Coca-Cola and Waffle Houses, there aren't nerves on the plane. Just a hunger to win (and maybe some waffles).
We bested another National League East rival (we went fishing) and sent the Miami Marlins home. No offense to Miami but this is THE showstopping series in the National League.
There's deja vu here for both of us: we did this last year in the NLDS and I'm sure everyone remembers who advanced after that series.
Can the Phillies run it back?
Ya'll have put a good product on the field all season. Under the management of Brian Snitker, you put out one of the best lineups in baseball history. As a whole, the bats were putting everyone else to shame. Can't forget that Ronald Acuña Jr. became the first member of the 40-70 club. Matt Olson led the sport with 54 homers. Marcell Ozuna claimed 40, and Austin Riley hit 37. But all that counts for at this point is another divisional championship banner.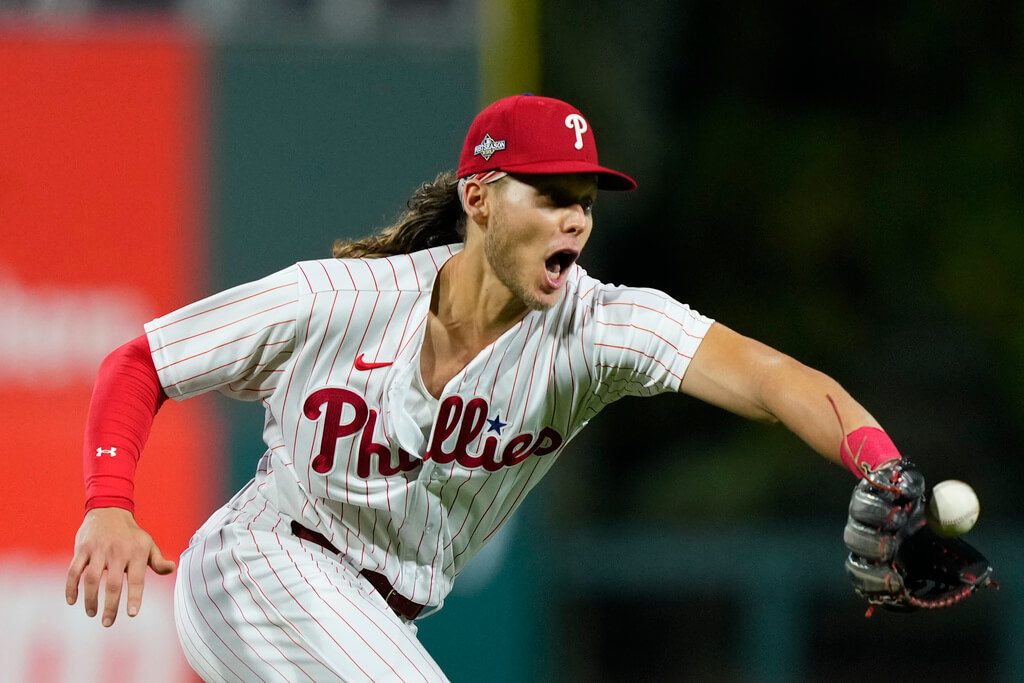 Those regular-season accomplishments are ready to be turned into dust by the Phillies.
Don't forget that we have a lineup of stars as well. A returning Bryce Harper, who came back ahead of schedule, and a power hitter in Kyle Schwarber who despite his .197 batting average had 104 RBIs in the season. Sprinkle in some post-ovation Trea Turner and the Phillies looked good. Also, who could forget the Grand Slam Heard 'Round the World from Bryson Stott in Game 2 of the NL Wild Card series? Let's see it again.
C'est magnifique. No notes.
Also to refresh some memories, in the middle of September, we came to Truist Park and took two out of three games. That gave us a 4-3 record in Atlanta this season, which isn't good news for a Braves team hoping that home-field advantage will help.
The last time we met in the postseason, it didn't go well for you. We bludgeoned your pitching staff en route to advancing to the NLCS. A personal favorite moment from this writer was when J.T. Realmuto hit an inside-the-park home run. Mr. Acuña Jr. didn't feel like moving.
Our bullpen is better than your bullpen and that's not opinion: it's fact. We had the edge in pitching, with a 4.02 ERA to your 4.14 for the season. Then our bullpen finished with a 3.56 ERA to your 3.81. More of our relievers pitching at a high level in the last month of the season and that, my friends, is called talent.
Numbers do not lie.
As for the "Truist is as good as CBP", there's nothing like a home-field advantage at Citizens Bank Park. Your fans have confidence, we'll give them that but just be prepared for Truist to feel a bit like CBP Down South. This is a revenge series to be sure but don't expect it to be just Atlanta fans at the park.
Oh and one final word of advice, don't have your mascot mess with the Phanatic.
If you mess with the Phanatic, you get the fans.
May the odds be ever in your favor.
Sincerely,
Philadelphia
AP Photo/Matt Rourke