The Philadelphia Eagles are sat in a spot of luxury heading into the 2023 NFL Draft. With picks 10 and 31 at their disposal, the Birds have the ability to manipulate the first round however they see fit. They could take two top talents, trade up inside the top 10, or potentially move down a few spots and pick up some ammo for next year's class.
Howie Roseman is no stranger to trading up. He moved up to swipe DeVonta Smith from the clutches of the New York Giants just two years ago and most recently moved up to acquire DT Jordan Davis. They also moved up for Andre Dillard, Dallas Goedert and Carson Wentz. To say the chances of another aggressive push from the Eagles GM are high would be an understatement…but who could he be targeting?
Tyree Wilson, EDGE, Texas Tech
Howie loves himself an EDGE rusher and if the top-5 is QB heavy once again, there could be an opportunity to jump up a few spots and snatch what many deem to be the best defensive end in this class.
At 6'6, 271 lbs, Wilson is a monster who can not only line up in a 3-point stance or as an off-ball player, but he possesses ridiculous power and has more than enough bend to be an impact player off the bat. His wingspan gives him leverage which he clearly understands how to use, but he relies on that to make up for his lack of overall speed and explosiveness.
He's far from a finished product, but one that could balance an EDGE/OLB position filled to the brim with speed and star power (Hey, Haason.) It gives them a player of a different mold who can balance equations they may not have otherwise been able to solve.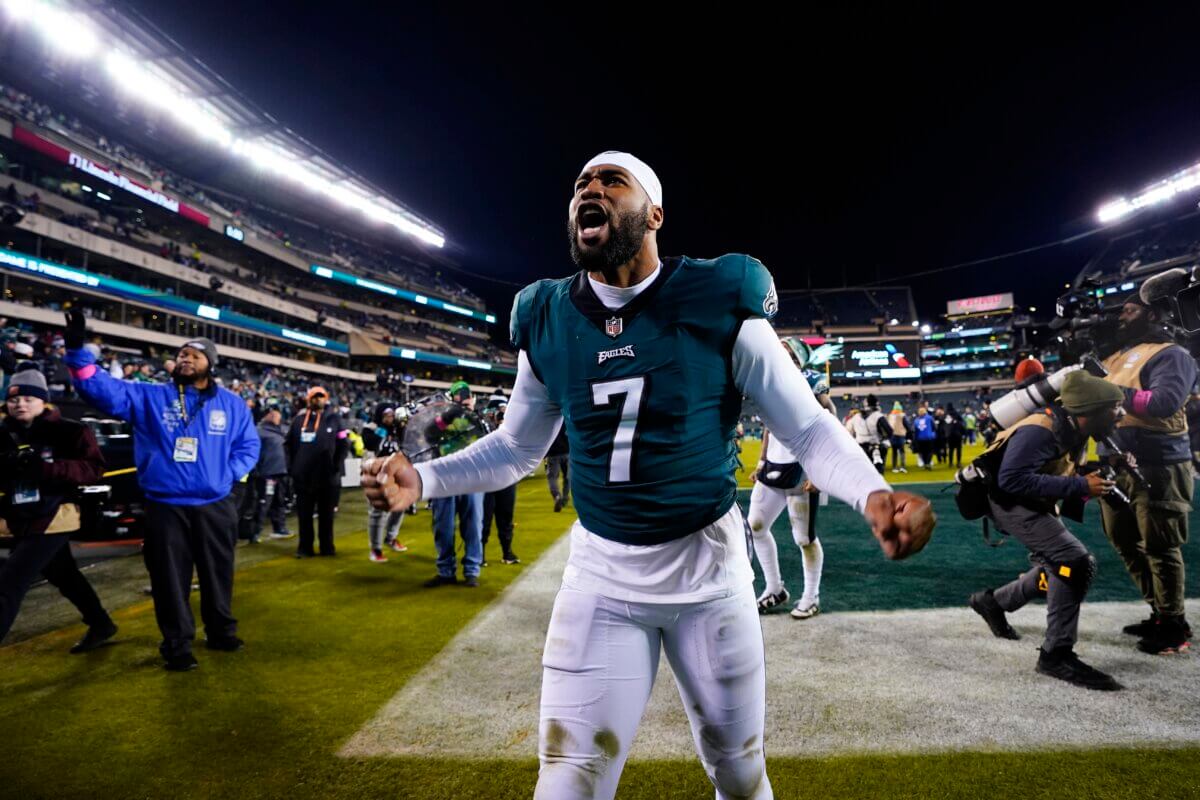 Lukas Van Ness, EDGE, Iowa
He's becoming a polarizing player due to his lack of collegiate experience and rawness, but the Eagles love both versatile trench players and high-upside prospects. LVN is both of those, as evidenced by his 13.5 sacks in 27 career games at Iowa. He's a true EDGE rusher, which may lose him some ground over Wilson in this specific debate due to Sean Desai's scheme, but he arguably has the higher ceiling and a much more athletic profile.
Christian Gonzalez, CB, Oregon
Why else would the Eagles push for a rule to allow players to wear the #0?
In all seriousness, as fun as this would be, it now seems a little unlikely. Both Darius Slay and James Bradberry are back which would put an immediate ceiling over the pride of this years' cornerback crop. However, a man can still dream.
Myles Murphy, EDGE, Clemson
The Eagles might not need to move up much, if at all, to take Clemson's Myles Murphy but he may be the more well-rounded of this elite EDGE group. He put up 17.5 sacks and 37 TFL in 3 seasons with the Tigers. He's quick enough and explosive enough to become a stand-up rusher in a 3-4 if needed, but he boasts a ton of power off the edge with a hand in the dirt and already has several pass-rushing moves in his arsenal. He excels in run defense, which will be an area of focus in Desai's defense.
Peter Skoronski, OT, Northwestern
There is already a lot of love for Skoronski at #10 for the Eagles, but there is a chance he's taken higher. The Bears and Jets are two teams around the 9-12 range who could both be eyeing up a tackle that could prompt an aggressive trade-up, which could push Howie to jump the gun and beat them to the post.
He's the best tackle in the Draft and has a freakish RAS score of 9.28. He's versatile, agile, and has brilliant hand technique. If the Eagles are looking for an eventual heir to Lane Johnson's throne, Skoronski could be the answer.