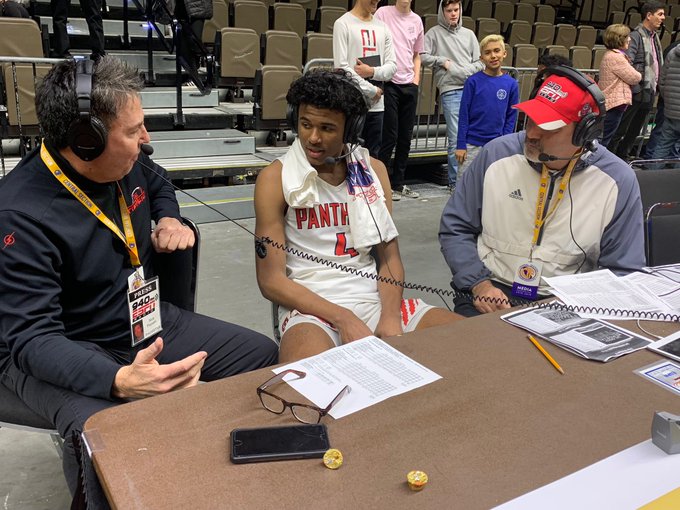 The best player in high school basketball is no question 2020 5-star shooting guard Jalen Green. He has proved to be dominant against all competition since he was 16. Though some analysts have ranked such prospects as Evan Mobley, Cade Cunningham or Makur Maker over him, the best player on the floor is always Jalen Green. Making my normal rounds to close sources involving prospects, I asked about Green and got some answers.
Rod Hampton, the father of RJ Hampton, recently said stated that he was trying to recruit Jalen Green overseas. Well everyone should calm down because that's not going to happen unless some serious money is headed Greens way. Jalen Green is no question going to be the number one overall draft pick in the 2021 NBA draft. His showing in this past EYBL showed a statement like no other displaying evolvement in his all-around game.
The school recruiting Jalen Green the hardest has now changed. Memphis used to be the clear favorite, but they've recruited a high profile class which the future of the program depends on. They are locked in to make this a successful season and have slacked off showing the attention it once showed Green.
Now Kentucky is recruiting Jalen Green the hardest. 2021 number one prospect Terrance Clarke commits on September 14th. He is considering reclassifying to 2020 if he does Jalen Green will not commit to Kentucky. Green visits the wildcats on October  16-19 and the Tigers October 2-5. The next team recruiting him the hardest is Oregon which Green visits September 13-15.
Auburn is an interesting case, the program is held in high regard by Green and depending on how the visit goes you could see them move up Greens list. USC gets the third visit in a busy September for top prospect on dates 6-8. He sees both west coast programs in a two-week span. Oregon has continued to impress NBA prospects every recruiting class to commit while USC is another program that really fits Jalen's style of play and has another west coast elite prospect Evan Mobley.
Green respects every program on the same level and everyone has a fair shot at the next basketball star. Everyone get it out your heads now who has a clear lead. A big name powerhouse does not wow Jalen he is big-time enough. A top prospect or a close relationship won't make him commit to a school. His mother Bree wants to move out of the west coast but that doesn't mean they will. The decision is definitely not clear and will come down to the wire, prepare for an eye-opening thrill.
2020:
Jalen Green – Kentucky
Josh Christopher – Kentucky
Sharife Cooper – Auburn
Ziaire Williams – Duke
Makur Maker – overseas
Scottie Barnes – Oregon
Greg Brown – Texas
Jalen Suggs – Gonzaga
Che Evans Jr. – San Diego State
Cliff Omoruyi – Pittsburgh
Moses Moody – Arkansa
Isaiah Todd – Kentucky
Walker Kessler – Duke
Byrce Thompson – Michigan State
Cameron Thomas – LSU
DJ Seward – Duke
Isaiah Jackson – Michigan State
Earl Timberlake – North Carolina
Lance Ware – Kentucky
Mark Williams – Duke
Kyree Walker – Kansas
Lynn Greer III – Temple
Henry Coleman – Duke