The 2018 MLS season is upon us!  For the Philadelphia Union, the first match can't come soon enough. After an off-season of unrest for the club and the fans a new Union team is going to take the field Saturday at Talen Energy Stadium. Here's Philly Sports Network's MLS Matchday 1 preview of the Philadelphia Union's season opener against New England Revolution.
New Season, New Philadelphia Union:
At the end of last season Earnie Stewart had a lot to do. It started with the squad he had, and their giant contracts ending. He let Mo Edu, Charlie Davies, Roland Alberg, and others go this off-season; after that he re-negotiated with role players Fabian Herbers, Fabinho and Ilsinho to bring them back for less money. Then secured superstar goalkeeper Andre Blake signing him to a contract extension. Then things went cold.
Stewart said that the Union were looking to get impact players to play the wing and the #10 spot. After some time, they fulfilled that promise. David Accam and Borek Dockal make this team loads better in the attacking third. Earnie also expressed interest in the youth system. Anthony Fontana, Cory Burke, Matt Real and Mark McKenzie were all signed from either their academy or Steel FC. Everything that Stewart said would get done has been done. Preseason is over; now it's time for the real games to start!
MLS Matchday 1 – Philadelphia Union vs New England Revolution:
Stats on stats on stats, presented by @XFINITY #DOOP pic.twitter.com/OZhSGhklU7

— Philadelphia Union (@PhilaUnion) March 2, 2018
The Union get to kick off 2018 at home, in what has been dubbed the worst fixture of opening weekend by many. Both these teams have been projected to be near the bottom of the east when the season ends by many. It's an easy pick to make when looking at where both these teams are doing. Philly and New England have made major changes to the their personnel. Philadelphia made its changes this off-season, as expressed above.The Revolution are rebuilding their entire team.
A closer look at the New England Revolution:
They have a new coach, ex-USMNT goalkeeper Brad Friedel. They also shipped away striker Kei Kamara, and have alienated their MVP from the last few seasons, Lee Nguyen, who has had trade requests go ungranted. Their play makers Kelyn Rowe and Juan Agudelo are the two mainstays from the attack last season. Other than those two, this team looks pretty disjointed.
When looking at their roster, you can see four-to-five players who could get the start. Only one of those players is in their back line. New England usually plays a 4-2-3-1 like the Union, but if Lee Nguyen isn't on the field, Kelyn Rowe will have to take up the role as play maker. One newcomer for the Revs is Krisztián Németh, who was a standout for Kansas City in 2015. His familiarity to MLS could help this team in the attack but their defending will be the question mark.Their defense is full of newcomers who could either play lights out or struggle in MLS. The Union will have a great opportunity to start on the front foot at home as the season kicks off.
Philadelphia Union's approach:
The Union will approach this game as the test for a lot of their younger players. It is likely we will see Auston Trusty and Anthony Fontana start in this match. It would be their first MLS starts and show that they have earned a spot with this team at a young age. With those two teenagers, second year players will likely factor as well. Jack Elliot will be on the field for his sophomore season, and Marcus Epps could feature as well. These guys will love the chance to show that their success from last year wasn't short lived. It will also be a time for the veterans to shine.
For players like Bedoya, Medunjanin and Sapong this game is an opportunity to start a new chapter of their journey in Philadelphia. They will look to control the play and beat this newly built Revolution side. With Fafa Picault and David Accam bombing down the wings Haris and Ale know they can play balls over the top to start attacks. Sapong knows now that a huge load will be taken off his shoulders will Accam drawing defenders wide. This team is set up to create mismatches.
That is what the game plan will be. Own the middle of the field and use speed and attacking power to beat an unorganized Revolution side. On the defensive side the Union will look to defend as a team, then push numbers forward. This starting 11 is built for that.
Projected Starting 11: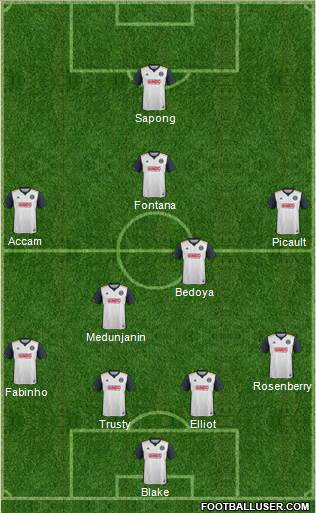 The mixture of youth and experience could really benefit the Union, the raw youth mixed with experienced veterans! The Union have a new team but almost everyone on this team has experience playing with one another week in and week out. That could be what pushes the Union over the Revolution in this one. 
Look for McCarthy, Marquez, Gaddis, Jones, Herbers, Epps and Dockal  to round out the 18. I really want to see Dockal come on at the end of the game to get some minutes under his belt, but it won't surprise me if he's not in the 18. If he isn't there, look for Simpson to be in the 18. I'd expect Jones, Herbers and Dockal to be the three subs used!
The Union's opportunity
:
Getting off on the front foot against an eastern conference opponent at home would do the Union a world of good. With the Philadelphia sports scene being dominated by the Super Bowl champion Eagles, playoff bound Sixers and Flyers and the start of Phillies season around the corner, the Union have to start the season on a hot streak just to get minimal attention. Starting the season at home against a team that is less prepared for the season could help this team start hot.
Prediction
:
In my 2018 opponents preview I had the Union winning this game 2-1. I could see this happening, but I wouldn't be shocked if the Union were able to pull off a shutout. The stakes are high and the players are raring to go, It'll be fun to get this 2018 season underway!
Be sure to come back to Philly Sports Network for more Union content. Follow our writers on Twitter:
Peace out Union fans!
Mandatory Credit: Jonathan Dyer-USA TODAY Sports
Philadelphia Union Editor of Soccer Content
A passion for the beautiful game drives me.
Twitter: @Tim_Lovenguth